An interview with the CTO of Dandelion reveals a multi-faceted strategy for mainstreaming geothermal heating/cooling into homes.

Before I launch into my interview with James Quazi, let me provide some relevant background.
Back in 2014, I found myself at the Long Island Geothermal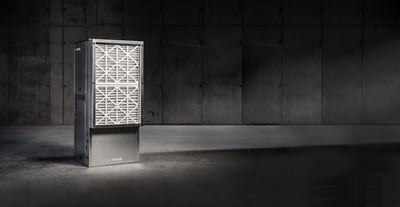 Conference, and a local politician shared his thoughts on the new addition to the local building codes for geothermal heating and cooling systems. I was impressed. Later on Bob Wyman asked me if I would come to New York City for a presentation on geothermal before members of the NYC Council.
In Bob's work with Google, he had been looking for the best way to help the geothermal industry take off the way the solar industry had in recent years. Sometime in 2015, I got a call from James Quazi (formerly of Solar City) in San Francisco, asking me some hard questions about the industry. While I've always been keen to offer the best solution to challenges, I cautioned about going too far. I shared that when consideration a car's MPG efficiency, going from 12 MPG to 15 MPG would save an average citizen in the US $700 per year. Going from 30MPG to 60 MPG would save about the same (See chart/figure—Image Credit EIA). The point is clear, and in the case of geothermal heat pumps (GHPs), it's important to find the balance point of cost & efficiency.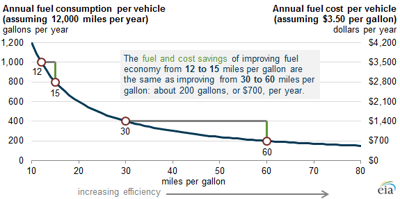 The 2nd point that I made to James was the need for a low margin assembly-line approach. I shared my experience with US Homes (acquired by Lennar in 2000) in the early 2000s. I had a friend that worked as a superintendent, & he had persuaded me to install HVAC systems in new homes for them. But the price-point was about half what I was willing to accept. He kept on me, sharing with me that if I followed "a recipe" of sorts that we would developed together, I would be selling hundreds of systems a year with little effort. This meant going from a gross profit margin of 40%+, to a margin of about 5%. In other words, he was proposing that on a $10,000 HVAC system, I'd put $400 in the bank (if I made no mistakes).
I accepted reluctantly, and I lost money at first. But, after a few months, we worked out some kinks, and the operation became rather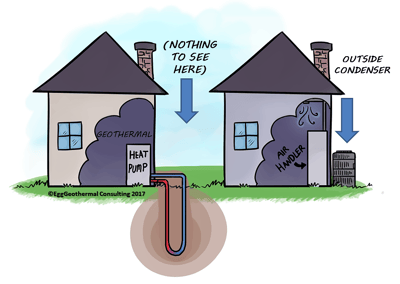 streamlined. Over the next year I installed more than a thousand systems at an average profit of just $400. I employed a lot of people that made great money, and I put almost a half million dollars in the bank; and it was truly running itself. I told James Quazi this story, sharing that we had to build a "machine", and cut the margins, and then we were on our way.
The 3rd item I shared is that we need is to switch geothermal loops to an infrastructure, or utility level service. I pointed out that people living in neighborhoods or apartments certainly are not expected to generate their own electricity, drill water wells, or bury septic tanks. Heating & cooling should be part of the energy infrastructure of a community. Heating, air-conditioning, and domestic hot water systems consume more energy than anything else in homes and businesses. Geothermal utility grids provide a heat source and sink eliminating the high up-front cost of geothermal loops.
Here's my recent Interview with James Quazi:

JE: Why did Dandelion decide to design/manufacture a new geothermal heat pump?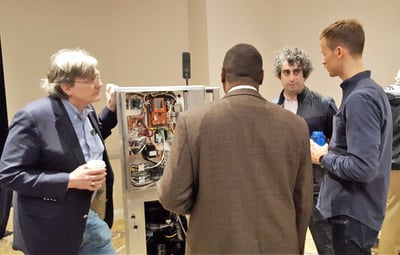 JQ: Dandelion's mission is to help enable the widespread adoption of home geothermal. To do this, we needed to (1) manufacture a durable and high performance heat pump at a reasonable price, and (2) collect data and intelligence on system performance.
On the manufacturing side, we partnered with AAON to design and produce the Dandelion Air. Both Dandelion and AAON share the belief that automation in manufacturing reduces cost and increases durability. We also believe that time spent in the design phase solves lots of problems down the road (e.g. component layout for ease of servicing, etc). Lastly, both organizations also believe that sophistication should be held in a monitoring and control layer, rather than in the components.
The Dandelion Air is special because of Dandelion Monitoring. Dandelion Monitoring enables us to do a number things, including: 1. Automatically commission systems at the time of installation, which allows us to make sure each install job was done correctly, 2. Collect high-quality data on systems on an ongoing basis, 3. Monitor faults and troubleshoot remotely. This data will also help financiers get comfortable with financing home geothermal. With new capital, we can unlock more affordable ways for homeowners to get geothermal and enable widespread adoption.
JE: What do you think the impact will be on the geothermal heating and cooling industry in New York and beyond?
JQ: Geothermal is poised for explosive growth in New York
, as the state and the utilities are putting programs in place to incentivize homeowners to switch over from fossil [fuel] heating. These incentives combined with the recently reinstated federal tax credit have created a highly favorable environment for geo. In this context, we aspire for the Dandelion Air to set a standard for monitoring, cost and convenience. To fully take advantage of the opportunity in New York and beyond, we all collectively need to ensure that high quality systems are being installed, that the performance of those systems meets or exceeds expectations, and that we can quantify that performance.
JE: Can contractors buy the Dandelion Air? What is required (generally) to become part of the Dandelion Geothermal effort?
JQ: Due to demand and our relatively small team, we are only able to sell Dandelion Air to contractors that have partnered with Dandelion. Contractors who wish to become part of the Dandelion geothermal effort should fill out the following form on our website: https://dandelionenergy.com/installers/. We look forward to hearing from installers everywhere!
JE: Can you point to a particular point at which your team decided this step (design/manufacture of the Dandelion Air) would be beneficial?
JQ: When the founding Dandelion team was still at Google, where the project originated, we conducted a survey of geothermal heat pumps on the market. This involved performance testing, tear down analysis, and component costing. The realization at the end of this effort was that none had all the required features at a price point that was feasible for everyday homeowners. We then started a search for a manufacturing partner who shares our vision for bringing home geothermal into the mainstream. This is exactly what we found in AAON.
JE: Anything else you'd like to share?
JQ: We are incredibly excited about the opportunity for the industry as a whole, not just Dandelion. We see many contributing factors coming together that will propel the industry into the mainstream.
On a more personal note, I'd like to thank you (Jay Egg) for your influence on the way the Dandelion Air was developed. We spoke a few years ago when Dandelion was a very early stage project at Google. At that time you encouraged us to look for durable and cost effective solutions and resist the urge to fetishize components and features. That is exactly where we ended up. Thank you.
---
EggGeothermal Disclaimer: As a neutral geothermal industry advocate, I personally choose to share views and information that I believe is enlightening, educational, and newsworthy. Read Geothermal Technologies Explained for the Rest Of Us in GBM for more information on the technology.
Jay Egg is a geothermal consultant, writer, educator, and the owner of EggGeothermal. He has co-authored two textbooks on geothermal HVAC systems published by McGraw-Hill Professional. He can be reached at jayegg.geo@gmail.com
---
This week's related Dandelion Press Release Follows:
Dandelion Launches the Dandelion Air
May 30, 2018, New York, New York -- Today, Dandelion, a company that started at X, Alphabet's research and development lab, launches the Dandelion Air. The Dandelion Air is a smart, all-in-one home(1) heating and air conditioning system. It is over four times more efficient than any furnace on the market(2). It is also nearly twice as efficient as a conventional air conditioning system.
The Dandelion Air's efficiency comes from tapping into the ground as a heat source or sink.The Dandelion Air is being sold for less than $20,000, about half the cost of traditional geothermal installations. The company is also offering no-money-down loans, and payments of $135 per month over a 20-year term. A typical homeowner who switches from heating oil to the Dandelion Air is expected(3) save ~20% annually on the cost of heating and cooling their home . Homeowners can see if their home qualifies for a Dandelion Air on Dandelion's website.
Unlike a conventional fuel furnace, the Dandelion Air is safe, smart, and low maintenance. Fuel free, the Dandelion Air eliminates risk of carbon monoxide poisoning and improves indoor air quality. The system comes with a Nest learning thermostat and cloud-connected monitoring system. These smart features ensure the system is running with optimal efficiency and homeowners will save as much money as possible over time. The system is known to be low maintenance and have a 20+year lifetime.
Dandelion chose AAON (NASDAQ: AAON), a heat pump manufacturer with over 30 years of innovative HVAC manufacturing experience, as its production partner. AAON water-source heat pumps provide heating and cooling to tens of thousands of buildings. The company employs over 2,000 people in the United States and is headquartered in Tulsa, Oklahoma.
"We're thrilled to partner with AAON on the Dandelion Air," said James Quazi, Co-Founder & Chief Technology Officer of Dandelion. "AAON uses state-of-the-art automation technology for precise, time-efficient production of each unit. Together, we will continue to drive up quality and drive down costs of home geothermal heating and cooling."
Dandelion has also partnered with top tier residential HVAC installers across New York state to install the Dandelion Air. Homeowners can see if their home is a fit for the Dandelion Air and connect with a local Dandelion installer at www.dandelionenergy.com.
1 The Dandelion Air has a Coefficient of Performance (COP) of 4.4. This means the Dandelion Air produces 4.4 units of heat for every 1 unit of electricity consumed (440% efficiency); fuel furnaces cannot achieve higher than 100% efficiency.
2 The EPA found that geoexchange systems can reduce a home's cooling spending by 50% compared to standard air-conditioning. Source: https://www.geoexchange.org/library/renewable-and-ready/
3 These estimates are for a 2,500 square foot home in the Hudson Valley. You can see assumptions and calculations here.
About Dandelion
Dandelion is a home geothermal heating & cooling company. It's mission is to enable the widespread adoption of home geothermal heating as an alternative to gas, oil, propane or electric heating.
Dandelion began at Google parent company Alphabet's X lab before launching as an independent company in May 2017. Dandelion operates out of New York City. To learn more, visit us at www.dandelionenergy.com.
About AAON
AAON, Inc. is engaged in the engineering, manufacturing, marketing and sale of air conditioning and heating equipment consisting of standard, semi-custom and custom rooftop units, chillers, packaged outdoor mechanical rooms, air handling units, makeup air units, energy recovery units, condensing units, geothermal/water-source heat pumps, coils and controls. Since its founding in 1988, AAON has maintained a commitment to design, develop, manufacture and deliver heating and cooling products to perform beyond all expectations and demonstrate the value of AAON to our customers.
Media Contact: Katie Ullmann VP of Marketing
katie@dandelionenergy.com 617-529-8039