Google's solar interface allows homeowners to calculate the costs and benefits of installing solar on their property.
As reported by Matt O'Brien for The Mercury News: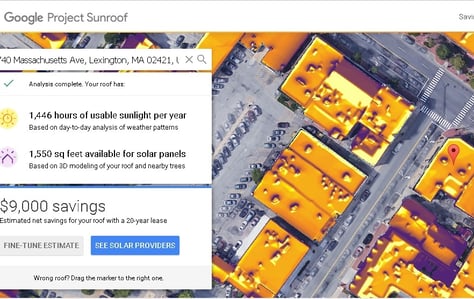 Typing a home address into Google's new Project Sunroof website (www.google.com/sunroof) sends a user to a bird's-eye neighborhood view, with roofs color-coded in a range from sun-drenched yellow to shady purple. The tool calculates how much money a resident would save with a solar rooftop, then directs the user to companies that can install the panels.

Along with pushing Americans to adopt cleaner energy practices, Google eventually will make money from the new product with a commission for each Web referral to a solar energy provider.

"I learned that many people are in favor of going solar, … but they wrongly believe it's very expensive," said Carl Elkin, the software engineer who created the new tool, in an interview.
Read more about Google's solar project at The Mercury News.
***Note that Google is not the first to introduce this type of technology. We wrote about a company named Mapdwell back in 2015 offering a similar service.-Editor