Researchers explore use of residual biomass of bananas for bioenergy applications.
Millions of tons of bananas are produced each year and banana waste is currently left on the ground or taken to dumps. Researchers in Ecuador are looking into ways to use this waste to satisfy electrical and bioethanol needs.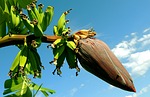 From Bioenergy Insight comes this story:
Researchers from the Agro-Energy Group at Universidad Politécnica de Madrid (UPM) have used geographic information systems to assess the potential use of the residual biomass of bananas produced in the province of El Oro, based in the south east of Ecuador, for bioenergy applications.
According to the academics, results show that the use of this waste could satisfy the 55% of the electrical demand of the region and the 10% of bioethanol demand nationwide.
Read more on turning banana waste into biofuel here.