Delivering Water and Energy Efficiency
IN 1994 UPONOR disrupted the plumbing industry with the introduction of AquaPEX, its cross-linked polyethylene alternative to copper pipe. Because of its durability, flexibility, ease of installation and resistance to corrosion, AquaPEX quickly gained ground on its competitors.
Uponor also makes PEX products for radiant heating and cooling systems and fire sprinklers. All of the company's products contribute to water and energy efficiency and/or health and quality of life. AquaPEX ensures water stays clean and safe, and because it is much less prone to leaks, can help save water. Radiant heating systems save energy; they distribute heat efficiently, and can often be set at lower temperatures than other heating systems. They're also comfortable and healthy, and unlike forced-air systems, produce no dust or noise. As for sprinkler systems, they can potentially save the entire building from being consumed by a fire—another definition of sustainability.
There's no denying that PEX products are made of plastic.
"We're using what we recognize as a valuable and finite resource, but we're making safe, long-lasting products that contribute to energy efficiency and comfort," says Dale Stroud, senior director of marketing and offerings at Uponor.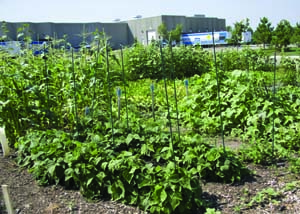 Happy, Healthy Workers. Uponor started its Community Garden in 2008, to encourage employees to cultivate the earth and eat healthier. More than a dozen plots are available to Uponor employees and their immediate families.
PEX products produce a very limited end-of-life stream because they're so durable. Though guaranteed for at least 50 years, they will likely last the life of the building. The base material of PEX is regular polyethylene—the same material in milk jugs and plastic bags. The cross-linked bonds increase its heat resistance, but make recycling trickier. Since it can't simply be melted and used again, end of life and/or scrap material is be used as a blending agent or filler for artificial lumber and other products; it can also be used as a fuel source.
Uponor participates with other companies in two organizations, The European Plastic Pipe and Fittings Association (TEPPFA) and Plastic Pipe and Fittings Association (PPFA) in North America, to create life-cycle assessments for PEX. When analyzed for six impact categories, from primary extraction to end-of-life treatment, the material compares favorably with iron, concrete and copper.
In the Pipeline
More recently, Uponor has released two products that answer the growing demand for sustainable solutions. Its AquaPEX Reclaimed Water Tubing is intended for greywater systems and dyed purple, the industry standard for identifying reclaimed water. And EcoPEX, Uponor's pre-insulated tubing, appropriate for above-ground and buried plumbing systems or hydronic heating and cooling systems, can potentially save energy, time and installation costs.
"The commercial sector represents an exciting new opportunity," says Ingrid Mattsson, director of brand management. "We're translating what we've learned in residential and applying it." To that end, Uponor's newest product is a larger dimension pipe that can be used in commercial applications.
Radiant cooling, while not extremely applicable in homes, is a good option for commercial applications. The systems allow for more design freedom, since they can be used in places where locating ducts is difficult, and are becoming more popular as more people commit to high-performance buildings.
2020 Vision
Uponor conducts business regularly in 35 countries, mostly in Europe and North America. The company's sustainability strategy started from the ground up, says Mattsson. In 2006, she and several other North American colleagues had formed a "Green Team," now called the Sustainability Team, to identify low-hanging fruit: implementing recycling programs and, on the manufacturing side, adopting methods to run more efficiently. For instance, converting to a "dry" cooling system, (cooling water is part of the manufacturing process) saved one million kilowatt-hours and $100,000 in the first year alone.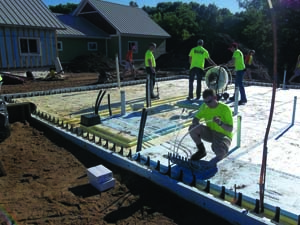 Giving Back. Employees install an Uponor radiant floor heating system in a Habitat for Humanity Eco Village home in River Falls, Wisconsin. To date, employees have dedicated more than 1,500 hours of time to the project.


"Like a lot of companies, we started by adopting the triple bottom line: people, profits, planet," says Stroud. Not too long afterward, corporate adopted a similar approach. Mattsson and Stroud recently attended a corporate meeting in Hamburg, where reps from different operations discussed 2020 Vision. The company has morphed the triple bottom-line concept into four pillars:
Integrating sustainability into the corporate mindset
Driving down environmental impact
Enriching life through innovative solutions
Engaging external stakeholders in the company's sustainability journey
The 2020 Vision, which is in the process of being formalized, includes creating a sustainable supply chain and setting specific footprint goals. Meanwhile, the Minnesota facility, which employs between 380 and 400 people, earned the Community Impact Award in the Sustainability category from Minnesota Business Magazine in 2013, and was voted one of the top places to work in the state.
"We do a lot of things, both with communities and employees," says Mattsson. These include "Lunch and Learn" sessions, which provide updates and overview what the company is trying to do, both in North America and worldwide. All employees have the opportunity to spend 24 hours, or three work days per year, on qualifying charity work.
Company Profile
Founded: 1982
Headquarters: Vantaa, Finland
Divisions: PEX products for radiant heating and cooling systems; Plumbing; Fire Safety
Scope: Operations in 30 countries; 10 manufacturing facilities in five countries; 3,200 employees


---
Have an idea for a guest blog for Green Builder Media? Click here to become a blogger.