Clean Energy for Everyone
SOLAR CITY REACHED A MAJOR MILESTONE earlier this year: the company's customers generated one billion kilowatt-hours of clean solar energy.
"The most significant thing we've done is making clean energy affordable and accessible to more people," says Jonathan Bass, SolarCity's vice president of communications.
SUSTAINABILITY GOALS

- 1 billion kilowatt-hours of clean energy has been generated by SolarCity customers, as of spring 2014.
- 1 million solar rooftops by 2018.
- Provide 400 schools with PV systems and battery backup systems in 2014 through the Give Power Foundation.
- Inside Energy, the market research arm of the company, provides up-to-date information on consumer trends in sustainability and real-time market information on clean energy.
Into the mid-2000s, the only way to go solar was to write a big check. SolarCity disrupted the industry with its service agreement model. Customers pay minimum up-front costs; instead of purchasing a PV system, they lease one from SolarCity, which takes over the installation and maintenance responsibilities. In exchange, the customer pays a set rate for electricity over the life of the agreement.
Bass disputes the perception that solar is only for the wealthy, noting that in California, growth in PV installations among the low- to middle-income level recently reached triple digits (according to a CPUC study in 2012).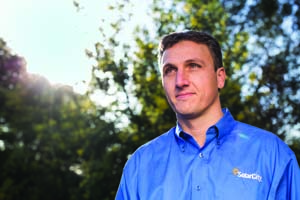 A Clear Vision. SolarCity was co-founded by brothers Lyndon and Peter Rive; Lyndon (pictured) serves as CEO. Cousin Elon Musk, founder of Tesla, helped define SolarCity's vision and serves as the company's chairman.
As a clean, renewable energy source, solar saves carbon emissions and doesn't require damming rivers or produce hazardous waste, but another big benefit, and one not often talked about, is water savings. "We often focus on carbon emissions and energy, but there is no water used in the generation of energy from solar panels," says Bass. Thermal power plants use as much water to generate electricity as agriculture; SolarCity estimates PV installations in California are saving the drought-prone state 684 million gallons of water annually.
SolarCity's PV systems are saving its customers money, too. The savings generated by a school PV project in central California's Firebaugh District, an area hit hard by the recession, allowed the district to revive its music program. The program is expected to save $900,000 in first five years.
The SolarCity model has also created hundreds of new jobs. SolarCity is the largest solar employer in the U.S., hiring an average of 400 people a month, and as Bass points out, these are jobs that cannot be outsourced.
"One thing we're trying to do is make the operation centers closer to customers," he says. In California, SolarCity has operation centers within 30 miles of 90 percent of the population, which equates to shorter drive times and more jobs in more places.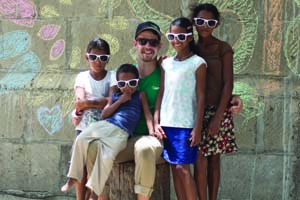 The Gift of Light. Through the Give Power Foundation, SolarCity provides PV systems to schools and communities in the developing world.
Giving Back
Launched late last year, Give Power is the company's major charitable initiative. The goal? For every megawatt of installed PV—about 160 homes—Give Power will donate a solar PV system and battery backup to a school or community without electricity. Some of these are one- and two-room schoolhouses, which become community centers and gathering places at night, once they're electrified. The foundation's first international project was recently completed in El Islote, a community in rural Nicaragua.
"We looked at the project as a pilot; we picked employees that could be leaders of future projects," says Bass. SolarCity sent a group of employees into the field to work with GRID Alternatives, a Bay Area nonprofit that brings solar to communities in need, both domestically and abroad.
Storage Solutions
DemandLogic, one of SolarCity's newest initiatives, combines PV systems, battery storage and software management. Designed for businesses that get hit with demand charges, the program allows customers to use stored energy at times when demand is high but solar supply is low, such as early or late in the day. During the ten-year service agreement, customers make monthly payments that are more than offset by the money saved by reduced demand charges. Battery storage reduces need for so-called Peaker Plants; these plants, which run only during times of peak demand and tend to be less efficient. SolarCity is using lithium-ion Tesla batteries for storage.
The demand charge creates an economic incentive to develop storage capacity for solar, says Bass. "Battery technology is where PV technology was five or six years ago." The main factor limiting batteries right now is their cost, but Bass believes that as electric vehicles (EVs) start to proliferate, the cost will decline. As of now, DemandLogic is only available in California, Connecticut and Massachusetts; SolarCity has also launched a residential pilot project for 170 California customers.


Company Profile
Founded: 2006 by brothers Lyndon and Peter Rive
Headquarters: San Mateo, CA
Divisions: Full service solar PV systems provider, including permitting, financing, energy audits, installation and maintenance.
Scope: 45 operations centers serving 15 U.S. states; over 6,000 employees.


---
Have an idea for a guest blog for Green Builder Media? Click here to become a blogger.