The Confluence of Science and Sustainability
DuPont started out making gunpowder over 200 years ago; in the 20th century it developed products like Nylon, Kevlar and Tyvek, which have since become generic for their ubiquity. You can trace the company's evolution through its slogans­—from "Better Living Through Chemistry" to "The Miracles of Science" to today's: "Welcome to the Global Collaboratory."
"As needs have evolved, our focus has shifted," says Laura Dwyer, Building Knowledge Center manager. "Now we're applying our scientific approach to solving global problems." These include climate change, energy security and sustainable food production in the face of a growing population.
SUSTAINABILITY GOALS

Since 2004, DuPont has reduced greenhouse gas emissions by 25 percent, global water use by 12 percent and water use in stressed areas by 21 percent.

2015 Market-Facing Goals include doubling investment to $640 million in R&D programs with direct, quantifiable environmental benefits.

2015 Footprint Goals:

Non-renewable Energy: 3 percent reduction by 2015; 10 percent by 2020.

Greenhouse Gases: at least 15 percent reduction from 2004

Water Consumption: 30 percent reduction at sites where freshwater supply is stressed or scarce.
The company is built around four core values: safety and health, respect for people, environmental stewardship and ethical behavior. The overarching goal is to create the greatest benefit for all stakeholders without compromising future generations.
The company's "market-facing" goals reflect that shift. These include doubling its investment in R&D for products with environmental benefits. Some of these are products incorporated into building envelopes, such as the recently launched Tyvek ThermaWrap R5.0, which forms a continuous exterior thermal break and contributes insulation value.
"Although we make lots of products in many industries, sustainability is a part of each, from design/development through end of life," says Dwyer. R&D programs are assessed against 10 product sustainability categories related to environmental performance. To qualify, products must provide a clear superior benefit in one or more categories while being at least on par with the incumbent product in all other categories:
Climate Change
Energy Use
Pollution
Material Use
Waste
Disposal
Ecosystems and Biodiversity
Water
Toxicological Risk
Use of Non-Depletable Resources
One of the company's newer products that makes the grade is Sorona, a plant-based fiber used in carpets, fabric for clothing and automotive mats. It consists of 37 percent annually renewable plant-based ingredients by weight. DuPont conducted a cradle-to-gate life-cycle assessment of Sorona and found its production carried several environmental benefits when compared to nylon—another DuPont creation. For instance, Sorona polymer production requires 30 percent less non-renewable energy and reduces greenhouse gas emissions by 63 percent, compared to the production of an equal amount of nylon 6.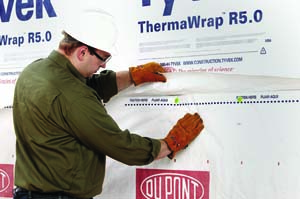 High Performance Housewrap. Tyvek ThermaWrap R5.0 combines a breathable weather barrier with exterior insulation, adding R-5.0 to the building envelope. Unlike rigid exterior insulation, it can be installed shingle-style, ensuring complete protection around the entire building.
Global Reach, Shrinking Footprint
By 2012, DuPont had achieved most of its 2015 footprint reduction goals three years ahead of schedule, even as production and revenues increased. The company's 2015 goals seek to reduce its operational footprint, research and develop more sustainable products and services and reduce the use of non-renewable energy (per price of adjusted dollar revenue).
DuPont approaches energy use reductions from all angles.
"Half of all PV products ever made were made by DuPont," says Dwyer. "We're also using PV wherever possible, including our two new office buildings." Both of these new buildings, located near DuPont's headquarters, are LEED Gold and utilize solar PV, daylighting and motion sensors in the conference rooms.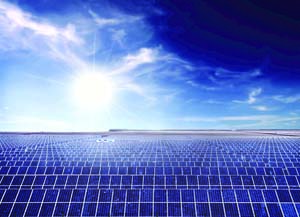 Supporting Renewable Energy. DuPont collaborates with Sharp to make some of the most efficient solar panels in the industry. DuPont also partners with other companies, governments and NGOs to help develop wind and biofuel energy.
"Drive to Zero," an initiative launched in 2009, set a goal of zero waste-to-landfill at its Building Innovations manufacturing sites. At that time, the company was delivering 81 million pounds of waste to landfills every year. The division achieved zero waste by 2012, by collaborating with suppliers and finding outlets for "waste" products: saving the waste ends of its popular Tyvek housewrap to make new product; using the sanding waste from Corian countertops as a filler replacement in concrete; and diverting food waste from its cafeterias for use in worm bedding or as biofuel.
The company also seeks to reduce water use, but has set different thresholds for different locations, depending on whether freshwater supply is scarce or "stressed," as determined by a UN analysis of river basins. The 2015 goal is to reduce water use in such locations by 30 percent, but the company is "driving toward zero," with the goal to capture and reuse all water at its facilities. As one example, the company's Fayetteville, North Carolina, facility started capturing steam condensate for re-use, which saves 12 million gallons of water each year. This process also saves significant energy, since the water is already heated and needs minimal treatment. Sometimes water and waste are captured simultaneously; for example, the sanding of quartz requires water. Afterward, the sand and water are separated and the water is reused; the sand is recovered for concrete mix.
DuPont's market-facing goals, introduced in the early 2000s, take a broader approach to sustainability. Last year's sustainability report included progress on a new category: Food Security, which includes goals for engaging 2 million young people in education and investing $1.2 billion (since 2012) in researching technologies that will help feed the world.
Company Profile
Founded: 1802
Headquarters: Wilmington, DE
Divisions: Building Innovations; Sustainable Solutions; Protection Technologies; Titanium Technologies; Crop Protection; Electronics & Communications; Performance Polymers; Packaging & Industrial Polymers; Chemicals & Fluoroproducts; Industrial Biosciences; Nutrition & Health; and DuPont Pioneer.
Scope: Operations in 90 countries; over 60,000 employees worldwide.


---
Have an idea for a guest blog for Green Builder Media? Click here to become a blogger.