Legitimate "green" landscape products should help homeowners conserve water, spend more time outdoors, or reduce maintenance impacts. Here's a selection of products that meets those criteria.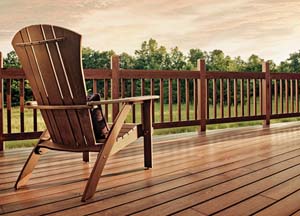 Perennial Wood is a new offering: natural wood that has been modified on the molecular level to resist the harmful effects of moisture, thanks to a treatment called TruLast. Using heat, pressure and an organic compound, TruLast Technology permanently expands the wood's cell walls to a fixed position, helping the wood minimize water absorption, which means it's less likely to shrink and warp like regular wood. It comes factory finished in four colors and requires no special tools for installation.

The Instapark® GYP-0014 Solar-Powered Water Pump taps into solar energy to power ponds or fountains. The 1.2 W unit doesn't require a power cord, so there is no risk of electrical shock. The product requires little assembly. Three spray nozzles are included, and it is suitable for ponds with a maximum water flow of 52 gallons per hour.

Offer your home buyers a custom-look garden bridge that is made of a highly durable composite material made from a combination of wood and plastic fibers from reclaimed or recycled sources. Redwood Garden Bridges offers this wood product in two colors—Red and Slate Gray. It is ready to use, with no need for sealers, paints or weather treatment.

NyloDeck is a PVC-free decking option that offers the beauty, texture and color of natural wood, with the impervious bond of VOCfree resins (from recycled carpet fibers). It comes in four colors: Caramel, American Gray, Cocoa and Chestnut. This waterproof product is strong, yet lightweight and resists mold, mildew, stains and termites. It is UV protected and comes in lengths up to 24 feet.

The Original Rainwater Pillow can hold from 1,000 to 200,000 gallons of water (customizable), and is a rainwater harvesting system ideal for irrigation, toilet flushing, stormwater management and fire suppression.This product comes as a complete system with the pillow, filter, pump, remote control and all the fittings fully automated. It can be placed in wasted horizontal spaces such as a crawlspace or under deck or porch areas.

Bella Fleur unveils the Paradise Pergola with BellaBlades Solid-Core Architectural Louvres is 100 times the impact strength of glass, according to its maker, Bella Fleur. The glass is made from recycled and reclaimed materials, is energy efficient, has UV inhibitors, and encapsulates real organics in stunning standard and custom designs. The company's solid-core architectural glass panels can be used in a variety of other ways, such as in privacy fencing, outdoor showers, and other hardscaping designs. www.bellafleur.com

The Ultra Series Basement Door from Bilco is a weather-tight, low-maintenance protective covering for basement access. The door will not rust and doesn't require painting, because it's made from high-density polyethylene that simulates the look of wood. The door indirectly aids energy efficiency, because it doesn't suffer from the extreme thermal transfer energy loss of a steel basement door. A removable side panel allows seasonal ventilation.

Since 1981, Orenco has produced rain-, grey-, storm- and wastewater collection and treatment systems that use little energy and produce high-quality, re-usable treated water. VISION House L.A. features the company's stormwater catch basin and pump basin, which provide stormwater filtration, storage and transportation. The system uses no chemical or additives.

A fresh take on the traditional campfire, the EcoSmart Fire Stix outdoor fireplace uses clean-burning ethanol, an energy source made by fermenting the sugar and starch components of plant by-products. The fireplace consists of varying-sized tubular stainless steel sticks that are secured around an efficient 3 liter burner, which is easy to set up and reposition. The flame burns for about eight hours. Comes in Brushed Stainless Steel, Black Steel or Bead Blasted Stainless Steel.

This permeable paver from Belgard offers the classic look of cut stone while also helping to reduce pollution from rainwater runoff (up to 100% from the common rainstorm). The product has a 50-year life cycle, performs well in harsh climates or freeze-thaw cycles, and the added permeability can mitigate the need for detention/retention ponds.

FireRock pre-engineered masonry fireplaces offer beautiful designs with good heat reflection (versus metal), affordability (versus site-built options), and high-performance draw characteristics. The company offers a wide variety of sizes and models, and because the product is pre-engineered, installation is quick.

Brick pavers by Boral are durable, long-lasting, and will hold their color for years. They are made from all natural, sustainable materials (clay and shale), do not require a sealer, and are manufactured under Boral's well-documented, sustainable process. They come in nine colors and three edge styles.

The Hunter MP Rotator features a unique, multi-trajectory rotating stream delivery system that achieves water-conserving results. Rather than simply "spraying" water onto landscapes, MP Rotators deliver multiple streams of water at a slow, steady rate. This slower application rate allows water to gently soak into the soil, and achieves an even distribution throughout the area being irrigated. This increased efficiency results in 30% less water use when compared to traditional sprays, and significantly reduces wasteful runoff. The MP Rotator can be installed onto any conventional spray head body or shrub adapter.

The Simple-to-Set Smart Controller from Rainbird offers Self-Adjusting Weather Sensing Technology. It automatically adjusts the watering schedule, taking into account both the season and current weather conditions. The controller can water plants year round without any additional reprogramming, through a combination of a built-in, nationwide historical weather database and a Smart Weather Sensor—which is included with the product.

The floatron is a portable, floating water purifier, combining solar power with mineral ionization to keep pools clear by introducing micro amounts of specific elements into the water. The mineralized water controls microorganisms such as algae and bacteria. Unlike chlorine, which can lose potency after just a few hours, mineral ions remain effective for weeks. This product's PV panel uses the sun to produce a low-power current that energizes a specially alloyed mineral electrode below the waterline thereby mineralizing water as it floats around the pool. No installation is necessary, and it is made in the USA.