Free Ebook: Safe Havens in Turbulent Times
Green Builder's 3rd Edition of the Resilient Housing Design Guide.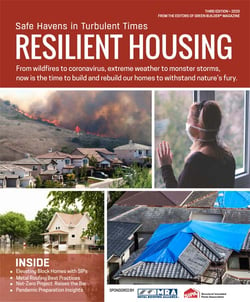 From wildfires to coronavirus, extreme weather to monster storms, now is the time to build and rebuild our homes to withstand nature's fury.
Includes:
Elevating Block Homes with SIPs
Metal Roofing Best Practices
Net-Zero Project Raises the Bar
Pandemic Preparation Insights
There's never been a better time to talk about resilience.
Fill out the form on this page to download your free copy.
Sponsored by: