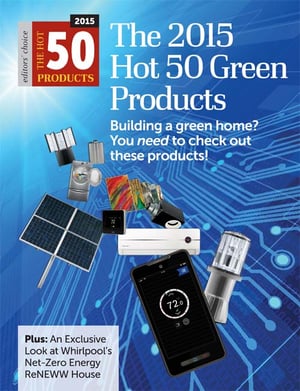 Everyone Has a Favorite Green Product
Green Builder Media's 2015 Hot 50 Green Products Ebook: Download It Today!
When Green Builder Media launched this year's Hot 50 Green Products issue, our editors got a little help with our green picks. Here, flooring manufacturer Cali Bamboo's office goat Geronimo registered his vote for Cali's durable 100 percent formaldehyde-free Eucalyptus flooring.
Today's resilient houses require the absolute best in sustainable products. Check out this year's standouts, including Whirlpool's HybridCare Ventless Duet Dryer, Kimberly-Clark's BLOCK-IT House Wrap, ZIP System stretch tape and many more.
Fill out the form on this page to download the free eBook.