If you're building new or remodeling, make sure you have a conversation about going "net zero" with your contractor.
Homeowners can go the extra mile to create a sustainable living space by creating a net zero building. A net zero building or home is space with zero net energy consumption, meaning the total amount of energy used by the building on an annual basis is roughly equal to the amount of renewable energy created on the site.
The World Green Building Council defines net zero as this: A highly energy-efficient building with all remaining operational energy use from renewable energy, preferably on-site but also off-site production, to achieve net zero carbon emissions annually in operation.
Modern electric systems are reliable, efficient and economical and let homeowners enjoy clean, reliable energy, all without having to purchase additional electricity from a local utility. Most importantly, solar electric systems increase the value of a home and provide clean solar energy for decades.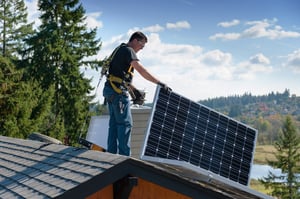 Net Zero Case Study
In the summer, homeowners produce more energy than needed. By going to net zero they can bank that energy with their local utility then use those credits in the winter, when they need it. The Neil Kelly Company recently completed a solar project in Happy Valley, Oregon. The homeowner wanted to get to net zero on their three-story, 45-degree roof, but didn't want a messy solar setup. By successfully installing solar, cleanly and neatly, Neil Kelly helped the homeowner achieve net zero. In fact, this system has produced a surplus of energy and the homeowner hasn't had to purchase electricity in over a year.
Steps to Net Zero
Before installing solar on a home, it's important to take the necessary steps to ensure the project is successful. First, examine the structural integrity of the home. For instance, if it's an older home, structural upgrades might be necessary. Second, ensure the electrical system can handle the extra production of solar arrays. Third, define goals and work within a budget. Finally, homeowners should get a solar assessment.
This assessment can help answer the common questions:
What system is right for the home?

What are the out-of-pocket costs, after incentives?

How much will the home's value increase when solar is added?

How much energy will the system produce?

How long will it take the system to pay for itself?
With these questions answered, homeowners can gather all the pieces and draft a bid seeking solar energy professionals that specialize in the design, installation and maintenance of residential solar energy systems. Ideally, choose a contractor that uses top performing system components from industry leaders such as SolarWorld, the largest American solar manufacturer. Once a bid is approved, ensure all the paperwork for utilities and permits is complete, then begin the planning and designing. Most solar panels and equipment can be installed in 2–4 days.
Take Advantage of Incentives
Adding solar to a home is a big decision. However, there are numerous incentives to get projects started. Generous solar tax credits and incentives can substantially reduce the cost of installing a solar electric system, paying for 50 percent to 75 percent of an overall project. It's important to note that these incentives and tax credits can change frequently, and are generally lowered or eliminated with short notice, so keep an eye on federal and state incentives before starting a project.
For example, the installation of a rooftop solar system (and other energy efficiency investments) for an average size house and residential system in Oregon — like the for the Happy Valley, Oregon project — homeowners can receive up to 50 percent in energy savings, and up to $1,200 in cash incentives and state and federal tax credits.
Installing solar on your home, whether you want to achieve net zero or not, is a great investment, adds to your home's value, and gets you locked into current, and often, wildly changing energy prices to generate clean solar energy for decades.
---