Reduce your heating and cooling costs, as well as your overall energy use, by investing in smart thermostat technology.
In the wintertime especially, space heating and cooling takes a major bite from monthly energy bills.
To cut back on energy-related expenditures and improve your home's energy efficiency, you can make the choice to invest in "smart" thermostat technology. New wifi-enabled thermostats are able push for more consistent savings than old-fashioned programmable models, as they learn your temperature preferences and cut out any unnecessary waste.
Operating from within the larger Internet of Things (IoT) ecosystem, Internet-enabled thermostats not only make sure our homes are right at that comfortable temperature when we walk in the door, but do so while helping to reduce our collective carbon footprint.
How could a smart thermostat benefit you and your family? Take a look at these factors to learn more about this type of technology and how it can help you go green and save some green at the same time.
What Are the Benefits?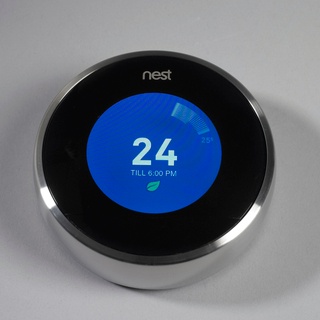 1.) Reduce Energy Expenditures Feel like your budget is already a little tight without adding any new expenses? You're not alone. According to a survey by The Federal Reserve Board, 47% of Americans could not afford to cover a $400 emergency without relying on credit or selling something valuable. Whether that is your situation or not, a smart thermostat can help you find savings you may not have known existed.
According to a 2015 Coldwell Banker and CNET's Smart Home Survey, 45% of Americans who installed smart products in their homes averaged a savings of over $1,100 a year — or about $92 per month — on their energy bills.
"Heating and cooling your home accounts for more than 25% of your energy bill, but a smart thermostat can cut that down drastically by adjusting itself when you're away or sleeping," Rob Caiello, Vice President of Marketing at Allconnect, a home technology and utility service company, said.
Caiello also emphasized the ability to control smart thermostats remotely, allowing you to adjust your home's temperature from your smartphone or computer. "You can change the temperature of your home from anywhere in the world, making saving even smarter and more convenient," Caiello said.
In addition to remote control, smart thermostats also provide usage data - in real time - which, the longer you use the product, helps you manage your consumption and further reduce your monthly housing budget for optimum savings. Just a week after unboxing and manual setting, your thermostat will have learned your schedule and temperature preferences. The Nest Learning Thermostat, for example, offers monthly energy usage reports and "Leaf" badges when energy-saving goals are met.
If you crave specific numbers before you start to shop, it's a good idea to nail down actual smart thermostat savings by requesting an energy audit from your utility provider or the EPA's Energy Star program assessors (find a professional in your area here). They can identify the costs associated with heating and cooling your home to help you calculate savings once your smart thermostat is installed and functioning.
2.) Boost Your Property Value
Eco-friendly upgrades could provide a competitive edge when it comes time to sell your home, according to the Coldwell Banker and CNET survey. Of those surveyed who currently use smart devices in their homes, 81% said they were more likely to buy a new home with similar technology in place. While your property's value depends on a number of factors, like location and other upgrades, industry experts encourage sellers to think "green."
"A smart thermostat or other green home amenities helps sell your home," Jing Pu, CEO of Philadelphia-based Edgewise Realty, said. "In the Philadelphia market place, winter heating bills can be reduced by up to 40% by using a smart thermostat."
3.) Bonus Rebate Savings Beyond your energy bill savings each month, installing a smart thermostat could make you eligible for a rebate from your energy provider. For example, Seattle-area Puget Sound Energy offers a $75 rebate to customers who install smart thermostats in their homes. You can find out the deal you may get for installing a smart thermostat (or other green products, like new windows or energy efficiency light bulbs) by visiting energystar.gov.
4.) More Green Savings to Come The Nest smart thermostat, which turned 5 in October, was recently listed by Time Magazine as one of the "50 most influential gadgets of all time." In renovated homes, thermostats are the most popular smart addition: from 2015-2016, nearly half of all new thermostats installed had "smart" capabilities. These devices form an integral component of the "green" home automation ecosystem, relaying data back to energy utilities as well as end-users, creating a fuller picture of energy use by neighborhood, city and region. When it comes to addressing both home energy spending and climate-related concerns, thermostats with smart capabilities offer consumers a practical way to make a positive impact.
---