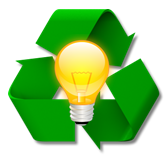 Builders, contractors, designers and consumers all over the world are switching to LED light options today and saving loads of energy in the process. It's a great step forward, but it's just one of many to reducing our carbon footprint as we light our lives.
Here are 10 things you can do to create greener spaces with lighting.
Replace old CFL bulbs with LED to fix rooms experiencing "lumen depreciation"
As time passes, the spiral CFL bulbs we've been using for years are getting slightly dimmer. This issue is called "Lamp Lumen Depreciation" and it occurs in LED, too. Old bulbs may not be dead, but they could be significantly dimmer than the day they were installed. New LED options can provide more light for the same wattage as brand new CFL bulb choices of years past. Buy a new LED bulb with 800 or 1000 Lumens to mimic the old 60W standard bulb and test it in any fixture currently using an older CFL bulb. You'll brighten your space in seconds, and because LED lighting is so long-lasting (up to 25x longer lasting or more), you'll be able to enjoy the new look for years to come. Lastly, be sure to turn in those old CFL bulbs for proper recycling.
Get control – Add dimmers, occupancy sensors, timer switches, remotes or more
People are often surprised to discover that they prefer a space to have less light to be more comfortable. Sometimes it's a matter of getting control of the light in a room. Add a dimmer switch to the chandelier over the dining table. Add an occupancy (motion) switch in a utility, laundry or mud room so there is no worry about operating switches where hands are frequently full. Consider a timer switch for outdoor lights or a remote control for a floor lamp on the other side of the room. People find that with better and more convenient controls, it's much easier to get the level of light just right.
Swap the shade or replace the finish to fix outdated fixtures
A great way to be more "green" is to reuse items instead of sending functional products to a landfill. It's easy to purchase a new lamp shade for an old lamp to refresh its style. You can also completely change the appeal of an outdated lamp shade, lamp base or fixture with paint. There is a wide array of paints in an amazing selection of textures and colors available. The result can be a renewed look that retains the dramatic accents and show-stopping details you loved about the lamp or fixture in the first place.
Move it around to make it useful
You may find that whoever planned the lighting for a space had something different in mind. The light fixtures may be placed inconveniently for the purposes of the room today. If a chandelier is not centered over a table or the plug for a floor lamp is on the wrong side of the room, consider moving the light or plug. For under $100 or so, an electrician can often put that junction or plug right where it is needed. It's even less expensive to simply swag a chain-hung pendant to hang exactly where the light can be put to better use. When lighting is located perfectly for specific uses, people are less likely to use more light than necessary.
Yes, you can change the glass or bulb choice to create a whole new style!
There are a lot of ways to refresh existing fixtures to create new appeal. To avoid spending money on a new fixture, consider the options of purchasing new bulbs or glass shades. Fixtures with visible bulbs can look strikingly different with a vintage bulb or a bulb of a different shape. Swap a candle shape bulb with a frosted globe or tube. Check options at your lighting store for new glass for hanging mini-pendants over a kitchen counter. Floor lamps often have interchangeable and replaceable glass shades readily available in an assortment of finishes and sizes online. And remember that the fixture you're updating doesn't need to stay where it is now … would an updated fixture look great in a different space instead? Consider these options for your existing fixtures before discarding them.
Set the Scenes – Enjoy a more dramatic space with less but more focused light
People often tackle "lighting design" by simply installing a bright light in the center of the space. And if that doesn't suffice, they get another bright lamp and put it where it fits in a corner. What they end up with are rooms that are both poorly lit and overly bright in the wrong places. Having a few more light fixtures spread around the room in strategic spots can bring more drama to a room, increase its perceived size and comfort level, make the room more useful, and actually save energy! Add small accent lamps to dark bookshelves. Add reading lights next to chairs. Bring in sconces and table lamps to brighten dark walls.
Quick Fixes – It's easier than you might think
You may be surprised at how inexpensive and easy it is to have fixtures repaired. Sometimes, it is just a matter of finding the person-in-the-know repairman. There aren't many moving parts to a light fixture, and the parts assemble together with the simplest of tools. Often the only fix required is to reconnect a loose wire nut, replace a stripped knob or bend back up that little brass tab at the bottom of a "dead" socket. Otherwise, looking up "lamp repair" online is likely to provide a local small shop within a few miles willing to do what you need for a few dollars. While we don't carry parts, there are times we carry some replacement parts. Our call center helps customers with parts or referrals.
Get out with landscape lighting and patio string lights
The idea behind "daylight savings time" was to utilize more natural daylight in the evenings when we would otherwise be inside using energy to power electric lights. However, once the sun sets and people head inside for the night, they typically use more electricity than they would outside. Outdoor LED lights are energy efficient and help to create relaxing outdoor living spaces, free of the appliances, heating, cooling and bright lights that consume energy inside. If the climate allows, make more use of outdoor space after dark. Add string lights on a patio or a pendant light over a social seating area. Expand the space into the yard using proper landscape and path lighting, too.
Find thrift-store bargains that fit new ideas
A lot of the suggestions on this list involve taking advantage of used light fixtures in ways most people overlook. People often donate fixtures that end up in thrift stores and antique shops as amazing bargains. Or they decide to sell old fixtures at a garage sale or online. Whether those bargain fixtures are used for their parts or to refinish in a new style, your creativity could bring new light to a unique treasure. These finds are often older fixtures with character and features no longer available in contemporary products. (Lamps Plus also has reduced price options at LampsPlusOpenBox.com.) Seek and ye shall find.
Get on the Friends and Family plan!
Well-designed lighting is not simple, and there aren't a lot of venues to pass lighting knowledge on to the general public. With the tips here, you may now know more than your friends and family! Pass along your suggestions, your ideas, your assistance and any unused fixtures to someone who can benefit from them like your parents, children and friends. (You can also ask questions to get answers from the home page of LampsPlus.com.) Lighting our lives well is a talent and skill that truly helps people in more ways than we initially imagine. Don't keep that valuable knowledge to yourself. Light the way!
---