My experience has shown that earthen floors are appropriate for remodeling, and in fact have some distinct advantages over other flooring options that might be considered during a remodel.
Most of the earthen floors that I am asked to consult on or build are planned for newly built houses, rather than for remodels. Many builders and DIYers who might otherwise consider an earthen floor may think that they are not a suitable option for a remodel, perhaps due to a belief that an earthen floor is a "specialty" option that requires subsurface preparation that is not feasible in a remodel situation. My experience has shown that earthen floors are appropriate for remodeling, and in fact have some distinct advantages over other flooring options that might be considered during a remodel.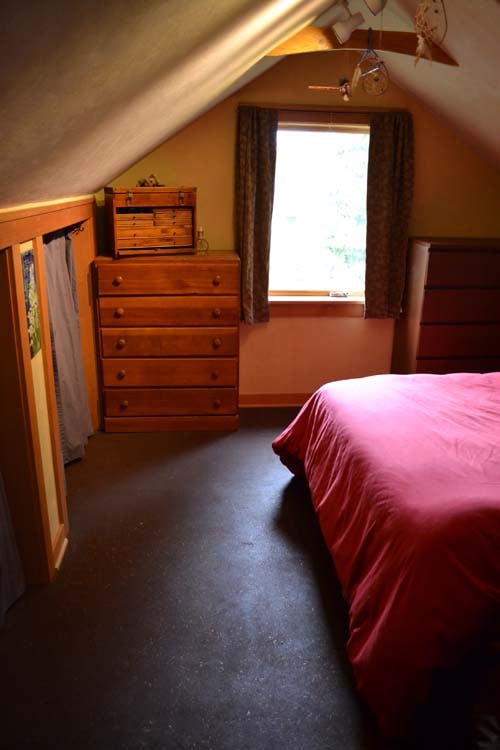 Finished earthen floor in attic remodel
Earthen Floors for Basements
In places like Portland where the price of real estate is going up, and liveable space is at a premium, more homeowners and developers are looking to convert unfinished basements into comfortable living spaces. One of the biggest challenges in a basement remodel is how to finish the floor. It is not uncommon for a basement floor to contain sections that are uneven, out-of-level, and cracked. Headroom is often limited in a basement remodel, so it is usually not possible to frame an elevated subfloor above the existing concrete. Most conventional floor products (like tile, engineered planks, or linoleum) will require that you apply a cementitious leveling coat (or several), and then often a layer of plywood underlayment. This represents a significant investment in time and materials before you've even gotten to the finish layer!
Earthen floors can solve multiple problems in a basement remodel. In many situations, a single coat (of 1.5" or less) is enough to erase any irregularities in the existing concrete subsurface. If there are large cracks or unstable areas, a separation membrane (plastic or paper) can be used to keep cracks from migrating up into the finished layer. If sections of the subfloor are particularly out-of-level, the finished earthen floor can be sloped to match it, or additional material can be added to "feather" any irregularity so that it is barely noticeable. One coat is often all it takes to transform an ugly concrete basement floor into a beautiful earthen masterpiece!
Basements are great to live in during the summer when it's hot outside, but in the winter can be cold, dark, and miserable. Radiant floor heat is an extremely comfortable way to heat a basement, and also a practical one, as there are no weight concerns and usually the hot water source (i.e. the hot water heater) is very close by. Installing a radiant heating system with an earthen floor provides heat and a beautiful finish in one single layer.
Earthen Floors for Upstairs Too
But not all remodeling projects happen in the basement. Why not put some earth upstairs, too? Most people assume earthen floors are not a viable option for a retrofit on an upper floor due to the weight of the floor system. While heavier than some options (wood, laminate), earthen floors can be designed to be no heavier (and usually even lighter) than a tile floor. If you can tile it, you can mud it!
Determining whether a subfloor is strong enough to support an earthen (or tile) floor is beyond the scope of this article. But most subfloors in houses built in the last 30 years should be able to support the weight. And often older houses are just as sturdy (if not more so!). Ask a local builder or refer to the advice in our book to determine whether your subfloor will support an earthen finish.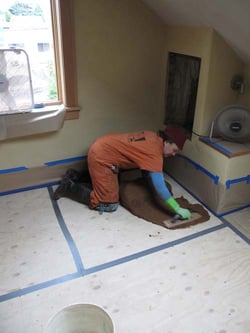 Pouring a floor over plywood subfloor in an attic remodel.
If weight is a concern, reduce the weight of an earthen floor by reducing its thickness. Our standard recommended thickness is 1", but I have successfully installed floors that are ½" thick. The subfloor must be continuous and sturdy, but that's not an uncommon situation on an upper level floor. Common subfloor materials are plywood and tongue-and-groove boards. Either of these could be suitable surfaces for a thin earthen finish. If there's too much movement between the subfloor members, put down a thin layer of plywood underpayment (¼" or ⅜") to mitigate any differential movement. Additionally, make sure your floor mix has plenty of fiber in it, to minimize the effects of any movement in the subfloor.
Laying a finished earthen floor over a wood subfloor is an easy process. Assuming the subfloor is level (or close), screed boards can be used to keep the floor flat and at a predetermined thickness. The hardest part of the process may be carrying the wet mix up the stairs!
Earthen Floors for Everywhere!
Earth is an extremely versatile building material, and earthen floors can work well in literally every room in the house. In next week's issue, we'll discuss how and why earthen floors are even suitable for kitchens and bathrooms! In addition to advantages described above, earthen floors have an attractive neutral aesthetic which can work well with a variety of design styles (from rustic to modern), another bonus for remodelers. And finally, earthen floors are made primarily from naturally occurring, minimally processed materials. Homeowners and builders who are concerned about the environmental impact of the materials they work with, and the health impact on the people who live with those materials, can feel good about earthen floors.
---