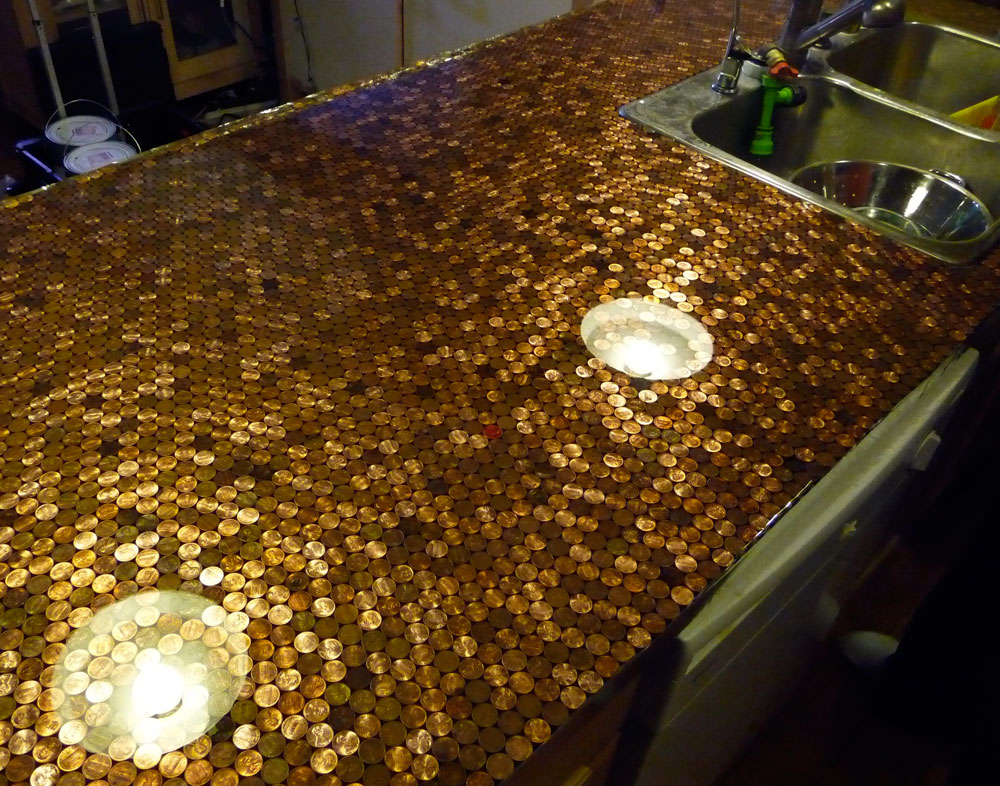 By using a food-safe resin, you can create a durable countertop that should last many years.
AN ARTICLE in Instructables caught my eye this morning. Someone posted about using pennies to recondition an old counter-top and make it look like a million bucks: Just add pennies. While pennies are not free, they're easy enough to save over time, and before you know it, you'll have enough for a good-sized surface.
I love the look of these tops, but I wanted to make sure people don't accidentally add a bunch of toxins to their kitchens. Even if you have an efficient range hood, some products off gas for months or even years. So i did a little research, looking for "best practices" that would ensure three things: 1. durability, 2. food safety and 3. zero impact on indoor air quality.
The best approach is to use a two-part epoxy that will not only seal the tops of the pennies, but encapsulate them enough to make the surface relatively smooth for cleaning. Here's a no-VOC two-part epoxy that should do the trick. They even offer instructions for penny top installations.
"You will need to glue each penny down with Elmer's glue and then apply a seal coat of epoxy after the glue has dried. Next you will pour a flood coat of epoxy. Seal coat and flood coats are explained in the question above."
Keep in mind that you can't set a cooking pot on this surface (hot coffee cups are ok), and you won't want to cut on it with a knife. But if you treat it right, it will look beautiful, and should be highly stain resistant and tough for many years.-GB
---