Your home is your sanctuary. It's the place you look forward to being after a long day of work. It's where your kids play, where you unwind with friends. And like most people, you probably still rely on analog locks on your doors and sturdy latches on your windows to deliver peace of mind. But the reality is vandals are getting smarter and smarter at finding ways into homes. The good news? Home security is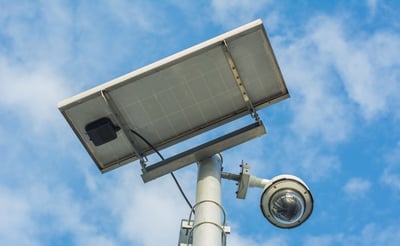 also getting smarter.
Modern Security Systems
Today's home security is so much more than the not-so-discreet security camera warding off bad guys with ski masks. Modern systems employ cutting-edge technology like facial recognition, two-way audio and motion sensors to keep your family safe and sound.
What's more, they can be good for the environment. Some of the latest systems are solar-powered and use clean energy to run cameras and connect to Wi-Fi. These smart systems give you 24/7 access to footage straight to your smartphone from anywhere you have access to internet.
Like solar panel roofs, these security systems use the same technology to obtain power without wires or electrical sources. More specifically, the panels capture the sun's rays and convert the light into a direct current. From there, the direct current is transformed into an alternating current, which sends power straight to the solar security camera. Excess power is stored in rechargeable backup batteries, which kick into action on days that aren't sunny.
The Benefits of Solar-Powered Systems
There are a few perks to going green in safeguarding your home. The most obvious: cutting down on your electricity bill. How much you'll save depends on your current electricity use and system size. Plus, using a clean power source could score you some government, state and local incentives as well. Many countries welcome this environmental friendly tech (including US and Canada) and offer rebates or tax credits.
Another benefit to choosing solar is the ability to operate in remote areas, where a traditional, wired camera system may not work. Without the need for an electrical outlet, these systems are ideal for protecting cabins, barns or other isolated locations.
Will the System Work in Rain or Other Weather Conditions?
A common misconception with solar tech is that it only operates with direct sunlight. But the good news: your security system will function in any weather. When it's not sunny, the cameras run on backup power that's been stored in the batteries. In fact, some systems claim that a single sunny day can deliver enough power to run for seven cloudy days. Depending on where you live in the country, a solar-powered security system might make more sense. Year-round sunny states like New Mexico and Arizona would be ideal based on their high solar radiation output.
Why Is It Necessary to Have a Home Security System?
On average, the FBI estimates that a home burglary occurs every 13 seconds. And bad news for houses without security systems: They're 2.7 times more likely to be vandalized. Having a security system in place not only offers peace of mind, but it can also save you money on your home insurance premium. Depending on the quality of your system, the amount of security in place and your insurance company, you could save up to ab average of 15 percent for being a responsible homeowner.
How Do I Choose Smart Security That's Right for Me?
A solar-powered security system cuts your electricity bill, offers enticing tax benefits and helps the environment. Choosing solar power over a traditional security system is your first smart choice. There are several different options on the market, so do your research and decide what's best for your budget and lifestyle.
---
This blog was originally published on care2.com. Find this, and other blogs here.
---