Recently, I saw a solar-powered electric recumbent bike with a passenger enclosure parked in the median in front of my local Whole Foods. I needed to know more.
The bike's owner had his ipad plugged in and was reading; he was charging the ipad with the Organic Transit ELF's solar panels. The owner told me that he usually pedals the enclosed recumbent bike but uses the bike's electric motor when climbing hills or riding in other challenging places. It goes about 20 miles per hour when electric-powered.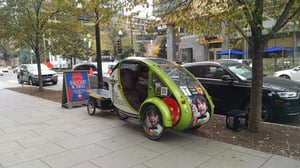 The Organic Transit ELF parked outside a DC-area Whole Foods.
Organic Transit says it can go even faster, 30+ mph under human pedal power.
When I asked about the open pavilion enclosing the bike, the owner reminded me that Jeeps are often open to the air and that there are curtains that can close the compartment for rain protection. Point taken.
This EV's manufacturer, Durham, NC-based Organic Transit, says, "The ELF is a solar and pedal hybrid vehicle powered by you and the sun. 'The most efficient vehicle on the planet', it is a revolution in transportation and gets the equivalent of 1800 MPG."
ELF models range in price from $5,495 to nearly $6,000. The body is an ABS composite, Trylon, often used in kayaks; the aluminum-alloy frame features an ergonomic sliding seat as well as an enclosed cargo compartment with locking lid. The cargo compartment, the manufacturer says, can hold a lot groceries. Total weight is 160 pounds.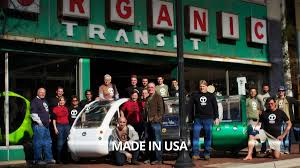 Organic Transit, Durham, NC, ELF factory.
The EV comes standard with 100 watt solar panel and a 48 volt 11Ah Lithium-ion battery with charger. It also features LED headlights, tail lights, brake lights and turn signals. Upgrades include carbon-fiber panels, an extra solar panel and winter tires.
Organic Transit started in 2012 with a number of angel investors and a Kickstarter campaign.
To learn more ELF, check out Organic Transit.
The YouTube below gives a firsthand look at what it's like to power an ELF.
---