I

began my 20-year foray into the world of sustainable building as an idealistic and completely inexperienced amateur wanna-be homeowner — just a guy with big dreams, very limited means, and almost no idea of the com­plexity of the task I was attempting. Armed with one book (and no internet!) and great inten­tions and expectations, I plunged my family into a long-term adventure that changed all of our lives.

Though I wouldn't trade my personal experi­ence for any other, I will gladly attest to the flaws of my naive approach. In fact, so flawed was this way of doing things that for two decades I have centered my life around helping others find their way to their own dream green home without hitting as many of the snags and making as many mistakes as I did.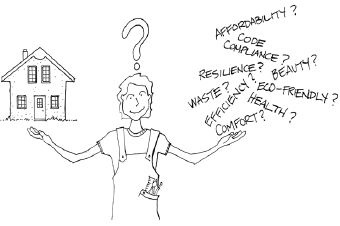 There are many times in our lives when we make rash decisions and don't adequately prepare ourselves for a task. Most of the time, making a less-than-ideal choice isn't that big a deal — a poor choice can get chalked up to "live and learn." However, poor choices in home building can be extremely costly, and the results can have real and serious implications for decades to come. When your life's savings and a vast amount of your time and effort are on the line (not to mention large quantities of the planet's current and future resources), "oops" is not a word you want to hear! The world of homebuilding is not a place you want to wander in blind and be directed by hard knocks.
Sadly, I have watched an awful lot of peo­ple plunge into homebuilding only to make the same, predictable, costly and demoralizing mistakes that I did. I have seen many homes built well-over budget that also underperformed — never meeting the high expectations their owners had at the outset.
As much as I'd like to be able to offer a "silver bullet solution" that would guarantee quick-and-easy results, I'm afraid there is no fast track, sure-fire method to figuring out how to build yourself the best possible home. I have spent two decades deepening my knowledge of how to make a really good building, and I still have lots to learn. It's a vast subject, and the deter­mining factors are many: climate and site, local regulations, available resources and skills, and, of course, budgets, which vary widely, as do individual considerations of comfort and aes­thetics. There is no one "perfect" way to balance all of these factors; each project requires unique adaptations.
The uniqueness and "specificness" of homes — which I believe is essential for making a house into a home — has been largely aban­doned for a one-size-fits-all simplicity that suits the needs of the large-scale construction indus­try but has done a large disservice to humans, the built environment, and the planet. This is not to say that good homes cannot be simple, but rather that the pathways to arrive at a good home design are as varied and many as the num­ber of people who need and want homes.
Challenges and Rewards
We are at the beginning of a major period of dis­ruption in the building industry. Pressures from many directions are forcing important changes in the practice of home design and construc­tion, including more stringent energy efficiency codes, concerns about occupant health, and the imperative to reduce carbon footprints and change to clean energy sources — all of which are having dramatic effects on how we build. The cost of property, materials, and labor has been on a steep incline for over a decade. It is a constant challenge to find the best ways to meet a reasonable budget target and achieve a high level of performance, and if the intention is to also use the healthiest possible materials, the challenge is amplified. Add in a dash of aes­thetics and a fair share of bureaucratic red tape and regulatory hurdles, and you have a serious challenge on your hands.
The effort required to prepare yourself for this particular adventure is great, and the decision to move forward must begin with acknowledging that you are about to engage in a process that will be all-consuming for at least a couple of years. If this idea doesn't appeal to you, don't go down this path. Give this decision the weight it deserves. Put it on par with deci­sions of the magnitude of changing your career, going back to school, or moving to a new city or country.
But before I discourage you from even considering setting foot on this path, I should mention the incomparable satisfaction that comes from settling down for an evening in a home that you have designed and built for your­self, your family, and your friends. In a world where many of the archetypal "coming of age" moments are absent or watered down, weather­ing your first literal storm sheltered in your own home is a great and deep satisfaction. And if you can manage to get through that storm with the lightest possible footprint on the planet and the healthiest possible environment surrounding you, the satisfaction goes beyond just a personal achievement and becomes something that will be an integral part of your life and a legacy that will live long beyond your time on this planet.
It's my hope that you can make your project a forward-looking legacy, one that provides you and your family with all that they need while also achieving the goal of sustainable development — nicely defined by the UN's World Commission on Environment and Development: "Sustainable development is development that meets the needs of the present without compromising the ability of future gen­erations to meet their own needs."
---