Earthen floors are very versatile and can be installed in a variety of locations, but are not appropriate for every application.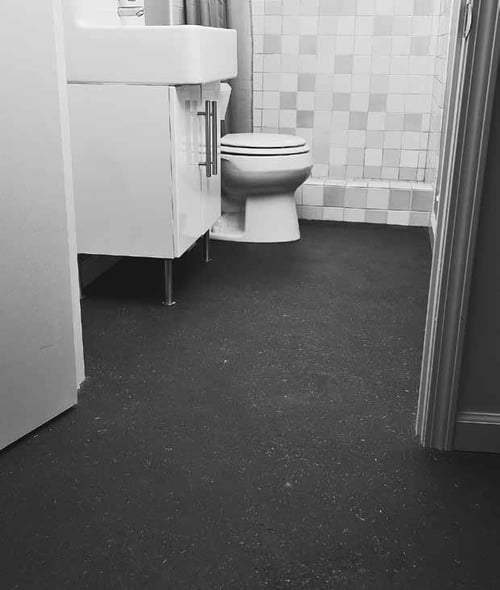 It's not possible to write a list of all the places earthen floors can (or can't) be used, but understanding their characteristics will help the installer determine what applications are appropriate. The main characteristics of an earthen floor are:
Texture
Flatness
Hardness
Weight
Thermal mass
"Waterproofness" (or resistance to moisture and stains)
Toxicity
Flammability
Odor
Embodied energy
Color
Thickness
Installation and drying times
Cost
Cracks
"Waterproofness" (or resistance to moisture and stains)
A common question about earthen floors is "What happens when they get wet?" When people think about a floor made of earth, they often imagine non-stabilized dirt, essentially like the ground outside. While earthen floors are made from the same materials, they are carefully finished with drying oils (and often wax) to create a durable, washable finish.
Spilling a glass of water or wine on the floor will not damage it.
Excessive moisture though, especially if long-lasting and recurring, can be harmful. With prolonged exposure, water can seep into hairline cracks or at the edges and get in under the sealed surface. If the floor doesn't have a chance to dry, the material below can soften and shift, causing cracks or delamination of the oiled layer. Earthen floors are not recommended for areas that may receive frequent exposure to lots of water, such as outdoors, next to a pool or hot tub or in an open-shower bathroom.
There are, however, lots of examples of earthen floors in kitchens and bathrooms that have lasted a long time, so these areas should not be ruled out.
Earthen floors can be stained by spilled oil from cooking.
Usually these stains are not obtrusive; they look like a darker spot on the floor, tend to fade over time and usually vanish altogether when the floor is re-oiled or re-waxed There have also been reports that pet urine, not immediately cleaned up, can discolor the surface of an earthen floor.
---
From Earthen Floors; A Modern Approach to an Ancient Practice
Sukita Reay Crimmel has installed over 20,000 sq ft of earthen flooring and is one of the preeminent experts in the emerging field of earthen floors.
James Thomson has spent a decade introducing students to the joys of building with earth with House Alive, one of the leading natural building training organizations in North America.
---