Buying a vacuum cleaner for the first time isn't as simple as it used to be.
If you wish to make your house cleaner with dust-free floors and unblemished carpets, it's time to upgrade. There can be many reasons why you need a vacuum cleaner, but have you thought about the kind of cleaner you want for your home.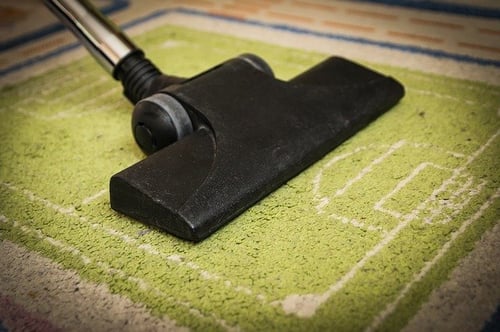 If you're thinking of buying an affordable and valuable vacuum cleaner that you wouldn't mind replacing once every couple of years, there are plenty of options to choose from. And if you want to invest in a high-end vacuum cleaner that'll last for nearly a decade, that's fine too!
The benefits of using a vacuum cleaner over traditional methods is that it requires very little maintenance, cleans better, and it can last for ages. So if you have that kind of cash to buy a vacuum cleaner, don't buy the first vacuum cleaner you come across. What you need to do to choose the right cleaner is learn more about what to consider.
1. Considering The Right Type
Before you understand the features of a vacuum cleaner, considering the type of cleaner you wish to buy is very important. Because vacuum cleaners do all the job of cleaning your floors, taking it lightly isn't an option anymore. So to stay ahead of the game, it's critical to look at the size, power, and pushing or pulling weight of any vacuum cleaner. (1)
Upright vacuum cleaners: An upright vacuum cleaner is the most inexpensive and basic model on the market. It's better in terms of deep cleaning, not floors but thick carpets. And they offer a better cleaning ground than other models. This means they're wider and more breathable to haul.
It's a simple and effective carpet vacuum, especially for polyester, nylon, and other synthetic carpets. The upright design and lightweight construction make it easy to store and clean after use.
However, the downside to using an upright vacuum cleaner is that it lacks bare floor-cleaning features. So if you have mostly bare floors, you might want to opt for a lighter upright vacuum cleaner. For carpet-less floors, an upright vacuum cleaner might scratch or scatter dust and debris on the floor due to its brush roll feature.
Canister vacuum cleaners: Canister vacuum cleaners are heavier than upright cleaners, but they're best for cleaning bare floors. Because they offer such great maneuverability, you can clean under furniture, stairs, drapes, and other upholstery.
Don't mistake the cleaner's heavy construction for a drawback. This makes it far more sturdy and durable than other models.
That said, if you find a canister vacuum cleaner with an electric hose, it's important to check whether it's air or electric powered. The difference between the two depends on the kind of power it produces for cleaning minute debris and dust. Always opt for an electric powered hose as it is more precise and powerful at cleaning than air. (2)
Stick vacuum cleaners: Stick vacuum cleaners are either handheld or cordless. Plus, they're either electrically- or battery-powered for versatile use. Similar to upright cleaners, a stick cleaner features various handles and a simplified powerhead.
What makes a stick vacuum cleaner special is the portable and convenient usage. If you quickly want to clean up the floors, using a stick vacuum cleaner fits well into your daily lifestyle.
However, stick vacuum cleaners are fairly basic in performance. This means they're not fit for deep carpet-cleaning. They also come with a smaller dirt bag so heavy cleaning is not advisable with a stick vacuum cleaner.
Hand-held vacuum cleaners: A handheld vacuum cleaner is last of the conventional cleaner models. You can buy a corded or cordless vacuum cleaner for covering smaller areas such as tables, sofa set, blankets, etc.
They allow quick surfacing cleaning and are especially suitable for removing pet hair from all your upholstery. Another great benefit of buying a hand-held vacuum cleaner is that it cleans the insides of your car well.
Robotic vacuum cleaners: The next generation cleaner model starts with a simplified robot vacuum cleaner. It's far and away one of the best cleaning appliances for people with a busy lifestyle. You don't have to move a muscle because this robotic vacuum does all the of the work. Because of its lightweight and compact design, it cleans corner to corner and is relatively quiet.
Some models come with smartphone compatibility and can detect the debris out of tight spots to leave no stones unturned. (3)
Central vacuum cleaners: A central vacuum cleaner is the easiest to maneuver, but it requires bigger storage. It comprises of 3 important parts: the vacuum body, hose, and powerhead. You only need to use the extended hose and powerhead for vacuuming your entire home. While the vacuum body sits comfortably at one corner of the home.
The usability of a central vacuum cleaner is only possible after professional installation. The hose of a central vacuum cleaner is generally 30-feet long. And the vacuum body slightly heavier than upright or canister cleaners. So a bigger storage space is needed. (4)
2. Buying A Bag Or Bagless Vacuum Cleaner - Which Is Better?
The second most important factor of difference for a vacuum cleaner is buying a bagged or a bagless model. Both types have decisive advantages to fall back on, but here's what you really need to know before choosing a vacuum cleaner.
Bagged vacuum cleaner: Buying a vacuum cleaner with a dust bag requires less maintenance and care than a bagless cleaner. This is especially true for people struggling with respiratory problems. Cleaning a bagged vacuum is faster and more guarded because the lack of exposure to debris and cat hair.
Above all else, using a bagged vacuum cleaner can improve indoor air quality. Traditional ways of vacuuming give a good account of bagged cleaners because of its efficiency in keeping not only the interiors, but the indoor air quality pure. Nevertheless, a bagged vacuum cleaner means spending a little extra of buying new dust bags once every month for better suction.
Bagless vacuum cleaner: Unless you're an allergy or asthma-patient, buying a bagless vacuum cleaner has more benefits. They reduce the cost of purchasing dust bags and they're lightweight to maneuver. The main feature of bagless vacuum cleaners is the use of HEPA filters that keep the cleaning efficient.
These filters offer layered and complete suction of small particles, dust, debris, and pet hair. High-end bagless models do a much better job at deep cleaning carpets, stairs, upholstery, and bare floors.
However, maintaining a bagless vacuum cleaner is slightly difficult. Despite of the fact of it releases dust particles during cleaning, you need to brush and clean its filters time and again. This prevents blockage of dust particles. Sometimes, the HEPA filters need replacing for create a tighter air seal for better suction. (5)
To help you make up your mind, read more about using a bagged or a bagless vacuum cleaner.
3. How Loud Is It?
The next thing to consider is the noise level of a vacuum cleaner. If you are unaware of noisy your vacuum machine will be at head level, you might end up dissatisfied by its performance.
The best way to measure a vacuum cleaner's noise level is in decibels. A vacuum cleaner that's not so loud will allow you to hear a phone ring or a doorbell, which is the right kind to find. But buying a vacuum cleaner that's unbearable to use because the loud and hard-hitting noise isn't.
Hence, the ideal noise level of any vacuum cleaner, whether upright or canister, should be 75 decibels. (6)
If you want a vacuum cleaner that's noiseless, buy one that's operating below 66 decibels. That's the suitable noise level of an air conditioner and a dishwasher. Anything above 80 decibels can cause harm, especially after long-term exposure.
Another research suggests the ideal noise level of a vacuum cleaner which is 77 decibels. (7)
Based on this report, it's important to consider the different modes of a vacuum cleaner and its noise levels. Some vacuum cleaners at a low setting produce little noise compared to higher settings. So there's a chance you might have bought a vacuum cleaner based on its low operating mode only to find the noise level unpleasantly loud in stronger operating modes.
4. Is The Filtration Efficient?
Does your vacuum cleaner have high-level filters? If so, how can you know for sure without relying on the basics?
The cleaning ability of any vacuum cleaner varies based on its filtration system. With high level of filtration, the vacuum will be unable to retain dust, debris, and other fine particles that pass through. If the vacuum cleaner sucks all the debris in only to let it all out, this means the filtration system of that particular vacuum cleaner is weak.
Generally, high-quality vacuum cleaners complete the filtration process by absorbing all the debris and filtering the air around the machine. But for allergy sufferers and asthma patients, they need to go the extra mile to ensure healthy indoor air quality. Any allergen can provoke an allergic and asthmatic response, if taken lightly.
That's why it's most important to opt for HEPA filters in a vacuum cleaner. HEPA stands for High Efficiency Particulate Air which removes 99.97% of all dust and debris particles from the air. Studies show how the implementation of HEPA vacuuming can improve the treatment of asthma to reduce allergen levels, including cat and dog hair, indoors. (8)
High-end filtration, including HEPA, is the most effective at eliminating the minutest particle from the interiors. It even makes a big difference filtering volatile compounds, contaminants, and odors. (9)
The science behind such filtration suggests that using a vacuum cleaner reduces impact of bacteria and fine dust that enter from open doors and windows. If you want to make sure that your vacuum cleaner doesn't throw out the debris is takes in, considering HEPA filters for your own good is essential.
An up-to-the-minute study on the effects of filter vacuum cleaners on dust allergens proves that upright vacuum cleaners function well. They reduce airborne dust particles and allergens with a powerful suction and filtration system. It positively impacts mite allergens present in cushions, mattresses, and other upholstery. (10)
5. Do You Have Carpet Flooring?
Thinking about filtration for carpet floors isn't an effective way to deal with dust particles and debris. For deep carpet-cleaning, you need brush roll capabilities as well. The brush roll loosens the debris and fine particles stuck in the carpet's fiber for the suction to collect all the dust easily.
Buying a canister vacuum cleaner, on the one hand, might be great for your carpet flooring. Its motorized power and brush rolls suits all types of synthetic fibers. And you can make sure the vacuum got all of the dust with its back-and-forth motion usability. It's safe to say that some high-end vacuum cleaners feature dirt sensors that leave no stones unturned.
The maneuverability of carpet vacuum cleaners, such as canister cleaners, needs to be smooth and up to speed to reduce lag time and dust blockage. A vacuum roller brush comes with sharp bristles attached to it that dislodge and dissipate debris from the base of the carpet. You can turn the brush roller to low or high power based on the carpet thickness and area.
With that said, you will find different roller settings on each vacuum cleaner. Some come with a rotating roller, a circular motion setting, or a wave-like motion for better cleaning. Choosing any one is a matter of personal preference. All methods are effective at removing dust, debris, and other fine particles from the carpet.
6. Considering A Bigger Dust Capacity
Plenty of vacuum cleaners come with a larger capacity to accommodate big homes. This reduces the number of times you won't have to replace or empty the collected dust from a bagged or bagless vacuum.
If you live in a big home with lots of floor space to cover, it's only wise to buy a vacuum with a big dust capacity. That way you'll have to deal with fewer bag changes and machine maintenance. The suction capacity also plays a role in determining the dust capacity of a vacuum cleaner.
The more debris collection inside the dust bag, the slower the air suction. So it's always advisable to avoid filling the bag completely before cleaning it. The size of the container fill inside a bagless vacuum cleaner depends on the size of the vacuum cleaner itself. So the bigger the space, the better the cleaning ability. (11)
You can learn a lot about a vacuum cleaner and its performance based on its capacity. A bigger capacity can also mean less noise, better filtration, and quality of cleaning.
7. Are Vacuum Cleaners Energy Efficient?
Many vacuum cleaners use little energy for maximum performance. But you need something that has low energy use to powerfully clean floors, carpets, stairs, etc. To evaluate how cost-cutting a vacuum cleaner is, considering its power use it very important. You don't just invest in a good vacuum cleaner based on its price tag.
A vacuum cleaner is like a home member, that's used every day and sometimes twice a day. So it takes up more energy than your air conditioner or heater. That said, understanding the power usage of a cleaner in either "watts" or "amps" measure is a good way to start. This determines how much electrical power the machine uses to clean debris and dust from the floors.
Based on an energy calculator, an average household vacuum cleaner uses 500 to 3000 watts of energy. The ideal in-between would be 1400 watts for a powerful and efficient vacuum cleaner. (12)
It's also important to know that the suction power of a vacuum cleaner is not the same as its power usage. A low-amp or low-watt vacuum cleaner can produce more suction power than a high-amp motor. It's all a matter of how energy efficient that vacuum cleaner is.
8. Looking For Height Adjustment Features
If you buy a vacuum with manual height adjustment features, cleaning thick andhigh pile carpets becomes easy. Generally speaking, longer carpet fibers often get stuck in the roller brush of some vacuum cleaners. But height adjustment makes everything simpler. (13)
The roller brush's height is increased according to the carpet's height. This makes movement easier, smoother, and faster. Some models feature both automatic and manual height adjustment controls. But research tells us that manual control is more precise based on the user's preference.
Some vacuums feature a wide cleaning head with manual adjustment. So you can increase the height as per the carpet and go through cleaning without choking the cleaner. Sometimes, the brush roller is able to suit a high pile carpet, but the cleaning head gets clogged. In such a case, making an elevated height adjustment can immediately solve the issue.
With that out of the way, vacuum cleaners such as a canister and upright models have height adjustment features to fall back on. They're sturdy and durable; plus, they have enough suction clearance for dealing with all kinds of carpet fibers.
9. Determining The Right Cost
Are you willing to invest an exorbitant amount on a high-quality vacuum cleaner? But before you answer that question, what you should be asking is- how much should you spend? Nothing beats a good quality vacuum with energy-efficient and well-defined features.
Based on my research, the average price to pay for a quality vacuum is $400 to $900. If you buying anything between this range, it means the vacuum will last for more than 15 years, effectively. With such a defined range, knowing what to buy is simple enough. That is, based on the features I've discussed at length in this guide.
Investing in an expensive vacuum cleaner is equivalent to buying a cheaper one that lasts for a short time. Say you buy a cheap vacuum cleaner that you use every day. Based on its performance and build, it lasts for 2-5 years. Then you are compelled to buy yet another cheap vacuum cleaner that'll last for the same amount of time.
This is not better than buying a high-end vacuum that lasts for at least 20 years! High-quality vacuum cleaners last up to 10 times longer than low-priced models. The breakdown of how much you'll be spending on maintenance cost on a cheaper vacuum sums up to the buying and maintenance cost of a better quality vacuum cleaner.
So what will it be? To help you decide, let's look at the different price ranges of a vacuum cleaner and what to look forward to.
Below $400: Not to brag, but you will find some exclusive, good quality vacuum cleaners under $400. If you want something for only one type of flooring, that is bare or carpet, buying cheap isn't a bad thing. Vacuums at this price range are simplified with basic features. They lack deep-cleaning features for thicker rugs.
It's ideal for people who want quick cleaning, light maneuvering, and minimal maintenance.
Between $400 to $600: Most consumers fall under this category when buying a quality vacuum cleaner at a cost-effective price. Vacuum cleaners with not many additional, exclusive features, and a durable and powerful motors fall under this price range. The vacuum boasts of a high-quality build, easy maneuverability, and efficient filtration and suction performance.
Above $700: Anything above this price range means extra features, performance control, and add-on cleaning tools. Professional-quality vacuum cleaners offer upgraded filtration, dual-control cleaning, automatic suction features, wet dry vacuum features and quiet noise levels. They even come with ergonomic design features such as bumper guards, durable finish, handles, etc. for better maneuverability.
These types of vacuum cleaners last for the longest of time, with minimal maintenance and no discomfort. (14,15)
10. Pushing A Vacuum Cleaner
The next important factor to consider is the pushing, rather than, pulling weight of a vacuum cleaner. There are many versatile light to moderate-heavy vacuum cleaners, if you're worried about pushing too much weight in a bigger home.
If you really want to know, there are many vacuum cleaners that weigh less than 10 pounds. On the other hand, you will also find heavyweight cleaners that are 20 pounds or heavier with lots of exciting features to boast of.
For lightweight use, an upright vacuum cleaner is fitting. It has better cleaning abilities, is easy to maneuver, and weighs less than 12 pounds to begin with. You can opt for cordless models too, but they have fairly shorter run-times.
If you want more advanced features and versatility, canister vacuum cleaners are nearly as easy to maneuver as upright models. If you live in a two-floor apartment, taking a canister up the stairs is much easier than an upright. It features better weight distribution, balance, and smoothness when pushing on a hard or carpeted surface.
Some canister models allow you to pull the vacuum instead of pushing. (16)
From cheaper vacuums to high-end canisters, choosing the amount of weight you can pull or push is a matter of personal preference, and not convenience. (17)
11. Do You Have A Pet?
Vacuuming in a home with pet(s) can be both tiring and challenging. Dragging around a hose once every few hours or twice in a day isn't at all fun when you have other things to take care of. Any decent vacuum cleaner can suck up pet hair and odors, but those don't work without your hand labor.
The best thing to do in such a case is consider buying a robotic vacuum cleaner. If pet owners need something special to do the job well, there's nothing better than having a robot take care of it for them. This is especially true if you have a lot of hairy pets. (18)
It's no surprise that pet hair fills up bags faster than debris and dust. And they're the most difficult to get off too from fabrics unless replaced. This frequent replacing of the dust bag increases cost and takes time.
Robotic cleaners come with sensors that leave every corner spotless and hairless. All this without the any human assistance whatsoever! It even keeps the house clean for you when you're not around. All you have to do is schedule the right timing and ensure the vacuum is charged and ready to roll. Some robotic vacuum cleaners come with intelligent HEPA filters that leave your floor clean and shining.
Know more about keeping your indoors clean with pets.
Are You Ready To Buy A Vacuum Cleaner?
After considering all the significant factors, you're finally ready to buy a vacuum cleaner. The last thing you'd want to do is check for any add-on cleaning tools such as:
A soft-bristle brushing brush that helps remove blocked hair and other debris from the roller brush.

Different shaped cleaning heads that you can attach to the hose. This helps in reaching tight spots under furniture, beds, and other upholstery.

A turbobrush to remove pet hair from stairs, carpets, floorboards, and seats.
You might be able to make a request for additional tools based on the type of vacuum cleaner you buy. But all-in-all, any sort of cleaning tool for keeping a vacuum cleaner out of harm's way is essential.
Maintaining a vacuum cleaner so it lasts long
Speaking of keeping a vacuum cleaner clean, let's know the basic steps of maintaining one for a long time. This is the last milestone to help you decide whether you're up for buying something as valuable as a vacuum cleaner.
After all, owning any large appliance, even if it's a simple vacuum cleaner, is a big responsibility.
Unplug your vacuum cleaner if it's electrically-powered.

Before cleaning the machine, ensure the dust bag or container fill is emptied and cleaned. If the vacuum bag is 2/3 full, under any circumstance, it's time to replace it.

The first component that needs cleaning is the roller brush. A roller brush is often found covered in hair, thread, and all sorts of debris. Using a soft-bristle brush you can remove all the clogged hair and particles from the roller.Some roller brushes come with a protective blade which you can remove easily without disturbing the screws the hold the roller brush in place.To remove the roller brush from its place, pull one side of the roller brush from its slot. Then slide the entire roller out gently.

To ensure the roller brush rolls correctly, you can lubricate the bearings. Ensure the bearings are dust and hair-free so you can place it back into the slot easily.

There may be a small filter slot on the vacuum cleaner that will allow you to clean the filtration system. Clogs and blockages aren't rare in vacuum filters, so regular cleaning is important.There are two types of vacuum filters: paper or fabric-made and foam or plastic-made. The former is not washable like the latter. But you can use a dry cloth to gently remove the debris and dust from the filters.

The hose is the last part you want to clean. Believe it or not, you might find dust and debris build-up near the edges of a hose. This may be because the hose isn't tightly sealed due to constant use. You can try using a thin broomstick to unclog clumps of debris.
By far this is the most extensive guide to fall back on when choosing the right vacuum cleaner. Among hundreds, only a few are fit enough to suit your lifestyle and living situation.
And now with this guide, you can figure out the right kind of vacuum cleaner to suit your specific needs. Doesn't matter if you live in a studio apartment with many pets or in a big home brimming with shaggy carpets and a large family.
---
This post is courtesy of Jen Reviews and is reprinted with permission.
---