Investing in smart home technology to aid in monitoring a
home's energy consumption.
There are plenty of reasons to get smarter about saving energy, from global environmental concerns to reducing household expenses. Focusing on how to produce energy in cleaner ways is always a good thing, but reducing the amount of energy consumed by a household is even better and can foster change on a fundamental level. Investing in smart home technology to aid in monitoring a home's energy consumption is a great first step to increasing energy efficiency.
The number of smart home installations globally has increased rapidly over the last five years. In the United States alone, approximately 45 million homes were outfitted with connected devices by the end of 2018, and more than half of U.S. homes are predicted to be using smart home devices by 2023, according to Statista.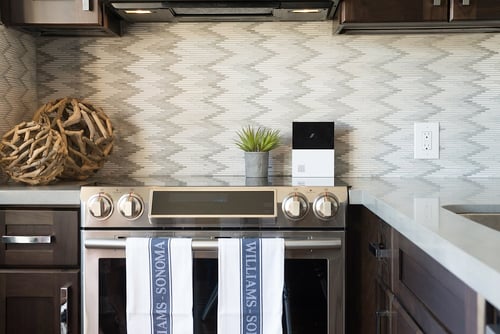 Smart home technology can provide security and comfort with the ability to remotely monitor and control your home's environment from anywhere, at any time. But smart homes also offer benefits outside the home by increasing energy efficiency and saving homeowners money over time. Smart home technology could be the key to unlocking a home's potential to go green.
Smart Homes Never Sleep
Smart homes are designed to continuously monitor a home's activity and is ready to respond to environmental changes around the clock. Companies like abode offer smart security systems that can be programmed to automatically turn off certain lights when the sun rises, adjust the thermostat when the home reaches a certain temperature, and turn on lights only when motion is detected in certain areas of the home to ensure that energy is not being wasted.
Smart home systems are also capable of coordinating more complex actions and reactions based on unique triggers within the home. Backyard lighting can be programmed to turn on only when the backdoor has been opened but will not turn on if doors in the front of the home are opened. HVAC systems can be programmed to heat certain areas of the home where motion is detected, rather than heating the entire home.
Smart Homes Are Green Homes
The size of the green building market in the United States grew from less than $5 billion in 2005 to more than $80 billion a decade later, and lower energy use is the main reason U.S. customers request green homes.
Smart homes have many advantages, including being greener and more secure. And although the technology to make a home smart is highly advanced, it's easy for anybody to install and use in their own home. The demand for greener homes is large, and the technology to meet that demand is very accessible.
Smart home systems can monitor energy consumption in different zones of the home and present the user with automation suggestions based on the data collected by the sensors and devices. Because your smart home continuously monitors your home's activity when you leave the house, automation suggestions are intelligent and beneficial to maximizing a home's efficiency.
---