The new units retail for $400, but if you do the math, you're getting a great deal, and addressing a major global warming contributor.
Typical window air conditioners, the kind you pick up at Wal-Mart for $150 bucks, is about as "smart" as a toaster, and far more polluting. It's noisy, inefficient, with minimal controls and, if you're lucky, an on-board thermostat.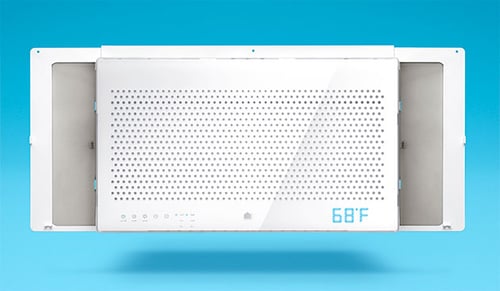 Over time, we need to phase out this technology completely, in favor or more efficient ways of cooling, such as heat pumps, mini-split systems, evaporative coolers and geothermal loops. But in the meantime, can't something be done to make them less...awful?
The answer is yes, as proven by a new window A/C from GE that's "smarter" than anything else on the market. The Aros, co-designed by Quirky and GE, is the first unit to include wifi compatability. That means you can program and control it from your smartphone or laptop. Just as importantly, the Wink app that controls it gives you feedback on performance, telling you which settings will operate it most efficiently, based on the weather. Unless you're a shut-in who never leaves the house, the chances are that the Aros can save you big on energy bills.
Just how much depends on your lifestyle. Simply setting the temperature schedule for your work week and sleeping periods should save you 20% or more. If you're a frequent traveler, or you rent out your home on AirBnb, your savings could be much higher. The wireless app allows you to minimize cooling when guests are away. Otherwise, they're likely to leave the unit on all day, cooling an empty house or apartment.
To figure out your "payback" on the unit, a simple formula is:
8,000 BTUs / SEER 10 = 800 W = .8 kWh
.8 kWh x $0.15 (average u.s. utility cost) = $0.12 per hour to run your window air conditioner.
In someplace miserably hot in summer, such as North Carolina, where you run the unit 24 hours a day for 125 days of summer, your window air conditioner will have an annual running cost of $360 per year.
Let's say you now have a programmable A/C and can save even a modest 20% over a comparable conventional unit. You will pay off the "extra" cost of the wireless unit in about three years, because you're saving $72 a year in energy costs. After that, you'll save a flat 20% on your energy bills every year the unit remains in service. Not a bad deal.
The price on the units, also, appears to be dropping, incidentally.
---