Would you like a natural and healthy mattress without paying $5000 or more? Make your own!
The journey towards a nontoxic, organic and simpler lifestyle consists of many steps: buying or growing organic food, using VOC free paints, getting furniture with nontoxic finishes, using natural cosmetics, and so much more. But what happens when we sleep?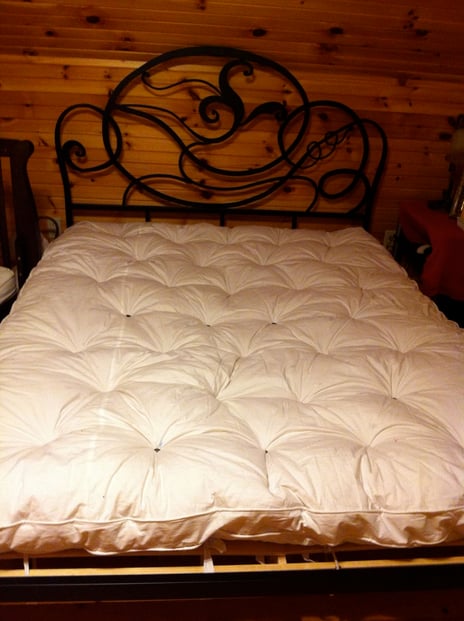 That is the question my husband and I asked ourselves five years ago. We had already planted a veggie garden and painted the walls. He had started making some of our new pieces of furniture—but when it came time to get a new mattress, we drew a blank. We started researching about conventional mattresses, and we were surprised to learn that they can offgas for 10 years, much longer than it takes for the chemical smell to disappear. We spend at least 6-8 hours every night inhaling these chemicals (fire retardants, boric acid, formaldehyde,polybrominated-biphenyl-ethers (PBDE) that are released as the polyurethane starts breaking down, antimony, artificial latex and more).
What if we buy an organic mattress? How pricey can it be? Pretty expensive, between $2,000 and $8,000 (or more) for a queen size (depending on brand and specifications).
My sewing skills had been honed before in our home decorating endeavors ( curtains, sofa custom covers, children bedding), so an idea started sprouting in my head: what if I was to make our own mattress? My research at the time on how to make such a mattress produced almost no results—but my husband and I were undeterred. After all, during our years in India, we saw cotton filled mattresses made by skilled workers come together in a matter of hours. For our cold climate in Maine, we would need a wool mattress, and maybe a 2-inch latex topper to maximize comfort.
Our tutorial is meant to create a long lasting mattress that you can enjoy for many years to come. We made ours 5 years ago and it is still going strong. As with all mattresses, it is recommended that you vacuum it regularly, rotate or flip twice a year. Our mattress cost around $700 (total), for a 7-inch-thick queen size. Building it combined organic wool batting ($375), organic cotton covers ($125) and a 2-inch-thick latex topper ($200).
What You Will Need
Thick organic cotton fabric is recommended. We found ours at a local upholstery supply store. If you are adding a latex topper which has no cover, buy enough fabric to encase the wool batting in its own tufted cover, and a second cover for both layers: latex on top and wool on bottom. In this case, add a zipper (long enough for the length of the mattress, 80 inches for queen) purchased by the yard from the upholstery store. If buying comforter covers, get a size up than your bed size. Note: We realize not everyone has the skill or time to sew the mattress covers, so we will suggest an easier alternative for the covers. You could get a larger comforter cover (king size for a queen mattress) as it will shrink when tufted, and you need to account for the thickness of the mattress.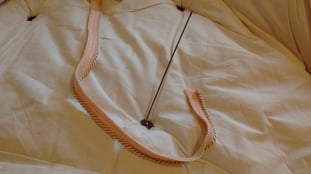 Sewing machine with heavy duty needles (It is better to have several needles available in case one breaks)
Special upholstery thread
12" upholstery needle
Needle thimble (To protect your fingers while tufting)
Buttons for tufting (Use 2 buttons for each tuft, one on each side)
Fabric marker
Measuring tape
Edging for mattress corners/gussets (Optional, but it does make it look more professional.)
Wool /cotton batting
We recommend wool over cotton batting. Wool is naturally fire resistant. Contact a local wool mill and they should be able to make it according to your specifications. They sell the batting by weight; we ordered 25 lbs, for a finished thickness of 5 inches. Give your ideal size, plus a few inches, as it shrinks at least 2 or 3 inches, according to how tight you tuft and how many buttons you use. The batting comes in one thick piece.

Latex topper, 2 inches thick (This increases comfort. Be sure to order your desired firmness. Make sure it is 100% natural latex, the scientific name is Hevea brasiliensis.
Step-by-Step Instructions
I recommend you recruit a strong helper, as the wool batting and latex are cumbersome to move, though not very heavy.You need a large, clean empty room for this, and expect to the project to take anywhere between several hours and a few days, depending on your sewing experience (or lack thereof).
Sizing for the queen size mattress is 60 inches x 80 inches "x 5 inches. You need to keep allowance for thickness and for tufting).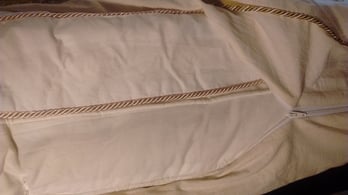 Gather your supplies and prepare the space where you will work. Ensure the mattress cover fabric is washed and dried in the drier to avoid shrinkage after you finish the mattress.
Put on some fun music, as this will take a while! If using comforter covers, skip to step 5.
Measure and cut the fabric adding 1" allowances.If the fabric is wide enough, you just need 2 pieces of fabric. If using gussets, you need an additional piece to account for the thickness of the mattress. Example for queen size: Finished size is 60 inches x 80 inches x 5 inches. We add 3-4 inches' for tufting, which comes to 64 inches x 83 inches x 5 inches.
Sew the mattress covers on the wrong side. For the outer cover, attach zipper on the length of the cover. Make sure you leave one short side open for the wool cover so you can add the wool batting.
Turn the covers inside out. Lay the wool batting on the ground, and insert the wool batting in the cover. A second person is essential here as it can be hard to handle the large batting. Once the batting is inside, you have to insure it is evenly distributed inside, so hold the top two corners of the cover (where the cover is already closed) and the batting inside, and

shake it gently. This is similar to putting a new comforter in its cover. Once you are satisfied that the batting is evenly distributed, seal the open end of the mattress cover.

Mark the places on the mattress where you will be tufting with your measuring tape and fabric marker. Alternate the marks, we put 5 on one line, 4 on the next, and repeated for a total of 32 (4 rows of 5 and 3 rows of 4). You can decide how many tufts you make, and how firm and stable you need your finished mattress to be. The more you tuft, the tighter and firmer the end result. It is best to start at the center and move outwards skipping a few marks, as the fabric will get tighter and tighter. You then return and finish the skipped marks.
Lay down the latex topper (if using) on top of it, and encase both layers in the outer cover and zip up the cover. Once the tufting is finished, the wool part of the mattress should be firm and nice. If you have 2 covers, you get the advantage of being able to remove the outer cover and washing it in cold water every year/ as needed. This could come in very handy for parents with small children, especially if you make the crib mattress.
Place your luxurious new mattress on the bed. Arrange the bedding, and lay down, with a huge smile

on your face. You did it! Not only will you sleep peacefully, knowing you are not inhaling dangerous chemicals, but you also saved quite a lot of money and used your hands and ingenuity in the process.We also recommend having a firm solid surface on which to place the mattress if you do not have a platform bed (We just put thick pieces of plywood), as this ensures better comfort than slats.
Customization tip: You can make the mattress in any size, using the formula mentioned above. You can also change the composition (cotton/different fibers), and if you-d like to avoid tufting, you could ask for a thinner wool batting which you can wrap around the latex insert before putting inside the cover.
When friends come for a visit, you now have a new conversation starter: "So, have you seen our new mattress?"
We use the same philosophy (Simple and natural is best) in creating natural cosmetics through our new project, Chid Kala. For more details, come on over to www.chidkala.com.
---