"I

want a beautiful, affordable, com­fortable, healthy green home." On this kind of premise, thousands of people set out to make their dream home a reality.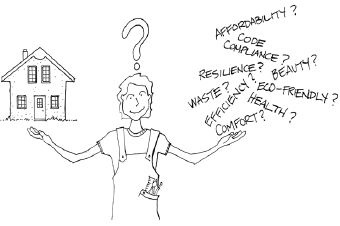 In many cases, the prospective homeowners have looked around and found the conventional offerings to be lacking, and decided to forge ahead and do it themselves. Though the desire for such a home is a basic and simple one, the execution is most definitely not. If we are going to make this dream come true, we must first begin by understanding exactly what it is we are trying to achieve.
A lot of us find it easiest to define our sustain­able housing ideas in the negative, as a reaction against the type of conventional housing we commonly see. It is easy to demonize the mod­ern construction industry. From our current vantage point, the homes it produces have many measurably negative effects on the environment, on occupants, and on society. But really, the industry has spent a half-century or so doing ex­actly what regulators and the buying public has asked them to do. The industry didn't develop with the express intention of spreading ecologi­cal and social ruin and destruction — though in the pursuit of the collective goals we have set for our housing needs, much has been ruined and destroyed.
In general, we have asked for and received homes that meet the following criteria:
Compliance with minimum code standards
Cost that the market will bear (and therefore material and labor inputs that match cost expectations)
Consistent aesthetics that the market demands/expects
Level of energy efficiency that regulators en­force or the market demands
Valuation that lenders and insurers demand (durability and maintenance based on typical mortgage cycle)
Design and construction performed by profes­sionals, not homeowners
As little maintenance and homeowner engage­ment as possible
Location and siting that match expectations and regulations
If these are, indeed, the goals set out for the construction industry, then the industry is doing an excellent job of meeting them, while ensuring a profit margin for developers and contractors adequate to keep the whole enterprise rolling along.
What we do want?
If we want something different, we have to identify different criteria, and be able to define and explain our goals so they can be successfully achieved. If we are seeking houses that are "better," we are typically interested in broadening our criteria — using the wider vision discussed in the previous chapter — to include these additional elements:
Ecosystem impacts that are minimized or eliminated
Embodied carbon and energy footprint that is minimized or eliminated
Energy efficiency that exceeds code mini­mums, with reduced or eliminated need for fossil fuel input
Indoor air quality that exceeds code mini­mums, with reduced or eliminated sources of toxins and allergens
Locally sourced materials and labor, with reduced or eliminated need for exploitive labor practices and excessive transportation needs
Waste reduction or elimination during con­struction and over the building's lifespan
Resilience in the face of climate change
Aesthetics that are personally desirable
These two lists of conventional and "alterna­tive" criteria are not mutually exclusive — the issues currently addressed by the construction industry are important to all builders. In order to create a new, more sustainable home, or to signifi­cantly renovate an existing home, we will need to combine these lists into a comprehensive whole. Experience has shown that most green building projects address the following list of concerns, with greater or lesser emphasis on each category:
1.Ecosystem impacts
2.Carbon and energy impacts
3.Energy efficiency
4.Indoor environment quality
5.Waste
6.Resilience
7.Occupant input and durability
8.Material costs
9.Labor costs and sources of labor
10.Code compliance
11.Aesthetics
The path to a successful and satisfying build­ing project requires us to fully understand our goals. That journey begins with a comprehensive understanding of each of these goals. Once we understand our goals, we can then define exactly how we envision meeting them.
---