Here are 8 simple ways to save money and improve your energy efficiency.
March 19, 2016 is Earth Hour Day. For one hour, people, businesses, landmarks and even cities will shut off their lights as a sign of solidarity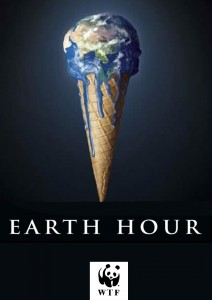 to protect the planet. We invite you to join us for this year's Earth Hour Day.
In preparation for it, here are eight tips to help you reduce your energy use every day of the year, brought to you by the World Wildlife Foundation.
Sign up for an energy audit for your home. Often these are free from your utility.
Lower the thermostat on your hot water heater to 120 degrees Fahrenheit.
Unplug all appliances when you're not using them, and turn off your computer and monitor when you no longer need them. Contrary to popular belief, turning them on and off will not cause damage.
Wash clothes in cold water (especially clothes with vibrant colors). This not only reduces hot water usage, but it is better for your clothing as well.
Air dry dishes rather than using the heated drying cycle in the dishwasher.
Buy products that have the Energy Star label on them. All Energy Star products meet strict guidelines set by the US Department of Energy.
Bike, walk or take public transit to work one day (or more) per week.
Buy renewable energy from your energy provider. Most utilities offer this option, and it is usually not much more expensive than paying for dirty energy.
Read more at: https://support.worldwildlife.org/site/Advocacy?page=UserActionInactive&id=821
---