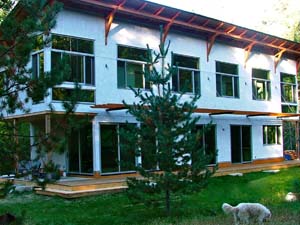 WHEN RICKY CAPPE, a green building consultant, wanted to build a home on a modest budget, he started wondering how someone could build an affordable sustainable home. He found it impractical for each homebuilder to hire an architect and research the myriad of options on the market. He found the process very time consuming and expensive, which inspired him to create sustainable, affordable kit houses.
SAK House Kits at a Glance
Pros:
Homes are energy and resource efficient.
Homes promote high indoor air quality by using building materials that don't off-gas.
Plans maximize natural lighting.
Designs are modified for specific geographical regions.
Turnkey building plans, material lists and construction timelines streamline the process, making it easier to navigate the myriad of green building options.
Cons:
There are only five designs to choose from, and the homes are not highly customizable.
Homes don't "breathe," as an earthen home does.
The traditional construction industry is resistant to using SIPs.
Cappe's Sustainable Affordable Kit (SAK) Houses are customizable contemporary green-home packages. Ranging from $5,900 to $9,500, they include a complete set of building plans, material recommendations, supplier contact information, a detailed building timeline and technical support from Cappe. Homebuilders simply hire the contractor and select the model and finishes, saving tens of thousands of dollars in architectural fees and many hours of research—streamlining the process and saving time.
The SAK House has five customizable building plans to choose from, which can be modified to suit specific geographical regions. All feature generous insulation, natural lighting, passive solar designs and intelligent floor plans, reducing the cost of building a green home.
"Architects alone take months and months of planning and redesign," explains Cappe. "Why do we need to reinvent the wheel every time we build?"
The time and cost savings continue through the construction phase of the project. "The walls and roof are made of SIPs (structural insulated panels), which is almost like a puzzle, but it comes with a map for how they fit together," says Cappe. "The SIPs come in four-foot panels, and the SIPs manufacturer builds in the headers for windows and doors and pre-drills electrical openings. When you put it together, a lot of the work has already been done. It even cuts down on the time that some of the subcontractors put in."
The walls on the first floor of the prototype SAK House were up in one day, the second floor took a day and a half, and the roof was up in a day. The SAK House designs utilize standing seam metal roofs because they allow harvesting of clean rainwater and are durable and recyclable.
Inspired by the motto "build it once and build it right," Cappe is meticulous in selecting materials that require little or no maintenance. "All the materials that I selected were recycled, reclaimed, recyclable or of really high quality," says Cappe. "I tried to source materials from within 500 miles of the building site. No matter where the building site is, we source as many materials within that region as possible."