This unique home deserves kudos for its building science and unique design.
When constructing the Dundonald Street Environmental and Passive Solar House, developers had little thoughts—as in a creating a small home (1,281 square feet) that would have an even smaller impact on the area's ecological footprint.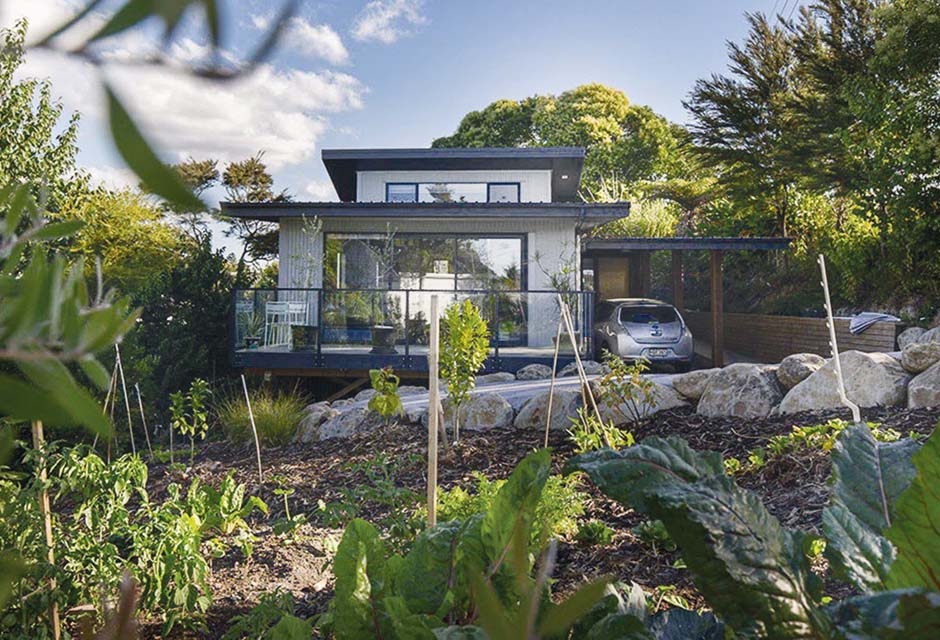 Dundonald is a mere five minutes from central Whangarei, New Zealand, situated among established bush. Homeowners wanted a dwelling that could provide optimized view, sunlight, air flow and seasonal breezes, but keep the natural landscape intact.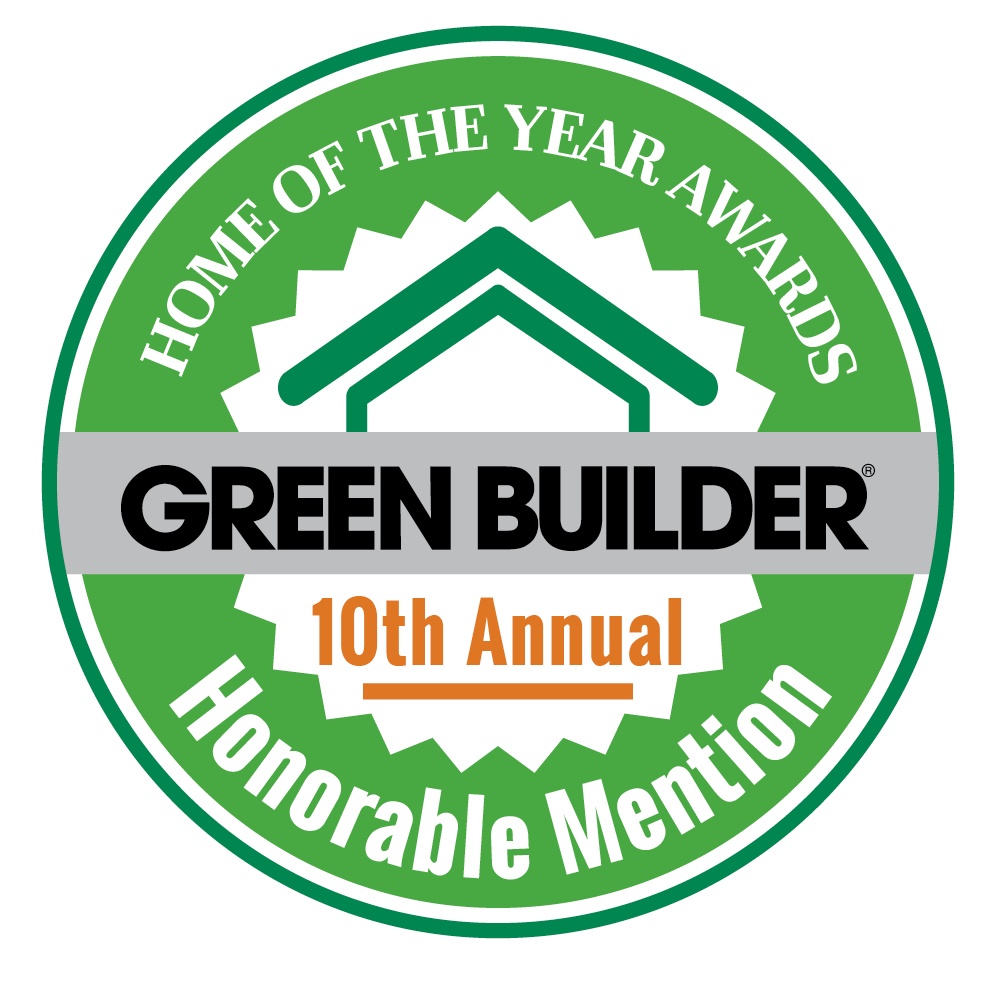 Project Stats


Name: Dundonald Street Environmental and Passive Solar House
Architect/Designer: Solarei Limited
Builder: N/A
Photographer: Sarah Marshall Photography


The design is a super-high clerestory roof reaching up to the sky, optimizing low-angled winter sunlight by bringing it directly into the center of the home, naturally warming the interior. Living areas are positioned at front with large north-facing windows for maximum heat in winter, and views over garden and bush. Bedrooms are on the south side of the home for cooling over summer.
These design strategies passively heat the house during winter, using 36-mm-thick heavy-duty particle board for radiant energy heat storage and black floor tiles with R-2.8 insulation under. During summer, large roof overhangs shade the house, and the clerestory roof design passively cools the interior, using a "stack effect"—a hot air rising principle—which exhausts warm air through the top light windows.
Due to the steep incline of the project site, the floor plan was oriented on a north-to-south axis, rather than the typical east-to-west axis used for Passive Solar houses. This significantly simplified the construction, and meant the design would rely on direct northern sunlight entering through the living areas and central clerestory roof. The house is designed for an annual electric use of 2,300 kWh, or an annual energy index of approximately 207.7 kWh per square foot. Excess power needs will eventually be offset by a 2.5-kW grid-connected solar panel system.
Green technologies and features incorporated into the house include partial off-site prefabrication; black tiles for thermal mass and heat storage; above-code insulation for floors, walls and ceilings; insulated glass; a hot water heat pump; nearly 5,3000 gallons of storm water mitigation; 5,300 gallons of rainwater harvesting; breathable bio-paints for interior finishes; long-lasting, low-maintenance metal cladding; pine fascia boards at roof and deck edges; seasonal vegetable gardens; energy-efficient appliances; and water-efficient bathroom and kitchen fixtures.
Key Components
Alternative Building Systems: Metra Panel, 36-mm-thick heavy duty particle board
Appliances: New Zealand-made, Fisher & Paykel, or reused appliances from previous home
Automotive (Electric Car Charging, Etc.): Nissan electric charging station
Building Envelope: Corrugated metal roofing; 12-mm Triclad textured plywood with natural brown stain
Cabinets, Shelves, Millwork: All cabinets use off cuts from 36-mm Metra Panel board
Caulks and Sealants: James Hardie low-VOC sealants used throughout
Countertops: Locally made 20-mm particle board; formica
Decks: New Zealand-grown H3.1 pine; Carter Holt Harvey paint finish
Doors and Hardware: Phoenix Aluminum windows and doors
Exterior Finishes: New Zealand-grown H3.1 pine; Carter Holt Harvey paint finish
Flooring: 6-mm black floor tiles, 10-mm grout, 6-mm cement board sheet
Home controls: Phoenix Aluminum, Interlock, Assa Abloy
Insulation: Extruded ClimaFoam Eco Insulation R2.8, 75-mm thick (floors and walls); Alsynite Polygold Pure R3.6, 160 mm (roof)
Landscaping: Native tree planting, composting and vegetable gardens
Lighting: Lons LED recessed down light
Paints and Stains: Resene low-VOC paints and stains
Pavers: Local boulders used
Renewable Energy Systems (Solar, Wind, Etc.): 2.5-kW grid connected solar panel system with Mitsubishi Electric panels and Enphase technical components
Roof: New Zealand-made Plumdek metal roofing
Structural Components: New Zealand-grown pine
Ventilation: Passive ventilation though specific design
Water Filtration: Direct source from municipal provider
Water Heating: Econergy hot water heat pump
Water Management (Indoor/Outdoor): Devan 20,000-litre rainwater storage tanks
Window Coverings: Weathermaster thermal honey cone Whisper Shades R 1.2