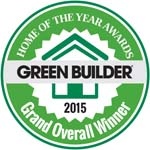 The 42 homes in this Seattle micro-community are super efficient and solar ready. This project won top honors in our annual Green Home of the Year Awards for a reason.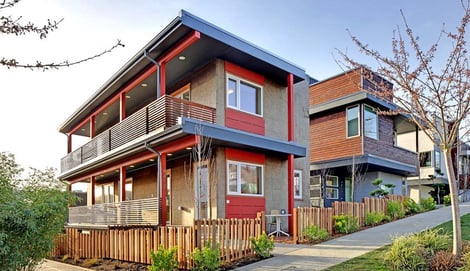 THE RAINIER VISTA COMMUNITY, located in Seattle's Columbia City neighborhood, began as a partnership between Dwell Development and the Seattle Housing Authority in 2010. Dwell Development's owner, Anthony Maschmedt, committed to building 15 homes using green building techniques and high-performance technology that would help homeowners conserve resources and cut costs. The excitement and demand generated by the project led to an additional 36 homes over five years. The last home was completed and sold in July 2015.
All 42 homes in the community are designed for zero-energy living and are 5-Star Built Green certified. This voluntary certification program, developed by the Master Builders Association of King and Snohomish Counties, establishes environmental standards for energy efficiency, water use and indoor air quality. Each home features solar-ready rooftop configurations, advanced framing, high-impact insulation, triple-glazed windows, radiant heat systems powered by tankless water heaters and heat recovery ventilation systems. The community also includes the Cork Haus, Seattle's first speculative Passive House.
Dwell Development partnered with Julian Weber Architects (JWA), a local architecture firm that specializes in green homes and modern design. JWA was able to deliver 42 different blueprints, each designed to optimize energy performance, including specific window placement and roof configurations that maximize solar gain. Environmentally conscious elements were integrated into the process, from initial designs to final interior touches, while unique reclaimed materials were carefully sought out for exterior siding, floors, countertops and tile.
The goal of the project was to create a community within the bustling Columbia City neighborhood that brings together like-minded individuals who value community, sustainability and modern design. The homes are arranged in micro-blocks: clusters of six to eight homes around an outdoor common area, which includes a shared garden and informal gathering spaces. The pedestrian-friendly location near the Light Rail Station and the retail and dining district in Downtown Columbia City help further reduce the community's carbon footprint.
See the floorplan HERE.