A NEW RANGER'S RESIDENCE at John Day Fossil Beds National Monument marks the first National Park Service house in the United States to achieve net-zero-energy.
Completed in December 2010, the home cost about $200 sq. ft. in hard costs.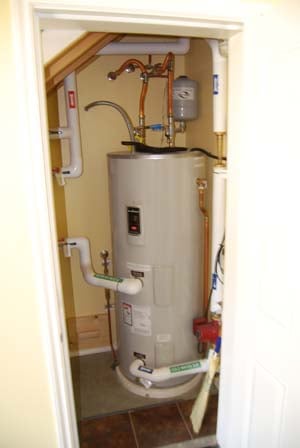 A solar hot water heater and drain-back system work in tandem with a Bradford White high efficiency 80-gallon storage tank.
Home designer Ted Clifton of Zero-EnergyPlans.com, carefully selected high-performance products. For example, he specified structural insulated panels (SIPs) from Big Sky R-Control, which make the home very tight--a total of about 1.2 air changes per hour at a pressure of -50 pascals. The concrete slab is fully insulated with rigid foam to R-20. There's an additional R-10 of foam insulation at the perimeter of the slab, down to 2-ft. depth.
"The house is clearly out-performing our expectations thus far," Clifton says, "producing and returning to the grid almost three times as much energy during the day as it draws at night, even during the cold winter months."
The ductless mini-split heat pump has a heating seasonal performance factor (HSPF) of 10.1. This system doubles as a low-energy air conditioning system for swing seasons. Fan-Tech add-on units provide high-efficiency particulate air (HEPA) filtration and heat recovery ventilation (HRV).
Other energy-saving features include triple-glazed low-E windows with U-values of .20 and a solar heat gain coefficient approximately .25. The home's insulated fiberglass doors offer a U-value of .16. A solar hot water heater and drain-back system work in tandem with a high-efficiency 80-gallon storage tank.
The home is fully solar-charged, with 5.6 kW of PV panels, along with a solar hot water system. The 24 PV panels generate about 7,000 kWh of power annually. Excess solar electricity charges the Polaris EV LSV electric utility vehicle, which the ranger uses to drive some 5,300 miles each year. Additional spare power will energize a nearby information kiosk.
"This was the number of miles our initial calculations showed we could operate a Chevy Volt in one year using only the surplus power of the initial 24 panels," says Clifton.
The park staff will be keeping careful records of the mileage of the vehicle and energy production of the home. "Actual measurements to date indicates that the home is producing more than twice as much surplus energy as our energy models predicted," Clifton says.
Clifton says the house could have been built for about $50,000 less, had it not been for the special reinforced foundation required in the volcanic ash soils of the Painted Hills area. The final contracted amount was $278,000. "The remote site added a lot to the cost, as did the expansive volcanic soils. The government's Design, Bid, Build process also contributed to the higher cost of the project. Private industry, working for private individuals, can always build the same product for less--especially if design-build is the delivery mechanism.
"This house was about dialing the numbers in," Clifton adds. "If there was a way to crank the energy-use lower, without significantly raising the price, we did it. And we are still dialing."