THE FIRST PLATINUM LEED CERTIFIED GREEN HOME IS BEING BUILT IN MIAMI BEACH, within walking distance of South Beach. The 3,200-square-foot home will be the first to house its own wind turbine to generate electricity, taking it off the grid as much as possible, which means lower electric bills saving money in the long run especially as electricity prices keep climbing. That's among many of the home's green features, including a water recycling system making it less dependent on city water and a geothermal heating and cooling system.
"This green house project will serve as an example to the community and world what is possible," says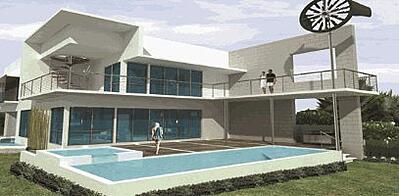 Lisa Botero with The Miami Beach Department of Public Works. She is assigned to LEED and green building projects for the city. "Since the home is LEED certified, the project will get streamlined during the review process and the city is considering returning building permit fees for all LEED projects."
"This is just the beginning," says Matt Lahn, the developer. Miami Beach has a very green future. This is a home for someone who wants to do what's right for the environment. The future is now. Everyone is going green."
Other green features of this five-bedroom, five-bath house include:
Solar panels and special foam insulation keeping the home cool and dry during the hottest summer days.
The landscaping uses native plants requiring no irrigation.
The lighting system is low wattage and can be controlled from your computer.
Plumbing fixtures are low flush, low flow.
The AC system has a fresh air cycle requiring less electricity.
All major appliances are Energy Star rated.
Motion sensors for bathroom lighting and ventilation.
"Everything possible—inside and outside—is being built from recycled products including the concrete, wood and glass," notes Robert Arkin, the general contractor. "Even the way the home sits on the property will take advantage of Florida's sun and breezes. Plus it'll be strong enough to withstand a hurricane."

Architect Ari Sklar says going green also greatly increases the home's value. "The systems themselves increase the value. Imagine FPL paying you for the electricity your home generates which you sell to them. Or when a hurricane blows in, you don't have to run a generator. This is a quality-of-life house. A less stress, healthier house."

Arkin believes, "The project will influence other developers and home investors to build this way. It's more expensive upfront to be environmentally friendly but you're investing for a future return that will not only payoff financially, but will have lessened the negative environmental impact along the way. "