What happens when the world's leading technology company blends high tech with high design?
The market for smart home technology is exploding, and companies of all shapes and sizes are jumping in to reap the rewards. And while there are plenty of devices that don't add any real value to homeowners beyond the whiz-bang factor, many innovations are addressing real concerns to improve the resource efficiency, health, and safety of our families.
Not surprisingly, Samsung is leading the smart home revolution in several categories. Their 146-inch smart TV—appropriately named The Wall—contains self-emitting micrometer scale LEDs that enhance the viewing experience, and its modular design offers consumers the ability to affix the screens in various configurations to meet their lifestyle needs.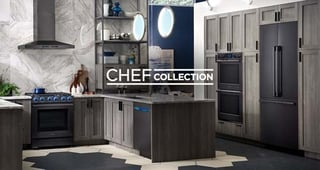 Perhaps Samsung's most important smart home advances are in the kitchen. The Family Hub interactive refrigerator, which features a touch-screen smart display on the front panel, allows homeowners to plan meals, coordinate schedules, and live stream music and TV. Leveraging Samsung's SmartThings hub technology, the connected fridge has three interior cameras to allow a homeowner to see inside the fridge from anywhere, and it texts homeowners when select food items are about to go bad. It also enables online shopping straight from the interface, eliminating trips to the grocery store. Of course, the Family Hub is voice enabled, so a homeowner can speak commands when his/her hands are full or dirty.
For those who feel that having a big smart phone in the middle of their kitchen is too intrusive, Samsung's Chef Collection offers plenty of innovative technology, integrated with sleek aesthetics. The collection's flush mount designs and matte black stainless steel finishes offer timeless elegance, but they have plenty of tech perks, like enabling a homeowner to monitor meals from their phones.
It's worth keeping an eye on Samsung's evolving smart home products—according to Business Insider, "Perhaps more than any other company, Samsung is in a position to combine AI, security, and consumer devices to create a platform that integrates a connected home into a wider ecosystem of personal connectivity."