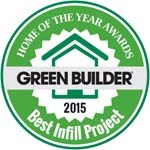 This modern Seattle home effectively combines repurposed building materials and energy-efficient technology.
EVERY HOME BUILT by Dwell Development is designed with the goal of net-zero energy use. The Reclaimed Modern home, built on an infill lot in Seattle, is no exception. The lot lines were adjusted to maximize solar siting, and an existing home was also renovated. "We use a holistic approach at Dwell Development similar to the farm-to-table idea, where we incorporate local materials into our homes that are natural, recycled or repurposed. It's about making conscious choices," says Anthony Maschmedt, owner of Dwell Development.
The pathway leading up to the 3,140-square-foot three-story home is made out of concrete, repurposed from a public sidewalk removed during construction. The home's exterior incorporates salvaged wood and corrugated metal from a deconstructed barn in the Willamette Valley.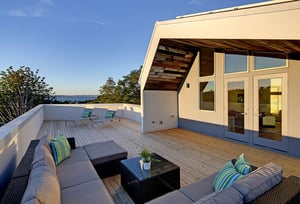 "We have always used a lot of materials with high recycled content, but the idea of actually taking and reusing materials from old buildings slated for demolition was the next step—a natural evolution," says Abbey Maschmedt, design project coordinator for Dwell Development. The organic rusty hue coupled with the modern structure of the home creates an instant patina and a compelling addition to the vibrant urban neighborhood.
The exterior is coated with Enviro-Dri, an applied weather-resistive barrier. The pervious concrete keeps rainwater onsite, recharging the groundwater and lessening the burden on the stormwater infrastructure.
Triple-pane Atrium windows keep the heat inside. A Honeywell heat recovery ventilator (HRV) provides constant fresh air, and a radiant heat floor system—powered by a Navien tankless water heater—keep the home's interior comfortable and healthy. A 7.39-kW PV array offsets the home's energy consumption, and Energy Star-certified appliances and WaterSense-certified plumbing fixtures ensure it is an energy and water miser.