PNC SMARTHOME CLEVELAND is currently being built on the grounds of The Cleveland Museum of Natural History (CMNH), with the world's most sustainable materials and environmentally-friendly furnishings, appliances and artwork. When complete, it will function without a conventional furnace while using 90% less energy than a typical home.
As of August 2010, there were approximately 25,000 certified Passive House structures (of all types) in Europe, while in the United States there were only 13, with a few dozen more under construction. However, as utility costs continue to rise, Passive House construction will likely become more common here, as it has in Europe. The CMNH aims to elevate awareness of this type of building through its SmartHome exhibition.
PNC SmartHome Cleveland will be open to the public June 6 through September, on the grounds of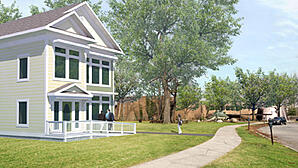 the CMNH – just east of downtown Cleveland. After the exhibit closes, the house will be moved to its permanent location just a few blocks away, where it will be put on the market for sale.
While Climate Change addresses the effect of human actions on the Earth, SmartHome Cleveland will demonstrate how humans can act to affect an energy-efficient future and can help change ideas about how we design, build and live in our homes in Northeast Ohio. The home was designed using the Passive House methodology, the world's most advanced standard of energy performance. Plans are to build the house using a wall system based on structural insulated panels. Construction is expected to be completed in early June, when it will become a temporary exhibition open to the public for tours.
The home will be constructed using sustainable materials and furnishings, advanced stormwater techniques, healthy housing techniques and biophilic design to connect occupants to nature. Three key elements distinguish "passive house" structures from typical houses:
high levels of insulation, with walls up to 18 inches thick
a carefully sealed building envelope with minimal air leakage combined with efficient heat-recovery ventilation for superior indoor air quality
ultra high-performance windows—at least double-paned and typically triple-paned. The result is a home with no drafts, no cold spots and extremely low heating bills.
"SmartHome Cleveland will give thousands of people hands-on experience with the most advanced, practical and attractive techniques of green building and energy conservation," says David Beach, director of GreenCityBlueLake Institute, the center for sustainability at the Museum. "It will also raise design standards in Northeast Ohio by increasing awareness of passive house principles, and can help make Cleveland a center for advanced design."
The two-story house will have a net living space of approximately 2,500 square feet, including three bedrooms and 2 1/2 bathrooms, plus a full basement.
"We're excited about the opportunity to bring the leading ideas of building science to Northeast Ohio," said Dr. Evalyn Gates, the Museum's executive director and CEO. "This will be the ultimate green exhibit—a home that meets the world's most rigorous energy standard for residential construction, and that at the end of the exhibit will become a permanent asset to Cleveland's University Circle neighborhood."
The home was designed by Chuck Miller of Doty & Miller Architects in Cleveland. Certified Passive House Consultant Mark Hoberecht of HarvestBuild Associates will oversee SmartHome Cleveland's adherence to the standards of the Passive House Institute US.
SmartHome Cleveland is being funded by PNC Bank, The Cleveland Foundation, The George B. Storer Foundation, an anonymous donor and a number of other sponsors. The Museum receives public support with local tax dollars from Cuyahoga Arts and Culture, to preserve and enrich the region's artistic and cultural heritage.
Click here to see a video of the house concept.
---
Photo copyright Doty & Miller Architects