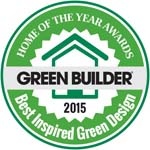 Set into a mature Boston-area neighborhood, this sophisticated home offers efficient use of space, expression through form and a myriad of green features.
DESIGNED TO ACCOMMODATE two or three family generations, this 2,900-square-foot home features paired living spaces on the first and second levels, each with separate kitchens and living rooms. These are highlighted on the front façade by window systems that wrap the corners of the house. An open stair with acrylic treads and glass rails winds from the basement to the third floor, channeling natural light down through the home and connecting all the levels.
PROJECT STATS
NAME: Brookline Residence, Brookline, MA
BUILDER: Matt Ayers, Aedi Construction
ARCHITECT/DESIGNER: Stephanie T. Horowitz, ZeroEnergy Design
PHOTOS: Eric Roth Photography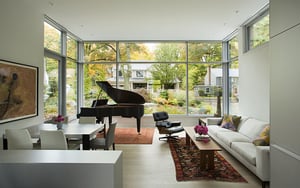 The home includes both a modern form and palette of materials, using durable cedar and fiber cement siding. The street side offers a permeable parking area with an electric charging station, while at the home's entrance, an acrylic overhang shelters foot traffic from rain. The glazed entry door opens into the family foyer, with access to the rear outdoor living space.
This super-insulated home features airtight construction, continuous exterior insulation, and well-insulated, triple-glazed windows. The walls and basement feature petroleum-free cavity and exterior insulation, including dense-pack cellulose, mineral wool on the exterior and FOAMGLAS insulation under the slab. On the rooftop, a solar electric system helps offset energy consumption.
Cisterns capture nearly all the stormwater from the site and roof surfaces and connect to a drip irrigation system to irrigate the landscape. Inside the home, consumption is limited with high-efficiency water fixtures and appliances.