For this Portland, Oregon makeover, creating the perfect kitchen meant energy-efficient, customized design—with minimal waste.
PHOTOS BY AARON ZILTENER / NEIL KELLY COMPANY
THE KEY TO FITTING the perfect kitchen into this small 1940s home was flexibility, says Therese DuBravac, design consultant at Neil Kelly Design.
The original kitchen was a very tight space, but the 40-something chef-and-teacher couple has no children and plans to live in the house for the long term.
Because the husband is a chef and shops every day for fresh groceries, and because the couple has no children, storage space for bulk food items wasn't necessary. What really freed up a large amount of space was the installation of high-quality, under-the-counter refrigerator drawers. The old, regular-sized—and still functional—refrigerator was placed into the garage. DuBravac brought life into the kitchen by taking out the wall that had divided the kitchen and living room, although the cabinets still separate the spaces. Adding further flexibility, the kitchen has open steel shelves made by a local metalsmith and a moveable island that sits against the wall.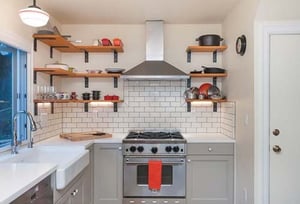 In this case, taking down the wall didn't result in an open kitchen. DuBravac agrees that for some families, the open kitchen works. But those same families may also be starting to find a few disadvantages with an open kitchen design, including lack of privacy from the TV or from the kids—and guests can always see into your messy kitchen.
DuBravac says that Portland's average kitchen remodel costs around $72,000, but this project went up to $74,000, because of the installation of a new window and French door. It's a good chunk of money, but the owners have no plans to leave the house. DuBravac recalls that when she was looking for her own new house a couple years ago, she noticed that many homeowners had spent a lot on renovations that didn't really fit her style.
"I'd rather they do nothing, so I don't have to pay for updates that I'm going to pull out anyhow. It's a lot of wasted resources. But we get mostly clients who want a long-term remodel—you do it once. It's quality over a short-term fix," she adds.