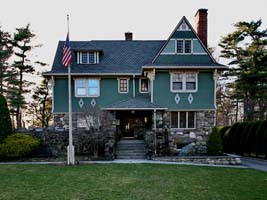 by Charlie Wardell

What if the Industrial age happened at the same time as the computer age? That's one of the questions Steampunk tries to answer. From its origins as a form of speculative fiction, Steampunk has spawned a new category of Victorian themed design. As a living laboratory for that trend, Bruce and Melanie Rosenbaum's restored 1901 Victorian/Craftsman home in Sharon, Mass., demonstrates ingenious ways that old items can be given new life, instead of being discarded.

By fusing technology with antiques Steampunk makes recycling a high art.

For a more detailed look at this home, please visit our Magazine Archive, and view our May 2011 issue.