WHAT DO YOU do with a sad 1830s building relic with good bones on a wonderful site in a great location? If you are this winning team, you go all out for green, LEED Platinum and NGBS Emerald.
The Peters-Lockrow farm house on the 80-acre Abraham Moe Farm had been vacant for a decade. It had holes in the roof, water in the basement and a menagerie of animals–squirrels, chipmunks, raccoons–living inside. The kitchen had even been used as a turkey coop. However, the Town of Clifton Park, N.Y., had cataloged the home (which was once owned by the original town clerk) as a historic property.
Builder and owners Paul and Joanne Coons had already restored another old house and decided to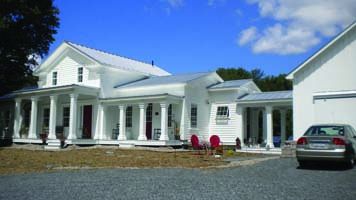 purchase, restore, and live in the Peters-Lockrow property now occupying a little more than two acres. A plus is the bike path, adjacent to the backyard, that leads to the town center and the park-and-ride lot for commuting in the tri-city area anchored by Albany, New York's capital. Paul, retired state director of environmental health & safety, and Joanne, a high-school environmental science teacher, had great green creds and serious goals: to keep the home's historic character; to build with green, sustainable and environmentally friendly products; and to make enough energy to achieve net-zero performance.
Products
ROOFING: Standing seam metal roofing with recycled content, recycled rubber roof underlayment
STRUCTURE: Interior offset stud walls, FSC lumber

SIDING: Pine clapboard siding, porches with recycled plastic composite flooring, MiraTEC trim
INSULATION: Spray foam (R-56 walls, R-86 roof assembly)
AIR CONTROL: Lifebreath HRV, Ultra-Aire whole house dehumdifier

WINDOWS: Energy Star windows, Comfortex insulated shades

HEATING: TED 5000 and geo-plot Climate Master ground source heat pump tracking, Velux solar heat water system with electric backup
APPLIANCES: Energy Star, inculding induction range/convection oven

FAUCETS & FIXTURES: WaterSense fixtures throughout

CABINETS & TOPS: PaperStone countertops, locacl Amish-made oak cabinets, reproduced moldings
CLEAN FINISHES: Original and reclaimed pinerefinished with Vermont Coatings, American Clay interior finishwith no-VOC paint and PolyWhey finish
ALTERNATIVE ENERGY: Nissan Leaf, Leviton charging station (automobile), 8.4 kW PV

LIGHTING: All Energy Star compact flourescent and/or LED fixtures

PAVERS: Natural stone driveway, Vermont slate patio and walkways
Trudeau Architects, Lathan, N.Y. and Plumb Excel Group Engineering, Albany, worked with the couple, as did Norwalk, CT-based Steven Winters Associates. The home qualified for participation in the NYSERDA (New York State Energy Research and Development Authority) program to assist with compliance with green home building ratings and programs. The Coons purchased a barn-style garage plan from architect Donald J. Berg that matched the home's style and replaced the 1960s-era garage. Throughout the restoration process, the team worked closely with the Town of Clifton Park Historical Preservation Commission.
KEEPING UP APPEARANCES
Renovation of course, exposed hidden challenges in the long-abandoned building: structural column damage, inadequate roof structures, missing and compromised foundation, rotted sill plates and structural members. In addition, the Coons had to correct the 1960s-era re-muddle.
But historic integrity was important. The original window look had to remain on the front facade. The windows stayed, but the builder upgraded them to triple-pained, with the addition of restored exterior storms and screens and interior (magnetically-clipped) sashes. These additions reduced U-values by approximately 50%. Other elements only look old. Period-looking columns replaced rotted originals.
Inside, the team worked with Saratoga-based Green Conscience: Home & Garden. They reused interior trim or replaced it with locally milled copies. They restored the tin ceiling, found under a drop-ceiling in the living room; Paul Coons says they were very fortunate because the entire ceiling was still there.
The team recycled or reused demolition material. Old kitchen cabinets became storage in the barn. They recycled concrete, pulled all nails, and reused or recycled both wood and nails. Clippings and debris removed from overgrown trees and bushes were chipped and became ground cover. What could not be reused or recycled on site was donated to Albany Historical Foundation or Habitat for Humanity. Metals, plastics, paper and glass went to the town's recycling center.
BEHIND THE WALLS
To make room for the R-52 soy-based closed-cell foam insulation, walls were rebuilt as double offset stud walls. The new standing-seam metal roofing, historically correct for the period, is an EPA-rated, recycled-metal "cool roof" with a Strong-Seal recycled rubber-tire roof underlayment. Closed-cell foam brings roof insulation to R-86.
The ClimateMaster Energy Star-rated ground source heat pump provides all heating and air conditioning for the 2,134 sq. ft. house. The three-ton system cost approximately $22,000, but saves $2,400 a year on HVAC costs. The home achieved a HERS rating of 7 (41 before PV), with 2.5 air changes per hour (@ 50 Pascals).
An 8.4 kW pole-mounted PV array consists of 40 panels, each 210 watts, from Evergreen Panels of Massachusetts. The panels are grid-tied. Light fixtures use either CFL or LED bulbs. Except for the magnetic-induction range (which uses less energy than a standard electric range), all appliances, including ceiling fans and the kitchen-range exhaust are Energy Star rated. Some electricity savings come from lifestyle choices. For example, the Coons use interior clothes drying racks in the winter and exterior clothes lines so the sun dries their clothing the rest of the year.
WATER SMART
A new PEX-tubing manifold system supplies water to all WaterSense fixtures. The two and one-half bathrooms each feature a dual-flush toilet. A Velux SRCC-certified solar hot water system provides hot water. Excess heat produced by the hot-water system funnels into the ground source heat pump well.
Exterior landscaping is minimal. A majority of the lot has been left natural. There are organic vegetable gardens fertilized with compost. Bees live in two hives on the property .They pollinate the gardens and produce honey and wax. Rain barrels collect water used to irrigate the gardens. Sidewalks and a patio area are Vermont slate.
In addition to achieving LEED Platinum and NAHB Emerald, the project also received New York Energy Star, and EPA indoor Air Plus certificates and the 2011 Clifton Park Historic Preservation Award.
The Coons have been living in their healthy, comfortable and energy efficient historic home since January 2011."The first year we had a surplus of 2,500 kWh of electricity which we sold back to our utility," they say. This year, with the addition of the electric cars, their sellable surplus is down to 1,300 kWh. They are unlikely to add more output. Most American utilities, unfortunately, offer weak incentives for sizing a system to achieve better than net-zero, because they buy back power at only about 20% of the price for which they sell it. These owners still pay a monthly bill: a customer-service charge of $16.54 a month.
There are other rewards, however. Because of the restoration efforts these owners made, the Town of Clifton Park, through their Historic Conservation Easement Program, awarded them a 95% tax easement on all town, county and school taxes for 25 years—as long as they care for and maintain their historic home.
The Coons are also paying good will forward in other ways. They have produced an educational program outlining their project and presented it to several organizations. They have also opened their home for local and national tours.