A multi-use project in Portland, Oregon, showcases onsite wastewater and stormwater treatment.
Walking down the pedestrian corridor among the new modern buildings at Hassalo on Eighth, you'd never know the site was an asphalt parking lot just a few years ago.
Hassalo on Eighth is an ambitious multi-use project located in Portland, Ore.'s Lloyd Center District. Designed by GBD Architects, it consists of three new buildings and an existing office tower centered around a newly created pedestrian corridor and plaza. Together, the new buildings add 657 residential units and thousands of square feet of ground-level retail to a neighborhood previously dominated by office buildings and parking lots.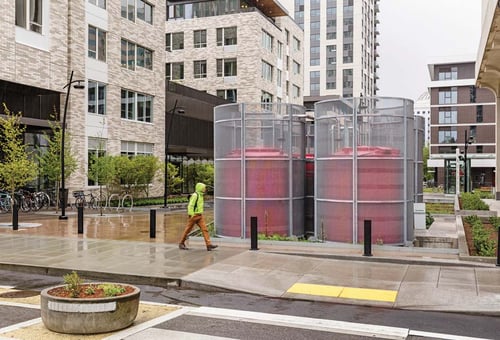 The trickling filter tanks are displayed prominently at the north end of the pedestrian corridor. Image credit: GBD Architects.
Benches and tables in the new plaza invite people to linger, and the many bike stalls and easy access to the MAX, Portland's light rail system, make it a pedestrian's and cyclist's dream. But the feature that has garnered the most attention is the project's onsite wastewater treatment system. The tanks and constructed wetlands, which treat wastewater from all three new buildings, aren't hidden away. They are showcased as the development's centerpiece.
A Win-Win Solution
Portland has a combined sanitary sewer and stormwater system. During heavy storms, such systems are vulnerable to overflows, which can contaminate local waterways. The city has strict requirements for stormwater treatment in new developments. Still, the combination of aging infrastructure—some of the city's pipes are over 80 years old—and new development places stress upon this combined system.
"As we did our homework, we realized we had a capacity issue," says Kyle Andersen, principal at GBD Architects. The city would have to make changes upstream or they would have to lay new pipe—both very expensive options. "We started thinking, what if we treated the wastewater on site?"
The decision was a win-win: The City of Portland agreed to discount the project's systems development charges, and the onsite solutions keep up to 45,000 gallons of wastewater per day out of the city's combined system.
Portland has approved two other systems that treat wastewater from a building and use it onsite. One is for the OHSU Center for Health and Healing. This 16-story high-rise, which GBD Architects also designed, uses a membrane bioreactor to treat 15,000 gallons of wastewater each day and recycles the water for toilet flushing, irrigation and cooling tower make-up water. The Port of Portland headquarters building treats wastewater with a Living Machine, a tidal flow wetland.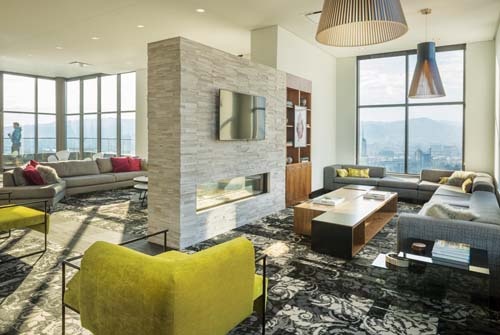 The units in all three LEED-certified buildings feature ample daylighting, efficient appliances and access to recycling and composting. Image credit: GBD Architects.
Biohabitats, a firm specializing in conservation planning, ecological restoration and regenerative design, developed the system for Hassalo on Eighth.
"We have done systems for urban centers, but not to this scale," says Pete Muñoz, senior engineer and Cascadia bioregion team leader for Biohabitats. "It's the largest onsite urban system that I know of."
Before starting, the team held a "regulatory summit," inviting representatives from the relevant agencies to attend a presentation, during which Biohabitats explained how the onsite system would work. They learned that it would require two main permits: one from the Oregon Department of Environmental Quality (DEQ) and one from the City of Portland Bureau of Environmental Services.
"It was invaluable to have that sort of clarity right away," says Muñoz.
The New NORMal
The onsite treatment system has a name: NORM, or Natural Organic Recycling Machine. A multi-stage treatment train uses natural biological processes to treat 100 percent of the wastewater from all three new buildings (click to see "How NORM Works,"). The most prominent feature is the trickling filters, which are housed in four red tanks at the north end of the pedestrian corridor. Wastewater is pumped to the top of the filters, where it flows—or "trickles"—down media that supports bacteria growth. The bacteria feed on nutrients in the wastewater.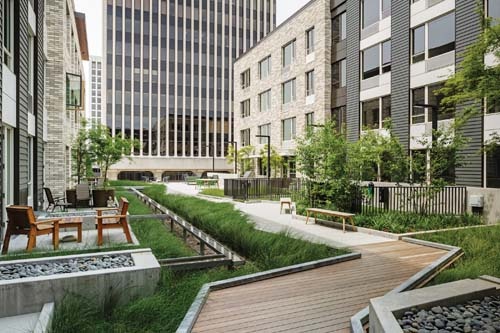 Stormwater planters and a water feature that uses treated rainwater help create a peaceful atmosphere in an urban setting. Image credit: GBD Architects.
From there, the wastewater flows through a pair of tidal wetlands. Every two hours, as the first cell fills, the second empties. This ebbing and flowing promotes bacteria growth on the gravel; the bacteria and plant roots take up nitrogen and phosphorus from the wastewater. The tidal cells are 14 feet deep.
"This is unique," says Muñoz. "The cells are much deeper than the typical constructed wetland."
Next, the wastewater flows through "wood chip" wetlands, a denitrification reactor and a second set of tidal wetlands. Finally, the water is filtered and disinfected with UV light and ozone before being sent to the reuse tank.
The wastewater is treated to Class A standards, as defined by the Oregon DEQ. This most stringent classification also allows the most uses. At Hassalo on Eighth, the treated water is used to flush toilets, irrigate landscaping, resupply the cooling tower and recharge groundwater via recharge wells located next to the trickling filter tanks.
The system is monitored continuously and must meet strict criteria for turbidity (cloudiness) and pathogens. If turbidity exceeds standards, the treated water is automatically sent to the city sewer instead of to the reuse tanks. The system also monitors nitrogen levels to ensure treated wastewater does not contribute excess nutrients to the groundwater.
NORM saves energy, improves water quality and cuts potable water use by over 20,000 gallons per day. But the system also makes sense economically.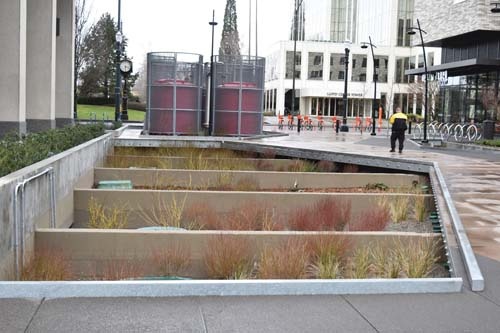 The tidal wetland and wood chip wetland cells enhance the public spaces between the buildings. Image credit: Juliet Grable
The project has meters installed which monitor water coming in and the water coming out of the buildings, to prove they aren't contributing wastewater to the sewer system. This way, Hassalo on Eighth avoids sanitary sewer charges.
"Additionally, since we are using reclaimed water on site, we are saving 50 percent on our potable water bill," says Andersen. These savings, combined with the discounted SDCs, have helped the system see a payback of less than three years, despite the extra expenses of metering, ongoing testing and monitoring and hiring of an operator.
Soaking it in
Stormwater treatment is also integrated into the landscaping. Over 38,000 square feet of green roofs on two of the buildings—the six-story Velomor and 21-story Aster Tower—double as amenities, enhancing the rooftop terraces.
Place Studio, a Portland landscape architecture firm, designed the rainwater system, which Andersen describes as "an onsite water feature that utilizes treated rainwater." Biohabitats provided engineering for the system.
A 60,000-gallon rainwater cistern collects runoff from one of the green roofs and delivers it to the water feature, which consists of a series of vegetated reservoirs flanking the pedestrian corridor. The southern portion of the corridor is lined with stormwater basins and reservoirs divided by a series of check dams. Bridges span the reservoirs, which create a threshold between public and private areas. The water circulates continuously, and the feature does not use any potable water from the city. Stormwater planters treat water from the other roof surfaces and sidewalks.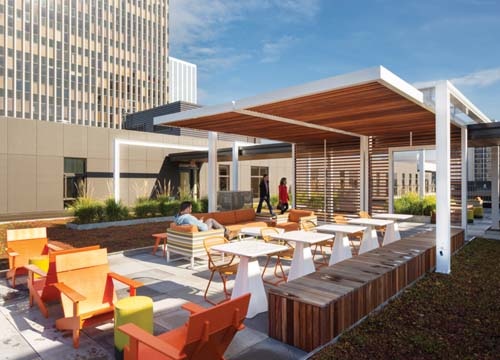 A green roof surrounds a lounging area on top of the Velomor building.
Place Making
Each of Hassalo on Eighth's three buildings is LEED Platinum certified, and GBD Architects is pursuing LEED for Neighborhood Development certification as well. American Assets, a San Diego-based real estate investment trust (REIT), owns the 15-acre development.
The project has breathed new life into a neighborhood that, well, wasn't really alive.
"At 5 p.m., it was dead. There was no night life," says Muñoz. "Now it is a much more well-rounded neighborhood."
Thousands of new residents, along with restaurants, a grocery store and a fitness center, are helping to transform this "non-place" into a vibrant community. The area is also an official Ecodistrict, modeling resource efficiency, livability and equity, in part by implementing appropriately scaled solutions.
"We took advantage of this opportunity to design a community with buildings that work together," says Andersen. "With Hassalo on Eighth, we have something tangible and successful we can point to, something that demonstrates the elements of an Ecodistrict and helps us create a sense of place from what was once an asphalt parking lot."
Andersen says people are drawn to Hassalo on Eighth in part because of its sustainability focus. The development's website features NORM on its home page, and new tenants are given a manual explaining how the wastewater treatment system works and how they can help keep the system healthy, primarily by not putting ammonia or chemicals down the drains.