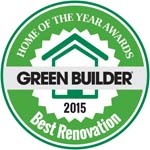 An 83-year-old beach house gets a deep energy retrofit, but retains the grace and beauty of the original home.
THIS 1932 HOME overlooks Truesdale Lake in Westchester County, NY. Once a popular gathering place, the structure had fallen into disrepair. Incorporating new and reclaimed materials, architect and builder Sylvain Côté has fully restored The Beach House for maximum comfort with a minimal carbon footprint. Completed in 2014, The Beach House is Energy Star Certified, with a HERS rating of 30 and LEED Platinum Certification of 90.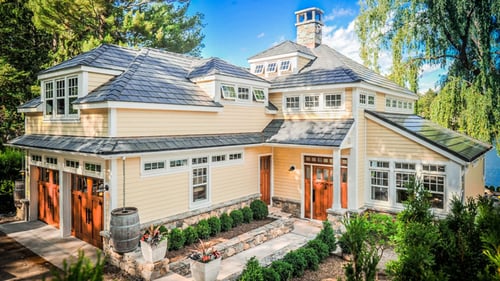 A high-velocity, small duct system from Unico, Inc. cools efficiently by removing 30 percent more humidity from the air than a traditional system. It delivers conditioned air through insulated flexible tubing, which snakes through floor, wall and ceiling cavities. The tubing has close to zero thermal loss, and the "hidden" ductwork allowed architectural freedom in the design and eliminated the need for soffits. Small, round air outlets quietly deliver air into each room. Heating is provided by a radiant floor system from Viega, which reduced heating costs by an additional 30 percent.
A Fantech energy recovery ventilator brings in constant fresh outside air, and a whole-house HEPA filtration unit, also from Fantech, maximizes healthy indoor air quality. All systems within the home can be operated remotely, maximizing energy efficiency when the owner is away.
Durable, attractive synthetic slate tile from DaVinci Roofscapes makes up the majority of the roofing, but a building integrated photovoltaic (BIPV) Sunslate System from Atlantis Energy Systems was incorporated on the south-facing roof. Because it offers better aesthetics than solar panels, the Sunslate System satisfies historic and zoning commission codes.
"I'm a firm believer in making design beautiful, because if you don't, someone will replace it. And that is wasteful," Côté says.