When it comes to wasted energy, Panacea Retreat is a cure-all.
Thrive Home Builders' Panacea Retreat offers a picture-perfect example of how to optimize energy efficient at every level in a new home.
The company's two-story, 3,200-square-foot dwelling in Denver carries a HERS score of 8, brought about by the presence of just about every efficiency feature that can be found in a home: 9.76 kW of solar, a Tesla Powerwall, Level 2 vehicle-charging station prewire, 9-1/2-inch thick R-40 double-stud walls, 14-inch raised heel height trusses, a 0.97 EF tankless water heater with a smart recirculating pump, an 18.9 SEER variable speed heat pump, a 98 percent efficient backup furnace, 100 percent LED lighting—and more.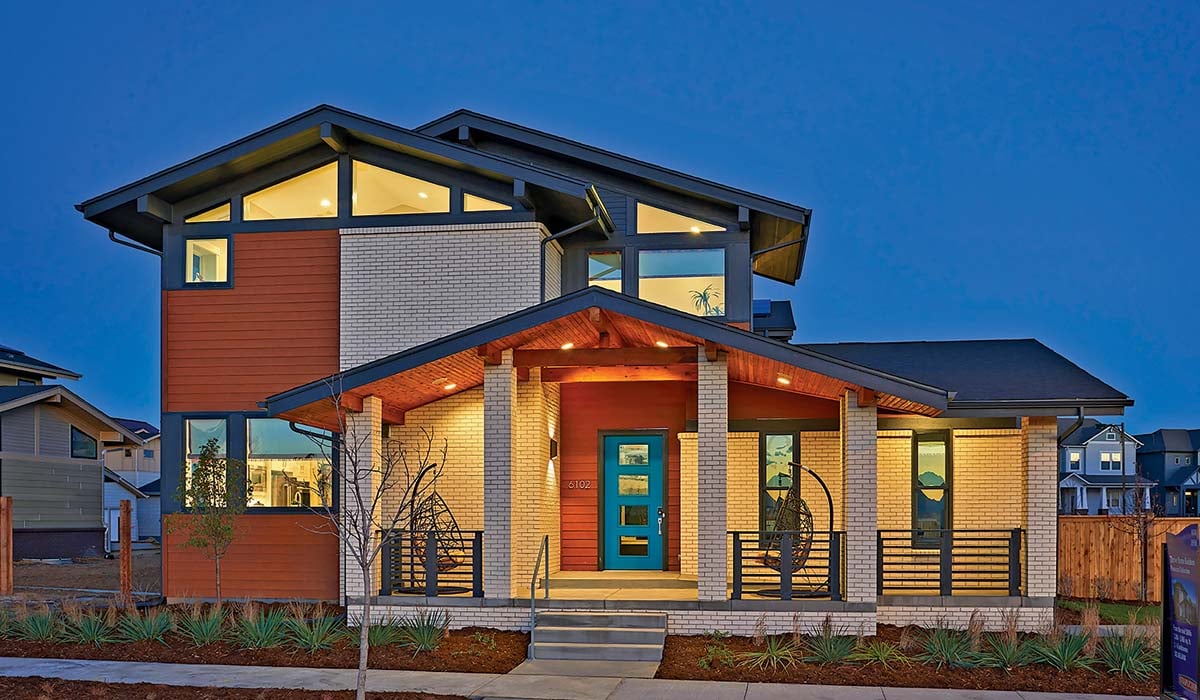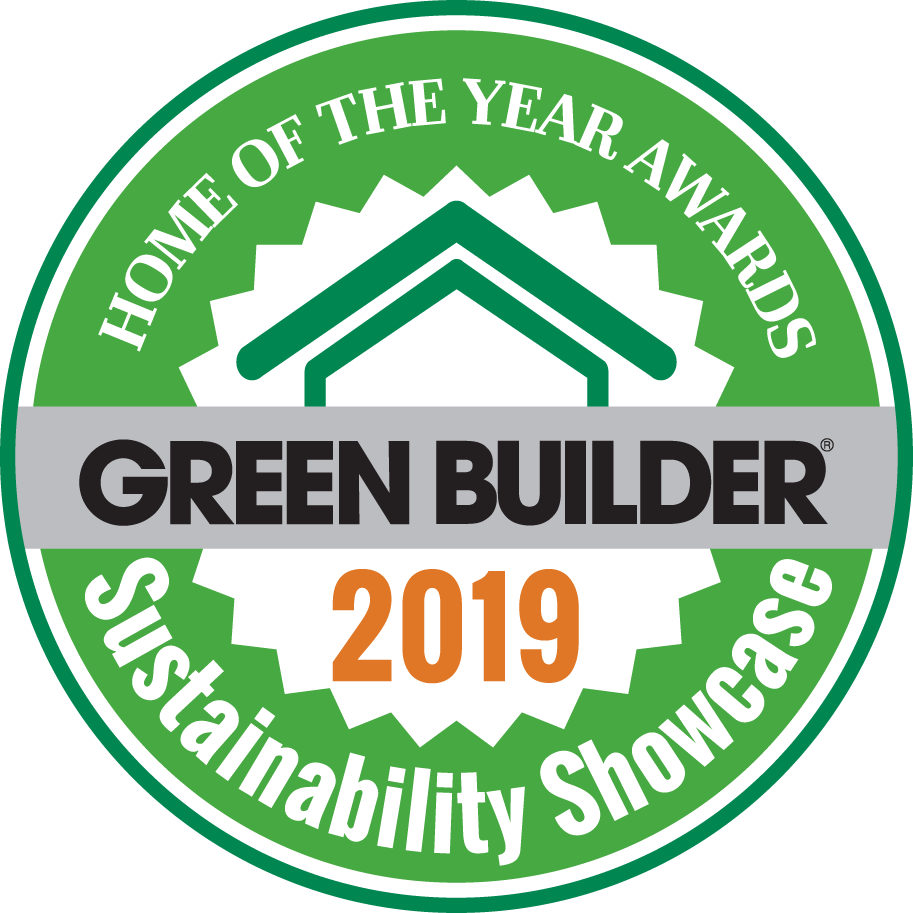 Project Stats
Name: Panacea Retreat, Denver, Colo.
Architect/Designer: Valerian LLC
Builder: Thrive Home Builders, Forest City Stapleton Inc.
Developer: Forest City Stapleton Inc.
Photographer: Moss Photography
Fans of green buildings can also take a deep, happy breath: Innovations in clean indoor air include an active radon system, Panasonic ERV providing continuous fresh air throughout the home, a Carrier Performance Air Purifier, corn-based carpeting, and AirRenew drywall that absorbs and breaks down formaldehyde to ensure indoor air pollutants are reduced throughout the life of the home.
"The sole mission of Panacea was to inspire and raise the bar," says Seth Hart, senior designer for DTJ Design in Boulder, Colo., and Panacea's architect. "A zero-energy home offered at a production level makes a statement on its own but combined with a mid-century modern inspired design aesthetic; this home truly makes a statement."
Hart adds that the home delivers an eco-minded, luxury move up for buyers, offering a cost-effective, high-performance package of health, comfort, advanced technology, energy savings, quality and durability. These features save an owner about $4,600 per year, compared with the costs of heating and cooling a typical, non-green home.
On top of all that, the Panacea Retreat was built with reclaimed beetle-kill lumber. The home acts as a showcase for all other LEED-certified homes in the area. "[With Panacea], we attempted to do something that we have never done: A production-built, mid-century elevation that truly pays homage to that style, and uses materials and technologies that we are not familiar with—i.e., prefinished siding and Tesla Powerwall," says Eric Sung, Thrive Home Builders' Director of Design. "We were able to incorporate everything we know in high performance into one collection."
Distribution of natural lighting was one challenge; the home's mid-century modern styling proved to be the ideal architectural solution to balance large expanses of glass with passive solar shading. Gable end windows at the front of the home now flood the master bathroom with light, without creating privacy concerns. And, the staircase is a celebrated feature, connecting all levels with an abundance of natural light.
All of these efforts have earned the home LEED certification, Zero Energy Ready Home status, and Energy Star and EPA Indoor airPLUS certifications by the U.S. Department of Energy.
Key Components
Appliances: KitchenAid stainless steel appliances, including 36-inch 5-Burner Gas Cooktop, Double Upper Wall Oven with Even-Heat True Convection, Top Control Dishwasher with ProWash Cycle, Whirlpool microwave, and Zephyr Europa Anzio Chimney Pro Range Hood.
Automotive (Electric Car Charging, Etc.): 220-volt outlet and prewire for future Level 2 charging station
Building Envelope: Exterior double 2 x 4 walls with studs staggered at 24 inches with a 2-1/2-inch space
Cabinets, Shelves, Millwork: Kitchen Craft frameless, KCMA ESP certified
Central Vac: Optional
Countertops: Quartz countertops with 4-inch backsplash
Doors and Hardware: Therma-Tru 4-panel glass front door with Schlage keyless touch entry and Latitude interior satin nickel lever. Raised 5-panel smooth doors, Ultralite 6-inch base, 4-inch door casing, and Schlage Latitude satin nickel door levers
Flooring: Entry and Kitchen: Mohawk Engineered 5-inch Oak Harmon Manor. Baths and Laundry: Dal Slate Attaché 12-inch x 24-inch staggered tile flooring. Other locations: Mohawk SmartStrand Forever Clean carpet with Smart Cushion
Home Controls: Carrier Infinity controls
HVAC/Ducts: Carrier Infinity 18 VS Heat Pump, Panasonic Intelli-Balance 100 ERV
Insulation: Owens Corning L77 insulation
Landscaping: Xeriscape, WaterSense compliant
Lighting: 100 percent LED Lights
Paints and Stains: Sherwin-Williams No-Volatile Organic Compounds (VOC) Harmony
Plumbing/Plumbing Fixtures: 100 percent WaterSense faucets
Renewable Energy Systems (Solar, Wind, Etc.): Panasonic HIT 320 Watt Panels, SolarEdge inverter
Roof: Owens Corning Architectural Shingles
Structural Components: Reclaimed beetle kill lumber used for studs
Ventilation: Panasonic Intelli-Balance 100 ERV, Active Radon Control
Water Heating: Navien Tankless NPE 240A with Recirculating Pump
Water Management (Indoor/Outdoor): Tyvek DrainWrap Water Resistive Barrier, Tyvek Flashing Tape and FlexTape at window and door penetrations, Quickflash at all small penetrations
Window Coverings: N/A
Windows, Skylights, Patio Doors: Anderson Windows, U<0.25, low-E, NFRC certified