With a little bit of green creativity, new easily blends in with old at this Seattle project.
With Dwell Development's Northwest Net Zero project, it was all about location. The four-bedroom, 2.5-bath house in Seattle's Columbia City was built on an infill lot with an existing home, sandwiched between older homes in an established neighborhood. This meant care had to be taken to make sure that the new unit could be constructed to meet aesthetic and lot-size parameters, without standing out from its neighbors.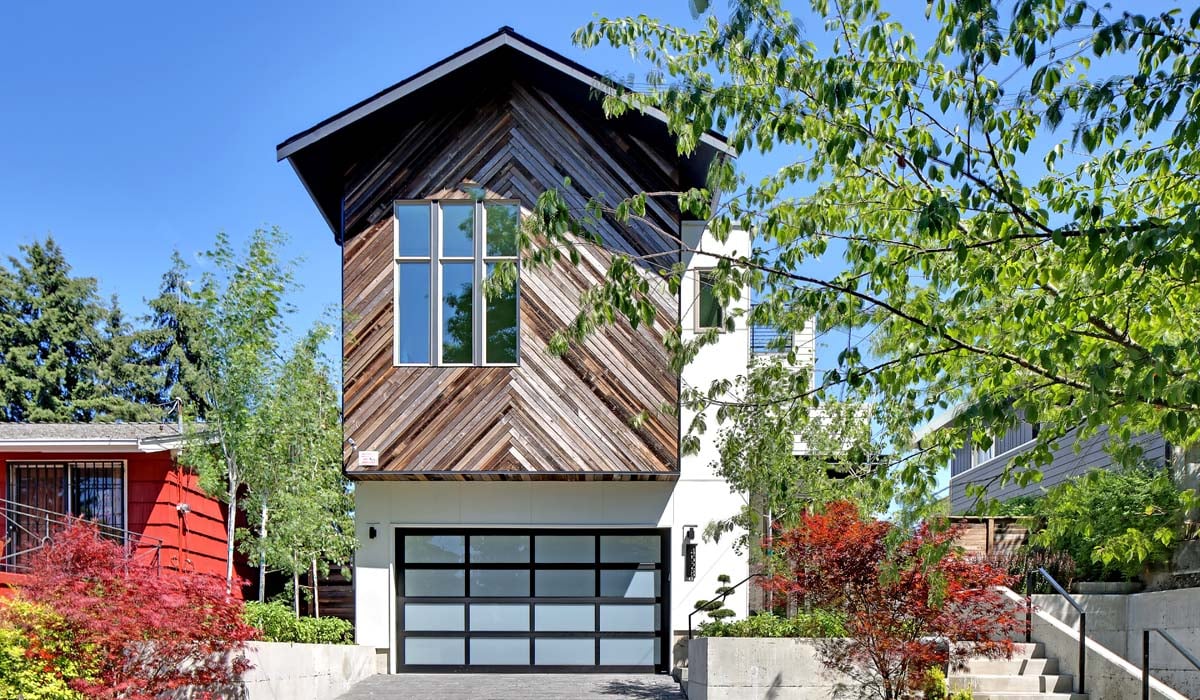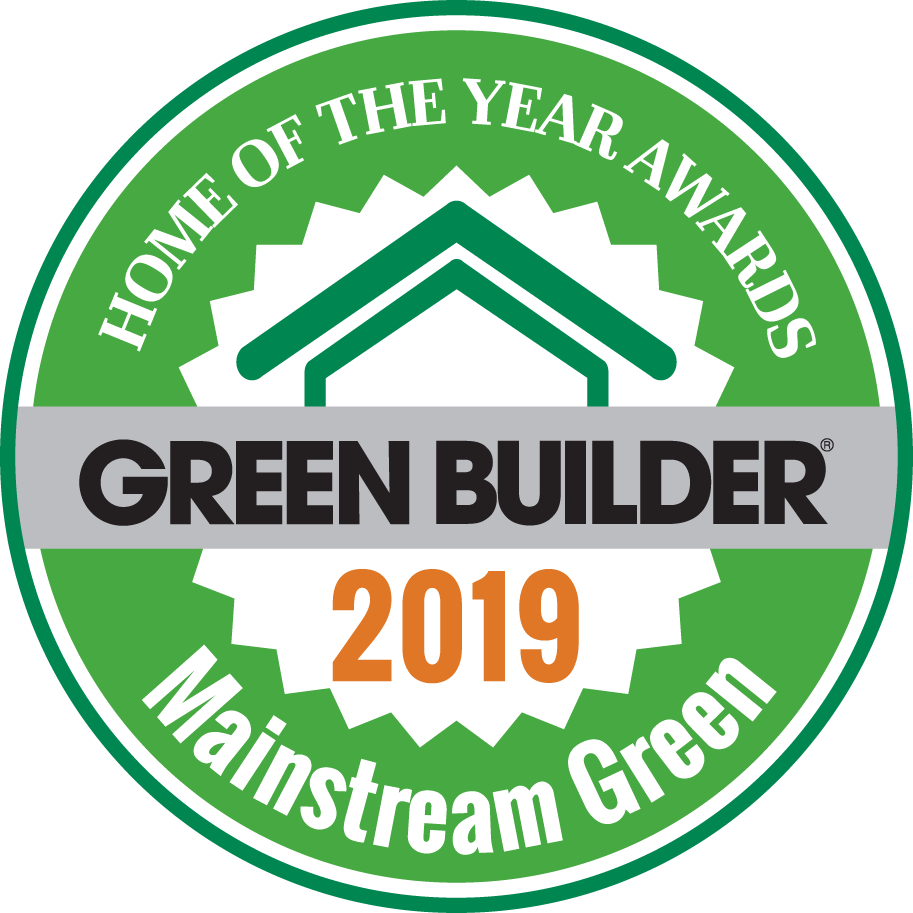 Project Stats
Name: Northwest Net Zero, Seattle, Wash. Architect/Designer: First Lamp Architecture Builder/Developer: Dwell Development Photographer: Tucker English
For some builders, such a land-use component would be a challenge. But Dwell Development founder and principal Anthony Maschmedt says it was business as usual. "We feel [infill] is the most sustainable way to build," he says. "Existing homes are preserved and restored, the neighborhood and community stays consistent, and the new home utilizes the existing infrastructure and blends into the area seamlessly."
According to Dwell Interior Designer Abbey Maschmedt, making the latter come true is usually accomplished with appropriate siding materials and roof lines. With Northwest Net Zero, developers acquired 100-year-old reclaimed Eastern Oregon barn wood and applied it as the exterior cladding, in a herringbone pattern—"seamlessly weaving the patina of age with a shiny new, modern aesthetic," she says.
The team incorporated sustainably harvested red and white oak hardwood throughout the interior, mimicking the feeling of being in nature among the trees. With a combination of reclaimed wood and polished concrete floors, the interior of the home achieves a stylish yet organic look, the company notes.
Northwest Net Zero is net-zero-energy ready and features an innovative combination of green building techniques and systems. The forward-thinking passive design strategy includes a solar-ready rooftop, electric vehicle charging conduit, a heat recovery ventilation system and triple-glazed energy-efficient windows. The bathrooms feature designer-selected recycled content tile; Maiolica tile from Spain is used on the full-height kitchen backsplash and master bath. All bath and kitchen fixtures are WaterSense certified and can save up to 8,000 gallons of water per year. The home's airtight building envelope maintains indoor comfort and healthier air quality.
Dwell Development also avoids volatile organic compound (VOC) paints or grout, so the home is free of toxic materials and full of healthy, fresh air, the company adds.
Residents can lower their carbon footprint, thanks to the home's proximity to public transit—including Seattle's new Link Lightrail station—as well as local retail and a grocery store.
Not surprisingly, the house has been a hit with buyers, Anthony Maschmedt says. "All the homebuyers that toured the home in the few days it was on the market loved it. The one thing I heard the most was, 'When and where are we going to build another one of these awesome places?'"
Key Components
Alternative Building Systems: Airtight permeable fluid-applied air barrier
Appliances: Bosch
Automotive (Electric Car Charging, Etc.): Standard EV charging station; net-meter solar PV prewire
Building Envelope: Enviro-Dri fluid-applied membrane with open rainscreen siding, 10-inch double 2-by-4 studded wall system with blown-in cellulose bib and blow-back insulation.
Cabinets, Shelves, Millwork: Abodian
Caulks and Sealants: No VOC, offgassing or added-formaldehyde ingredients
Countertops: Caesarstone
Decks: Zometek recycled bamboo and paper deck tiles
Doors and Hardware: Medalion, Schlage
Exterior Finishes: 100-plus-year-old Eastern Oregon barn wood
Flooring: Sustainably harvested oak from Montana
Home Controls: Prewired for Kirio Smart Home Automation System
HVAC/Ducts: Mitsubishi 5-head Ductless Mini Split heating and cooling
Insulation: Dense-packed bib and blown-in GreenFiber cellulose in all exterior walls; CertainTeed fiberglass for ceiling; rigid insulation over top of roof; interior walls, floors and stairs with Knauf EcoBatt insulation
Landscaping: All local or reused drought-tolerant plants and trees. Terrance exterior rear yard with organic gardens and flora
Lighting: Hudson Valley Mitzi Collection; Seattle Lighting; ELK Lighting
Paints and Stains: Sherwin-Williams
Pavers: Mutual materials
Plumbing/Plumbing Fixtures: Grohe plumbing fixtures; Niagara 0.8-gpf toilets
Renewable Energy Systems (Solar, Wind, Etc.): Prewired for solar
Roof: Firestone thermoplastic polyolefin (TPO) and composition singles
Siding: Hardie panels and 100-plus-year-old barn wood
Specialty Products: Kitchen wrapped in sustainably harvested quartersawn oak
Ventilation: Honeywell HRV
Water Heating: Rheem Performance Platinum 65-gallon, 10-Year Hybrid High Efficiency Smart Tank Electric Water Heater
Water Management (Indoor/Outdoor): Bio-retention planters to catch all roof water.
Windows, Skylights, Patio Doors: Prime triple-pane high-performance insulated windows and doors
Other: Drywall: Georgia-Pacific gypsum