Sensible design and sustainability combine to revitalize a classic southern N.Y. structure.
When the Black family went searching for a new home, they literally found what they were looking for inside a 1930s farmhouse in rural Katonah, N.Y. There was an old-time charm in the two-story, four-bedroom, three-bath dwelling. But it simply wasn't big enough to accommodate a family of five.
That's where, according to homeowner Jason Black, the fun began. "We prepared ourselves for the concept of 'Tiny House Living,' as we reduced our family-of-five's footprint into just a few rooms," Black says. "But you can't prepare yourself to do this within the context of an active construction site."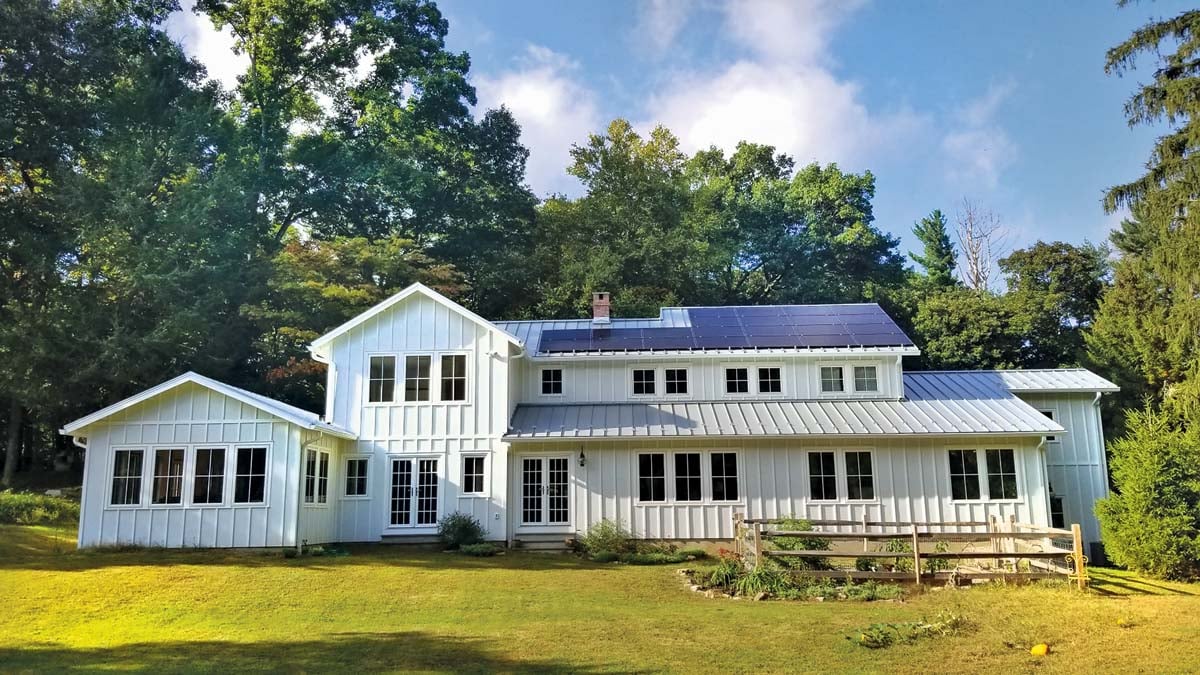 That's right: The Black family lived in the house while it was undergoing an expansion. "The challenges of living in boxes, with little to no personal space, and a kitchen consisting of no more than a table, hot plate and microwave are obvious," Black notes. "But it was the compounded effects of fending off construction dust in a home with no roof, doors or windows, and a thin blue tarp preventing complete exposure to the elements— that made this experience truly memorable …[There's] nothing like using mosquito nets at night while you sleep."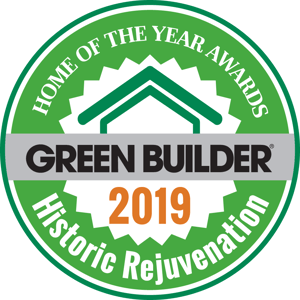 Project Stats

Name: Black Residence, Katonah, N.Y.
Architect/Designer: Great Oak Studio Architecture
Builder: Dynamite Contracting
Photographer: Meredith Black
The owners took their personal and professional passion and expertise in architecture, construction and sustainability to create the high-performance home they wanted. Leveraging the skill and capabilities of its project architect and contractor, while pulling aspects from Passive House, LEED and Living Building Challenge, the home was able to simultaneously balance sustainability and the economics that is achievable for any home renovation.
Recognizing the need for heating and cooling comfort, builders installed 60 high-performance, Passive House-certified, triple-pane windows from Klearwall (with a U-value of 0.12). It wasn't as simple as it sounds. "Midway through construction, it was clear that the windows intended for our master bedroom would conflict with the adjacent kitchen and great room roof construction, obstructing key views from the master bedroom," Black says. "Changing the window sizes was not an option from a schedule and cost standpoint, requiring an emergency redesign of the new window layouts over 4th of July weekend. [We ended up] reallocating more than 16 of the ordered windows to avoid additional field modifications of rough openings or slowdown of the contracting crew."
Existing siding was removed to install a comprehensive insulation package, not only between walls, but completely wrapping the entire home to the foundation footings with two inches of rigid insulation, and spray foam used at all roof and basement areas. This was topped with a high-performance air barrier and tape from SIGA to significantly reduce airflow by 65 percent, bringing it down to only 1,300 CFM.
With a tight envelope in place, new exterior façade and roof materials with long material lives (30-plus years) and low- or no-maintenance requirements created the modern farmhouse aesthetic the owners sought. White engineered board and batten siding, and an aluminum Energy Star-rated metal roofing positively impact heat gain/loss. Combined with programmable thermostats, heating oil use was reduced by 45 percent.
Reducing electricity use was also key. LED lighting anchored the efforts, combined with purchase of Energy Star appliances such as ceiling fans, kitchen and new central air system. A 6.2-kW photovoltaic solar roof system generates 75 percent of annual electric use on site.
These conservation efforts also address water, with installation of new Niagara Conservation 0.9 gallons per flush (gpf) toilets, WaterSense faucets/shower heads, and Evolve shower valves. With reduced water use, the family also introduced a whole-home water filtration system by Aquasana to reduce contaminants.
Lastly, with recycling and composting bins designed into the new kitchen, generated waste was reduced and recycled, and reused as organic matter for a new backyard garden. Landscaping remained traditional, utilizing existing planting. "Anything my family has put in are native drought-tolerant plants," Black says. "No irrigation system was installed, and we do not use any lawn care from a fertilizer and treatment standpoint, to avoid use of chemicals."
Key Components
Alternative Building Systems: Klearwall triple-pane Passive-certified windows
Appliances: Jenn-Air Energy Star-rated appliances
Automotive (Electric Car Charging, Etc.): Chevy Volt car charging system
Building Envelope: Klearwall, SIGA, James Hardie
Countertops: Granite (Copenhagen)
Doors and Hardware: Klearwall doors (new), recycled (other)
Exterior Finishes: Metal roof, engineered siding
Fireplace: Existing
Flooring: Wood
Garage Doors: Garage Door Store
HVAC/Ducts: American Standard Energy Star-rated air handler and condensing units
Insulation: 6-inch R-38 spray foam, 2-inch R-8 rigid insulation, Owens Corning EcoTouch Fiberglass Batt
Lighting: Recessed LED lighting by Juno
Locks: Standard with Klearwall product
Paints and Stains: Benjamin Moore low-VOC paints
Plumbing/Plumbing Fixtures: Delta, Niagara Conservation 0.9-gpf toilets, WaterSense facets/shower heads, Evolve shower valves.
Renewable Energy Systems (solar, wind, etc.): Solar (6.2-kW) through Premier Energy Solar
Roof: Alu-Clad aluminum standing seam roof
Ventilation: Natural venting from manually operable windows
Water Filtration: Aquasana total home filtration
Water Management (indoor/outdoor): Natural landscape (installation of comprehensive footing/downspout drains)
Weather Barrier: SIGA Majvest
Windows, Skylights, Patio Doors: Triple-pane kitchen skylights by FAKROxt here