SolHaus homes are compact, ultra-green and one of a kind. And boy, are they popular.
If good things come in small packages, Seattle's tiny SolHaus community is a green giant. All 10 townhomes sold out before the complex had its grand opening in April 2016, and not just because they're in the centrally located Capitol Hill area.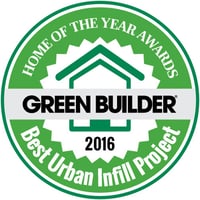 Project Stats
Name: SolHaus, Seattle, Wash. Builder/Developer: Sloan Ritchie, Cascade Built
Architect/Designer: Bradley Khouri, b9 architects
Landscape Architect: Devin Peterson, Root of Design
Interior Designer: Belinda Leppa, Macadam Floor and Design
Photos: William Wright
Designed and developed by renowned b9 architects and construction firm Cascade Built, each custom-designed townhouse—originally priced from $700,000 to $900,000—is an example of healthy, comfortable living, according to Cascade Built President Sloan Richie. The units' "ultra-green" reputation was also a bit of a selling point.
Sustainable elements include high-performance Passive House construction techniques to reduce energy usage, careful management of windows and garage doors to keep the units naturally well lit, and a common courtyard that creates a connected living experience among the residents.
"We wanted a shared project that everyone could benefit from," Richie says. "And we didn't want something that was cookie cutter. Every unit has its own, unique design."
One Principle for All
According to b9 architects Principal and Founder Bradley Khouri, his company partnered with Cascade Built after realizing the green potential of two infill lots adjacent to Seattle's downtown business district. b9 had successfully completed a similar but smaller project in the area two years earlier, and other developers had steadily chipped away at properties on either side of the SolHaus location.
A key finding was that residents wanted both worlds: proximity to shopping, restaurants and nightlife, while still being able to drive their cars when they wanted. They also wanted to live somewhere with a lower carbon footprint for environmental and economic reasons. And they wanted homes that in some way stood apart from their neighbors'.
The lots' topography—12 to 14 feet of sloped earth—helped make individuality possible. The developers alternated duplexes and triplexes with street-facing homes lifted above the street. Units are two or three bedroom, with two bathrooms each, and are 1,382 to 1,737 square feet.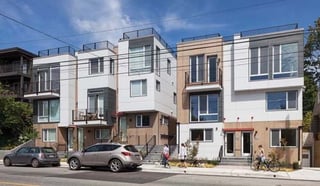 Many of the homes have large, transparent roll-up garage doors to encourage interaction, and indoor-outdoor connections.
The complex's shape also encourages socialization among residents. Cascade Built and b9 architects turned the two rectangular lots into twin "L" shapes, with a yin-yang setup that created a central courtyard. Two of the most popular areas in a multi-family complex—the mailboxes and on-site parking—lead directly to this one area as resident go to and from their apartments.
The "L" design and sloped location also helped address a major problem for any city dweller: parking. The lot shapes allowed for a single below-grade, shared parking structure. The garage includes electric car chargers for every space.
"It was important that we find a way to deal with parking," Richie says. "The experience of having a drive court in the middle of your project is not a great one. You have no communal space, and at times you can have problems getting your car out of the garage or even for you to go up the stairs. With the underground garage, people could just park their car and forget about it until they need it next."
Key Components
Appliances: GE (Profile Series induction range); Bosch (500 Series ventless dryer)
Building Envelope: Roxul ROCKBOARD insulation (2-inch exterior rigid 8-lb density)
Cabinets, Shelves, Millwork: Canyon Creek Cabinets
Caulks & Sealants: Prosoco (AirDam)
Countertops: Caesarstone
Decks: Cedar
Doors & Hardware: Schlage (touchscreen deadbolt)
Electrical: LED fixtures
Exterior Finishes: Hardie (panel); T&G (pre-finished cedar)
Garage Doors: Northwest Doors (Modern Classic insulated anodized aluminum)
HVAC/Ducts: Mitsubishi (mini-split heat pumps); Zehnder (HRV CA350, super-high-efficiency HRV)
Insulation: Roxul ROCKBOARD insulation (2-inch exterior rigid 8-lb density)
Landscaping: TrueScape Design
Paints and Stains: Sherwin-Williams (Pro Mar 200 Zero VOC)
Pavers: Mutual Materials Bay
Plumbing/Plumbing Fixtures: Bemis (toilet seat cover; Blanco (kitchen sink); Bootz (guest bathtub); Danze (kitchen faucet, lavatory faucet, master tub faucet, master shower valve, master shower head); InSinkErator (disposer, disposer switch); Kohler (lavatory); MAAX (master bathtub); Navien (condensing tankless gas water heater); Niagra (stealth toilets, 0.8GPF); Nuheat (master bathroom heater pad); Parma (guest bath shower faucet)
Roof: TPO
Specialty Products: Nuheat (bath)
Ventilation: Zehnder (HRV CA350)
Water Heating: Navien (tankless NPE-240A)
Water Management (indoor/outdoor): Green Roof
Windows, Skylights, Patio Doors: Intus (Arcade series triple-glazed Passive House windows)
All Features for One
While every unit is custom, various elements are uniform throughout. All homes feature full LED lighting, Caesarstone quartz countertops, locally sourced cabinetry and Energy Star appliances. The latter includes induction cooktops—a rarity in new townhomes—Navien tankless gas water heaters, GE Profile ranges, and Bosch 500 Series ventless dryers.
Airtight European tilt and turn triple-glazed Passive House windows help preserve heat. Zehnder high-efficiency HRV filtration systems provide continuous fresh air. The homes have dense-packed fiberglass insulation and additional exterior rigid-density ROCKBOARD insulation, and Mitsubishi mini-split heating/cooling pumps. The homes' structure includes a mix of reclaimed barn wood and modern materials. Exteriors are covered in zero-VOC Sherwin-Williams paints.
The central courtyard includes seating areas and native landscaping. Large windows from each unit oversee the outdoor common courtyard and provide expansive views of Seattle's skyline from individually designed private rooftop cedar decks.
Each unit is net-zero ready, having been built to Passive House standards.