For this Chicago-area Passive House, energy performance, durability and health are interdependent.
When architect Tom Bassett-Dilley and Evolutionary Home Builders teamed up to replace an aging home in historic Oak Park, Ill., they wanted to pay homage to the region's early 20th-century architecture. They also wanted to design and build a high-performance Passive House. Oak Park, a large suburb west of Chicago, includes homes designed by Frank Lloyd Wright and E.E. Roberts.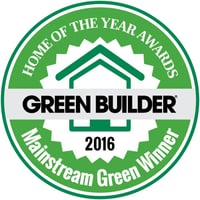 Project Stats
Name: Oak Park Right Sized Home, Oak Park, IL
Builder: Brandon Weiss, Evolutionary Home Builders
Architect: Tom Bassett-Dilly, Tom Bassett Dilley Architect (TBDA)
Landscape Architect: Matt Fordham, Environments Studio
Interior Designer: Shawna George
Photos: Eric Hausman
"Simplicity is a common design philosophy for both Passive House and bungalow style homes, and it played a leading role in this project," says Brandon Weiss, founder of Evolutionary Home Builders. "Pulling off that simplicity took a lot of study and creativity because of its influence on both performance and aesthetically fitting into the neighborhood."
This "right-sized" Passive House is 1,800 square feet, and sits roughly within the footprint of the original dwelling. With its simple form, exposed knee braces and covered porch, the new house shares elements of the bungalow and Foursquare homes in the neighborhood. But other features, including a distinctive roofline, send a clear signal that this is a modern, 21st-century home.
The home is LEED Platinum and PHIUS+ certified. As such, it uses 90 percent less energy for heating and cooling than a conventional home. The envelope is airtight, superinsulated and free of thermal bridging. Because they were operating within a fairly tight budget, EHB performed a cost-benefit analysis, modeling various wall assemblies to determine the most cost-effective envelope for the specific site that would also yield high performance.
The resulting envelope consists of 2-by-8 wood-framed walls with Knauf Jet Stream insulation in the cavities. Liquid-applied Prosoco R-Guard seals all joints of the plywood sheathing and provide a continuous airtight membrane. Two layers (four inches) of Atlas Roofing Polyiso rigid foam are installed on the exterior. Delta Vent, a vapor permeable weather resistant barrier, is installed over the rigid foam, allowing moisture to escape while providing a wind and water barrier. Durable LP SmartSide lap siding is installed over a rainscreen, which allows moisture to escape. Zola Thermo uPVC triple-glazed windows (R-8) complete the envelope.
Energy Efficiency That's Set in Stone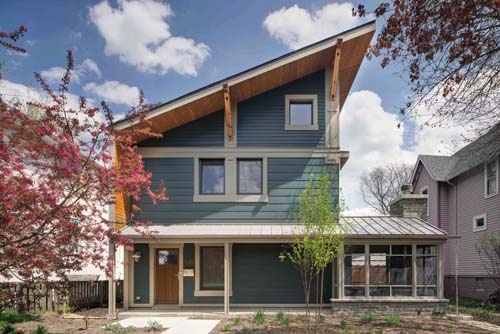 Unlike most homes in the area, which have basements to safeguard against frost heaving, the Oak Park home was constructed on a shallow, frost-protected concrete slab. This strategy, popular in northern Europe, sees the slab wrapped in foam insulation on all sides and underneath. A frost skirt also extends outward from the slab.
The benefits of this home's building shell go beyond energy efficiency. Because it controls moisture intrusion so well, the design ensures the building's durability and health.
"We know moisture leads to 90 percent or more of building failure," says Weiss. "Designing and building around these potentials is possible, and will lead to longer lasting, more durable buildings."
Like a Breath of Fresh Air
The interior of the two-story home is serene and airy. Salvaged and reclaimed materials ground the home in its neighborhood. Evolutionary Home Builders carefully deconstructed parts of the original dwelling, salvaging some materials for the new home and donating others. The open shelving in the kitchen, for example, was made from salvaged floor joists, and one of the salvaged sinks now serves as a vanity in the powder room. Overall, the project achieved 92 percent waste diversion.
Key Components
Alternative Building Systems: Weyerhaeuser (TJI joists)
Appliances: Bosch (dishwasher); Jenn-Air (oven and induction cooktop); Zephyr (range hood)
Building Envelope: Cosella-Dörken (DELTA-VENT S); Prosoco (R-Guard liquid-applied air barrier)
Cabinets, Shelves, Millwork: Columbia Forest Products (PureBond no added urea-formaldehyde plywood)
Caulks & Sealants: Prosoco (R-Guard); Eco Bond
Doors & Hardware: Masonite (Emerald Safe 'N Sound interior doors)
Exterior Finishes: LP (SmartSide)
Flooring: Prosoco (Consolideck concrete finish)
Home Controls: eMonitor; PowerWise (energy monitor and IAQ monitoring)
HVAC/Ducts: Mitsubishi (mini-split)
Insulation: Atlas Roofing (Polyiso rigid foam); Knauf (Jets Stream Ultra Blowing Wool Insulation)
Lighting: Restoration Hardware
Paints and Stains: AFM (Safecoat); Rubio (Monocoat)
Plumbing/Plumbing Fixtures: Grohe (faucets); Kohler (faucets); Niagara (toilets)
Ventilation: Zehnder (energy recovery ventilator)
Water Heating: GE (Geospring heat pump hot water heater)
Windows, Skylights, Patio Doors: Zola (Thermo uPVC Passive House-certified triple-glazed windows) e
Indoor air quality was a chief concern of the clients, a view shared by the architect's and builder's philosophies. Bassett-Dilley is a leader in high-performance and biophilic design, and Evolutionary Home Builders specializes in high-performance homes, with an emphasis on durability and wellness of occupants.
Some of the strategies that contribute to superior indoor air quality in the Oak Park home include specifying cabinetry and casework with no added urea-formaldehyde, and the use of low-VOC, toxin-free paints and finishes. There is no carpeting in the home.
The concrete slab, finished with Consolideck from Prosoco, serves as the finished flooring on the main level. Reclaimed hickory on the second floor is treated with Rubio Monocoat zero-VOC finish. There are no combustion appliances inside the building envelope.
A Mitsubishi Electric ductless mini-split heats and cools the home, while a Zehnder energy recovery ventilator ensures fresh air exchange by capturing and expelling heat as needed. Super-efficient bathroom fans from Panasonic help circulate air. The home's interior design, with the three upstairs bedrooms arranged around a central hallway, also facilitates airflow.
Under a Watchful Eye
According to Weiss, Evolutionary Home Builders researches all material that goes into its homes, using Declare Label, GREENGUARD and other third-party certifications for guidance. The firm even specifies and supplies products for its subcontractors. If subs bring in materials of their own, they have to sign a guarantee that these components won't compromise the building's health.
Weiss has started another company, Evolutionary Supply & Building Solutions, to distribute vetted materials and consulting to other builders and clients in the region. Inventory includes not just building supplies and products, but furniture, linens, bedding and household cleaning products.
Monitoring the home's performance and IAQ has become standard service for every Evolutionary Home Builders project. Pre-occupancy testing is conducted over a 24-hour period, so indoor air is tested at different temperature, humidity and UV levels. In addition, Weiss contracts with a third party to provide post-occupancy energy and IAQ monitoring. This includes circuit-by-circuit energy monitoring as well as sensors that monitor temperature, humidity, VOCs and CO2.
"The testing we've done over the years has reaffirmed our choices," says Weiss. "We have data behind our statements." Just as important, the monitoring provides real-time feedback for homeowners, so they can see the impact of their choices and change their behavior, if necessary.
Weiss believes that healthy buildings and high performance go hand in hand, and that designing and building a superior shell is the best strategy in terms of upfront costs, energy usage and lifetime carbon footprint. "If done right, the building envelope can last over 100 years without maintenance," says Weiss.
There's a health benefit as well. Since the home's completion in 2015, the homeowners have reported fewer respiratory symptoms.