This custom home in the Hamptons was designed and built to withstand the next big storm.
Superstorm Sandy swept through the Hamptons in late October 2012, destroying many homes in the area. Upon learning that their 1940s cottage was "substantially damaged," the owners decided to start over. Viewing every decision through the lenses of resiliency, durability and sustainability, they built a 21st-century home they call the Sunset Green Home.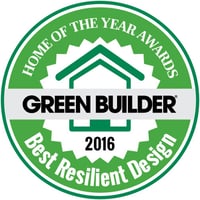 Project Stats
Name: Sunset Green Home, East Quoque, N.Y.
Architect: Bill Heine, William F. Heine Architect
Builder: Chris Mensch, Coastal Management, LLC
Landscape Designer: Tim Rumph, Araiys Design
Sustainability Team Leader: Kim Erle, LEED AP Homes, Sunset Green Home LLC,
LEED Green Rater: Richard Manning (Energy Master LI)
LEED Provider: Ian Johnson (Signature Sustainability)
Photos: Photos courtesy Sunset Green Home LLCinsert
They hired architect Bill Heine and builder Chris Mensch of Coastal Management LLC, along with a sustainability team that included three LEED AP-accredited consultants. During the process of researching products and strategies for their new home, the homeowners attracted more than 70 sponsors. The project has achieved LEED Platinum certification and earned a HERS Index Score of 24.
"Every choice was made from a systems perspective," says Kim Erle, who served as project manager.
The ruined structure was removed by a non-profit enterprise that provides green construction jobs to former inmates. This environmentally sensitive deconstruction diverted over 90 percent of the home's building materials from the waste stream.
New and Improved
The new Sunset Green Home consists of a main house and separate pool house. The main house is just under 3,600 square feet, smaller than the other custom homes in the neighborhood. The pool house was designed to be completely shut down in the off season, so as not to consume energy needlessly.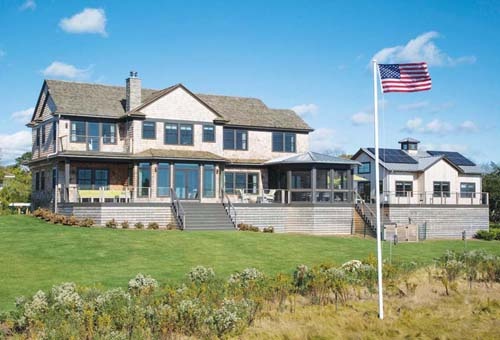 Several resiliency measures were incorporated into the design. Building codes required the home to be elevated to 12 feet above sea level—four feet above the maximum storm surge level from Superstorm Sandy. Sunset Green is built on 130 pilings, 14 feet above sea level. Breakaway walls underneath enable flood waters to pass under the house and recede back without causing structural damage. Impact-resistant glass protects the home from wind-borne storm debris.
The owners consulted with building science experts from CertainTeed, and the home incorporates several of the company's products and strategies. The home is stick framed. All structural framing surfaces were sprayed with CertainTeed's FortiCel, a topical application that inhibits the growth of mold and mildew, and Huber ZIP System structural sheathing and tape ensures an airtight assembly. Wall cavities are filled with CertainTeed's SMARTBATT with MoistureSense technology. This kraft-faced fiberglass batt insulation allows walls to breathe by adapting permeability to block moisture from entering when humidity is low, and allowing moisture to escape when sensing high humidity.
CertaSpray closed cell spray foam insulation was applied underneath the house, and CertaSpray open cell spray foam provides an insulating value of R-38 in the roof.
"Many decisions were made specifically to enhance indoor air quality," says Erle.
Key Components
Appliances: Bosch (pool house refrigerator and dishwasher); Samsung (washer/dryer); Thermador (Energy Star freezer and refrigerator columns, Masterpiece series Freedom induction cooktop, and Steam & Convection oven)
Cabinets, Shelves, Millwork: Nantucket Beadboard, Decospan
Countertops: Caesarstone
Exterior Finishes: Boral (TruExterior trim)
Flooring: Daltile
Home Controls: Core Brands (ELAN home automation system) Lutron (lighting controls)
HVAC/Ducts: Mitsubishi (Hyper-Heating VRF system)
Insulation: CertainTeed (CertaSpray closed cell spray foam; CertaSpray open cell spray foam); CertainTeed (SMARTBATT with MoistureSense technology)
Landscaping: Hunter (smart irrigation controls)
Indoor lighting: Feiss; Tech Lighting; Seagull
Outdoor lighting: B-K Lighting; Teka Illumination; Lutron (controls)
Paints and Stains: Sherwin-Williams (Harmony)
Plumbing/Plumbing Fixtures: Axor; Hansgrohe (WaterSense fixtures)
Renewable Energy Systems: EmPower Solar/SunPower Solar (PV modules)
Roofing: ATAS (standing seam metal roofing)
Structural Components: CertainTeed (FortiCel mold prevention spray; AirRenew Essential indoor air quality (IAQ) drywall; M2Tech moisture and mold-resistant drywall; SilentFX sound-reducing drywall; GlasRoc Diamondback tile backer); Huber (ZIP System sheathing and tape); Simpson (Strong-Tie hurricane ties)
Ventilation: Big Ass Solutions (Haiku ceiling fans); Broan-Nutone (bathroom fans and range hood); Zehnder (ERV)
Water Heating: Rinnai (tankless water heaters)
Windows, Skylights, Patio Doors: Marvin (Integrity)
Other: BEAM (Alliance central vacuum system); Coverstar (automatic pool cover); Del Ozone (Solar Eclipse ozone and UV sanitation system); Jandy (Hi-E2 gas swimming pool heater); Uponor (AquaPEX residential fire sprinkler system)
High-performance drywall products are used throughout the home, including CertainTeed AirRenew Indoor Air Quality drywall, which proactively absorbs formaldehyde from indoor air and converts it into safe, inert compounds that remain within the board. SilentFX sound-reducing drywall is installed in areas where acoustical control was important. Doors and decorative beadboard, which was installed throughout the house, were made with no added urea-formaldehyde MDF and finished with zero-VOC paint. A BEAM central vacuum system from Electrolux helps ensure ongoing IAQ.
Power and Water Miser
In addition to the tight and well-insulated envelope, other strategies reduce energy demand. The home relies on an energy-efficient variable refrigerant flow HVAC system for heating and cooling; an energy recovery ventilator from Zehnder delivers filtered fresh air. All appliances are Energy Star certified. Energy-efficient Haiku ceiling fans from Big Ass Solutions installed in the living spaces and bedrooms allow cooling at higher air conditioning temperature set points.
Erle is especially pleased with the all-LED lighting, which utilizes Generation Brands (Feiss, Tech Lighting and Seagull) for indoor lighting, and B-K Lighting and Teka Illumination for outdoor lighting. All lighting is controlled by Lutron switches integrated into the ELAN home automation system. This unit also controls the home's HVAC, security and entertainment systems.
"It's a fun house, in addition to performing well," says Erle.
Water use is minimized by dual-flush high-efficiency toilets, and WaterSense faucets and showerheads. The home does include swimming pool, but careful choices ensure that it uses as little energy as possible. The Jandy Hi-E2 pool heater has a 95 percent efficiency rating, and an automatic pool cover keeps heat from escaping and reduces evaporative water loss. In addition, the pool's primary sanitation is provided by an innovative system from Del Ozone, which combines ozone and UV sanitation.
Environmental Issues
The elevated home and its nearly 3,000 square feet of deck provided the team with another challenge. Exotic hardwoods are one of the best alternatives to chemically treated and composite decking, but LEED requires that tropical hardwood be FSC certified—which can be very cost prohibitive. The homeowners sourced FSC-certified cumaru through WalkGreen, which proved cost-competitive with uncertified ipe rain forest wood.
The home is close to tidal wetlands and the Shinnecock Bay, which includes sensitive oyster and eelgrass habitat. Landscape architect Tim Rumph created an environmentally sensitive landscaping plan, which incorporates a vegetated wetlands buffer reclaimed from what had previously been part of the home's lawn. Now home to birds, small mammals and native plants, the meadow enhances the view from water-facing rooms and provides a natural bulwark against future storm surges.
A vegetable garden provides the family with produce from spring to late fall.