With the ultra-green Madrona Passive Home, what goes around comes around—-again and again.
This nearly 3,700-square-foot, single-family custom home in Seattle's Madrona neighborhood takes energy efficiency to a new high by keeping power needs low. Designed by Shed Architecture & Design and constructed by Hammer & Hand, the PHIUS+ Certified passive house is virtually net zero, according to H&H project supervisor Alex Daisley. Add in the home's electric charging station, and you have a residence where more energy is generated than needed in a typical year.
Project Stats
Name: Madrona Passive House, Seattle, Wash.
Builder: Hammer & Hand
Architect/Designer: Shed Architecture & Design
Photos: Mark Woods
It's just the type of breakthrough Madrona Passive House's owner, former Microsoft program manager and renowned environmental advocate Jabe Blumenthal, envisioned when he commissioned the project, according to Daisley. "The client wanted a structure that was a highly efficient passive home, and could serve as an example for others who may want to invest in climate solutions," Daisley says. "He was very driven for the house to be cutting edge and comfortable, yet still in league, pricewise, with other homes in the area."
Blumenthal has stated that keeping the cost of a climate-friendly house down to about 10 or 20 percent above that of a traditional residence will make it more likely for others to at least consider building similar, environmentally positive homes. "It's a little like Leafs or Priuses," Blumenthal said in an H&H blog published in 2016. "You need to reach a certain critical mass before people really start to say, 'Oh! There's nothing weird about this.'"
Charging Ahead
Madrona Passive Home relies primarily on three factors for its energy efficiency: a powerful solar array, high-performance construction and a contemporary design.
The home's 9.8-kilowatt rooftop photovoltaic array—consisting of 30 327-watt SunPower modules—offsets the home's energy consumption. The original plan called for a mere 6-kW array. "They were always going to put solar panels on the roof," Daisley says. "But as we were looking at the modeling, and the performance of the home was being confirmed, there was an opportunity to take that 6 kW up nearer to 10. They were very eager to take advantage of that, to improve the chances of the home being net zero."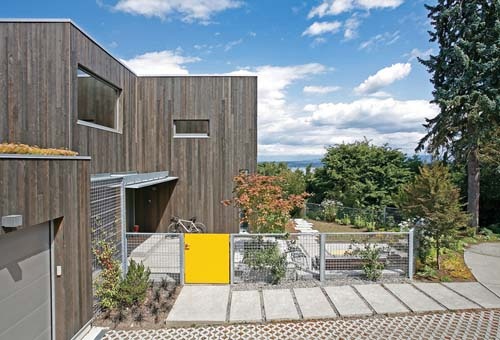 A ballasted racking system was used to prevent a thermal break. Two 4.2-kW Power-One inverters complete the installation.
The low energy consumption stems in part from the home's super-insulated building envelope, which includes a Zehnder ComfoAir heat recovery ventilator that supplies fresh air to the home's interior while recovering 90 percent of thermal energy from exhaust air for reuse inside.
The home's passive design elements continue with an exterior wall assembly that includes a blend of stained FSC-certified cedar, high-density cellulose insulation, Huber Engineered Woods Zip System sheathing, and Roxul mineral wool exterior insulation. The whole wall assembly carries a total R-value of 34.
Other exterior green features are cosmetic and practical. To manage stormwater, the project uses Belgard Turfstone permeable pavers for site hardscape. There are also a cistern to capture and control rainwater from the home's roof and the green roof on the garage. And the home's exterior mechanical shading system modulates solar gain through triple-pane windows.
Key Components
Alternative Building Systems: Roxul (mineral wool exterior insulation); Huber Engineered Woods (Zip System
wall sheathing)
Appliances: Energy Star
Automotive: Electric car charging station
Building Envelope, Above Grade: R-34; FSC (certified cedar); Gypsum (wall board); Johns-Manville Spyder (dense-pack fiberglass); Roxul (3.5-inch ComfortBoard IS, 1.5-inch vent channel); Huber Engineered Woods (7/16-inch Zip System sheathing)
Below Grade/at Foundation: R-29.6; Gypsum (wall board); Johns-Manville Spyder (dense pack fiberglass, 3-inch Type II EPS, 8-inch reinforced concrete)
Cabinets, Shelves, Millwork: FSC (walnut, European plastic laminate [P-Lam])
Caulks & Sealants: Prosoco; R-Guard; FastFlash
Countertops: Caesarstone quartz
Decks: TPO (membrane roof);
Vancouver Bay (architectural slab pavers)
Doors & Hardware: Ducasse (custom solid core, pocket door hardware); Zola (exterior doors)
Electrical: LED (recessed fixtures); Sanden (heat pump-powered water heater)
Exterior Finishes: FSC (1-by-6 rough sawn T&G cedar); Galvalume metal flashings
Flooring: EcoTimber (engineered flooring);
FSC (orchard walnut); Polished concrete
Home Controls: Hella (exterior shades);
Lutron (smart home controls for lighting)
HVAC/Ducts: Zehnder (ComfoAir 550 HRV)
Insulation: Rigid insulation; Blown-in insulation;
Roxul (mineral wool)
Lighting: Lutron (home lighting and zoning control)
Paints and Stains: Benjamin Moore (semi-transparent stain); FSC (cedar exterior siding); Low-VOC interior paints
Pavers: Mutual Materials (permeable pavers for site hardscape)
Renewable Energy Systems: Rooftop solar photovoltaic array (9.8 kW); SunPower (solar photovoltaic panels)
Roof, Main: R-75.5 (average); Gypsum (wall board); Johns-Manville Spyder (dense-pack fiberglass)
TPO Roofing at Decks: R-54.2 (average); Gypsum (wall board); Johns-Manville Spyder (dense-pack fiberglass);
TPO (roofing)
Specialty Products: Roxul (mineral wool insulation); Sanden (heat pump water heater); Zehnder (HRV)
Ventilation: Zehnder (ComfoAir 550)
Water Heating: Sanden (CO2 split heat pump water heater)
Water Management (indoor/outdoor):
Mutual Materials; Belgard (Turfstone driveway)
Window Coverings: Hella (shading system)
Windows, Skylights, Patio Doors:
Zola (ThermoPlus-clad windows)
Other: Auger (cast piles)
The home is built in an 'L' shape—a somewhat fitting grid design, given that Blumenthal is a co-creator of Microsoft's Excel software—to provide a 180-degree view of nearby Lake Washington and the Cascade Mountains. FSC rough-sawn tongue and groove siding makes the home look like a giant, modular tree, blending it with its wooded surroundings. "It sits very well within the landscape," Daisley says. "People can take real inspiration from a design that is basically a very nice custom, modular home."
The house also has circuit-by-circuit energy monitoring with dashboard to provide homeowners with real-time consumption data over a 12-month period. This is expected to result in the Department of Energy's Zero Energy Ready and Living Building Challenge's Net Zero Energy Building certifications.
Happy on the Inside
The interior of the home provides Blumenthal's family of four with a practical, gracious place to live. Shed designed the main interior and exterior spaces to optimize solar exposure to the south, while prioritizing an open connection to the expansive views to the east. Spaces requiring privacy and little natural light are arranged on the north side of the home, to reduce glazing area and heat loss.
According to Shed Principal Architect Prentiss Hale, the home's modular shape, an extra four inches of exterior insulation, airtight seals where walls and ceilings meet, and strategically placed, triple-pane European tilt-turn windows combine for maximum thermal control and extremely reduced thermal bridging. "If it's 68 degrees on one side of the house, it's 68 degrees on the other side," he says.
Window installation utilized a half-inch-thick spacing—about twice the norm—to enable easier insertion of expanded foam insulation and an easier, proper seal, Hale adds.
The home's three distinct levels, connected by a central open stair, each have a specific purpose to meet the family of four's ever-changing needs. The main level is shared living space, the upper level is a master suite and office, and the lower level is dedicated kids' quarters that are pre-plumbed and wired for a kitchen. This last area can be converted into an 800-square-foot separate housing unit once Blumenthal's children leave home.
On the main floor, a palette of FSC-certified walnut EcoTimber-engineered flooring and polished concrete complement a natural green landscape visible through the large windows and an expressive floor-to-ceiling sliding door leading out to the deck. Built-in FSC walnut and European P-Lam casework and kitchen cabinets feature blue and green plastic laminate accents selected by the client for a fun splash of color, according to Daisley. Kitchen counters are Caesarstone quartz.
The upper level features natural oil finish Rubio Monocoat on the walnut floors, which travel through the master bathroom, bedroom, exercise room and office in a pattern that mimics the occupants' daily routine.
The lower floor features two ensuited bedrooms divided by a large entertainment room emptying out to the hillside, with laundry and storage tucked behind the central stair.
Appliances are Energy Star certified, including a condensing dryer to avoid wall assembly penetration for venting, and a heat pump-powered, tank-style Sanden water heater. All LED fixtures are recessed, and lighting uses smart home controls by Lutron. The kitchen features an induction cooktop.
And, of course, there are the environmentally friendly electric car charging station and heat-storing sauna for recreational purposes.
Although this was not the first passive home built by Hammer & Hand, it was still a learning experience, Daisley says. "Every time we do one of these, we learn something different and the next home becomes even more efficient," he notes. "I think it turned out really well. The end product is beautiful."
But looks aren't all it's about, he adds. "It's exciting to see a project that has a moral grounding," Daisley says. "We're not just building a custom home. We're building something that shows the neighboring community that it's possible to go large and still care for the environment."
Hale agrees, noting that the number of affluent people in the Seattle area makes super-sized homes very common. "Many of the people building these massive new projects don't align them with environmental priorities," he says. "But if an owner is interested in a home like that, they may as well make it as environmentally friendly as possible. They can at least make up for their carbon footprint over time."