Committed clients help drive the sustainable design and construction of this lakeside home in Washington State.
While attending California Institute of Technology in Pasadena, Calif., Eric Hale used to help the team at Ewing Architects with their computers. Years later, after he moved to Washington State, Hale made good on a promise: He hired Douglas Ewing to design his house.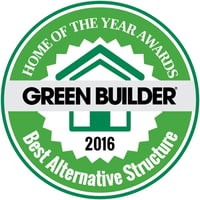 Project Stats
Name: Hale/Carpenter Residence, Vancouver, Wash.
Builder: Thomas McKone, Corner Stone Construction Inc.
Architect: Douglas Ewing,Ewing Architects Inc.,
Photos: Jordan Sleeth, Jordan Sleeth Photography
The site is special. Located on Vancouver Lake in southern Washington, it includes mature trees, blackberry bushes and a natural meadow. It is also near an eagle preserve. Hale and his wife, Heather Carpenter, wanted to maximize the natural assets, including spectacular views of the lake. They also wanted to minimize the project's impact on its surroundings, and to protect—maybe even restore—native habitat. The couple drove much of the sustainability agenda, including commitments to superior indoor air quality, LED and Dark Sky-certified fixtures, by using only FSC-certified wood, and sourcing materials as locally as possible. Though not LEED certified, the home is designed and built to align with LEED standards, and it exceeds all Washington State energy codes.
Ewing served as lead architect for the project. David Law, as project architect, worked with Ewing's original design and interfaced with the owners and the general contractor, Corner Stone Construction Inc. Law made several trips to Washington during the process.
"It's always nice to talk to local contractors and find out how things are done in that region," says Law. "For example, we don't see a lot of ICF [Insulated Concrete Form] buildings down here in So-Cal."
ICFs were used for the below-grade walls, while the above-ground walls are wood framed. A good part of the framing is left exposed on the interior.
Out and About the Inside
The exterior of this modern-style home is characterized by parapet walled boxes clad with fiber cement panels that are in dialogue with horizontal cedar siding and metal-clad pitched roofs. Large window and door systems provide transparency and views on the lake side and privacy from the approach side. Large pitched overhangs protect windows and entries from the weather and solar gain in the summer.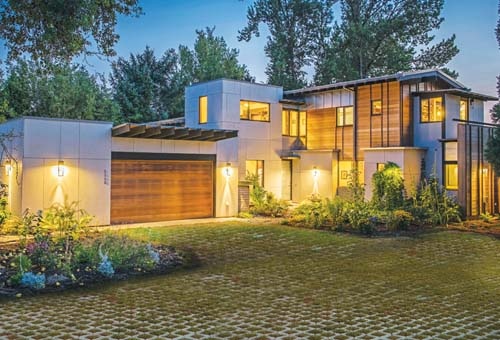 USAP Cem-Clad fiber cement panels were purchased from a local warehouse less than 150 miles from the site. The design called out specific requirements for the panels—beveling the edges, for instance—and many different dimensions.
"The contractor did a fantastic job managing details, such as the spacing of joints and the locations and distances between exposed fasteners," says Law. "These little details don't always get 100 percent follow-through, but in this case they did."
The panels were installed with a rainscreen underneath. While rainscreens are not required in Washington State, they are recommended. The western red cedar was oiled with a natural finish.
The breathable envelope is insulated to more than 50 percent above code. Soy-based, closed-cell spray foam insulation from Demilec Inc. helps the building achieve strong R-values (R-53 ceiling, R-30 walls, R-59 floor over basement and R-32 slab).
A ground source heat pump provides radiant floor heating and domestic hot water, and a whole-house heat recovery ventilator, equipped with humidity and motion sensors, increases heat exchange as necessary. A 5.25-kW solar array powers much of the house, which also includes an electric car charging station.
Key Components
Alternative Building Systems: Arxx (Logix ICF retaining wall system)
Appliances: Bosch (dishwasher); Electrolux (induction cooktop and steam oven)
Automotive: Tesla (electric car charging station)
Building Envelope: DuPont (Tyvek breathable whole-house building envelope)
Countertops: Vetrazzo (Cobalt Sky recycled concrete and glass)
Exterior Finishes: Western red cedar (FSC certified); USAP (Cem-Clad fiber cement panels)
Fireplace: Renaissance fireplaces (Rumford 1000)
Flooring: Plyboo (PlybooPure FSC-certified strand bamboo)
Home Controls: Lutron (lighting controls); Nest (smart thermostat)
HVAC/Ducts: Carrier (50YEW and 50YER ground source heat pumps)
Insulation: Demilec (Heatlok Soy 200 closed-cell spray foam)
Lighting: CREE (High CRI LED)
Paints and Stains: Benjamin Moore (low-VOC paint); Flood (low-VOC stain)
Plumbing/Plumbing Fixtures: Toto (Aquia dual-flush toilets); Blanco (faucets and sinks, purchased used)
Renewable Energy Systems: iTek Energy (275-W Solar PV modules)
Roof: Atlas (Dutch Seam reflective metal roofing)
Window Coverings: Lutron (control shades)
Windows and Patio Doors: Sierra Pacific (Green Globe and SFI-certified windows and doors)
Miscellaneous/Other: Georgia-Pacific (DensArmor Plus gypsum board)
The site is well oriented for solar and grand views, and every room in the house overlooks the lake. The many windows and linear floor plan allow for exceptional daylighting and foster an indoor-outdoor connection.
The design integrates high-efficiency LED and Dark Sky-compliant outdoor fixtures, which minimize light pollution. Only Energy Star appliances were used, including an efficient induction cooktop from Electrolux, which avoids the toxic combustion byproducts in natural gas. The great room utilizes an ultra-efficient Rumford-style wood fireplace, which has earned EPA Clean Air certification.
Economy Minded, Ecosystem Mending
Hale and Carpenter sourced many recycled and local materials to minimize the impact of transportation and help the local economy. The couple purchased used plumbing fixtures and sourced the rough-edged bar slab for the kitchen from a local woodworker. Countertops were made from reclaimed local alder, reclaimed pallets, concrete and recycled glass. Carpenter fabricated the dining table and other furniture from salvaged and recycled materials, and made light fixtures for the kitchen and living room using wood veneers.
Many points in the process illustrate the clients' commitment to sustainability, according to Law. This includes the time they received a sample from the cabinet maker and learned it was old-growth mahogany from Mexico. "Instead of just letting it go, Eric stopped the whole project until we could find a better source," says Law.
Many strategies were employed to ensure healthy indoor air. All of the plywood used in the project is formaldehyde-free. Flooring, which includes concrete, bamboo and tile, is finished with low-VOC products. The exterior siding is installed with an air gap; the enhanced breathability of the walls limits moisture build-up and mold growth. A heat recovery ventilator provides continuous ventilation, eliminating excess moisture and mold.
Water conservation was another of the project's goals. All bathrooms include dual-flush toilets and low-flow fixtures; a hot water recirculation system helps minimize wasted energy. Rainwater collected from the reflective metal roof is stored in a 2,700-gallon underground tank and is used to irrigate landscaping and gardens.
The site design incorporates native and drought-tolerant landscaping to reduce maintenance and water demand. It also includes food gardens, fruit trees and berries, which provide a significant portion of the household's food. Restoration of the adjacent riparian zone and removal of invasive species is also underway.