For this Montana home, restriction was the mother of invention.
Clients approached architect Mike Wiseman and builder Rob Evans of Constructive Solutions Inc. with a simple task: Design and build a two-story home for their premium parcel near Gallatin Gateway, Mont. The property is on a "bench" overlooking the south end of the Gallatin Valley, with incredible views of nearby mountains and wilderness.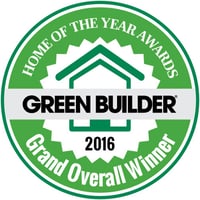 Project Stats
Name: Montana Ranch Residence, Gallatin Gateway, Mont.
Builder: Rob Evans, Constructive Solutions Inc.,
Architect: Mike Wiseman, Constructive Solutions Inc.,
Photos: Mike Wiseman
But a viewshed restriction made homebuilding difficult, if not impossible. The neighborhood below had created covenants, one of which stated that any development on the "bench" above must not be visible from their properties.
Wiseman and Evans took a 20-foot section of PVC to the site, so they could test potential locations for visibility from below. They learned that anything over 10 feet high was out of the question.
"Well," said Evans, half joking, "we could bury it." To their surprise, the homeowners liked the idea. Wiseman began pulling together images of old homesteads and potato barns that were half buried in the ground, some with sod roofs.
The final design, with its heavy roof form and low lines, pays homage to those buildings. The home is nestled into the earth, which shelters the structure from the strong winds and cold temperatures typical of the region.
The Sun and the (Energy) Star
The 3,611-square-foot home is spread along the east-west axis. Though the home was oriented to maximize views of the Spanish Peaks, it turned out to be advantageous to solar orientation as well.
Gallatin Gateway's home is Energy Star certified and achieves a HERS Index score of 48 without solar, thanks in part to an extremely energy-efficient envelope. The shell is constructed of four main components: buried concrete walls, exposed walls, green roof and thermally decoupled flooring.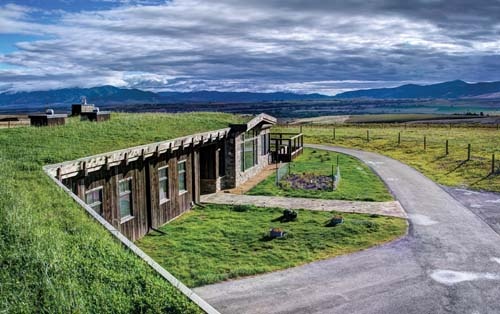 The buried walls consist of 8-inch concrete with 3.5 inches of rigid insulation on the exterior (R-15), and a 2-by-4 furring wall filled in with R-13 batts on the interior. The exposed walls are constructed with 8-inch Structural Insulated Panels (SIPs) for an R-value of R-32. The green roof consists of 4-inch Polyiso insulation (R-24) under the membrane, combined with R-30 batts at the roof deck—a system that eliminates unconditioned spaces in the attic. Gaco Western spray foam is used to seal the truss heels and to glue the roof fiberglass batts in place.
Constructive Solutions has been dedicated to Energy Star and HERS for years, and the company owns blower door testing equipment.
"It's standard for us to conduct two blower door tests," says Wiseman. The first test happens when the house is dried in. Although the ceiling is sheetrocked and taped, insulation has not been installed yet. This allows builders to identify air leaks at the exterior of the envelope, including wall plates and foundation connections that sometimes get hidden by drywall. Leaks are marked during the blower door test and sealed with caulk or acoustical mastic, depending on the location.
Hot Stuff
A 2-inch finished slab provides radiant heating. It is thermally decoupled from the structural slab and walls with 2.5-inch rigid insulation (R-10). This thinner slab is a bit more responsive than the typical hydronic slab, and provides thermal mass benefits.
Key Components
Alternative Building Systems: Big Sky Insulations Inc. (R-Control SIPs)
Appliances: KitchenAid (kitchen appliances); Maytag (washer and dryer)
Cabinets, Shelves, Millwork: Showplace (cabinets; custom built-in shelves and trim)
Caulks & Sealants: Big Sky Insulations Inc. (R-Control SIP sealant); OSI (acoustical mastic)
Countertops: Cambria
Doors & Hardware: Emtek (hardware); Simpson (doors); Therma-Tru (doors)
Fireplace: Heat & Glo (Cerona gas fireplace)
Garage Doors: Raynor (ShowCase residential garage doors)
Home Controls: Alarm.com (monitoring); Interlogix (Concord security system)
HVAC/Ducts: ClimateMaster (geothermal heat pump)
Insulation: Big Sky Insulations (EPS); CertainTeed (OPTIMA loose-fill fiberglass insulation); Gaco Western (Gaco 183M closed-cell spray foam)
Paints and Stains: Benjamin Moore (no-VOC paint); Sherwin-Williams (low-VOC paint)
Plumbing/Plumbing Fixtures: Kohler (1.2-gpm faucets, 2.0-gpm showerheads and 1.6-gpf toilets); Toto (1.26-gpf toilet)
Roof: GAF (TPO system)
Ventilation: UltimateAir (heat recovery ventilator)
Water Heating: Geo-Stor (120-gallon indirect tank)
Windows, Skylights, Patio Doors: Sierra Pacific (windows and patio doors); Solatube (tubular daylighting devices with LED lighting)
An open-loop geothermal heat pump from ClimateMaster provides the home's heating and hot water. Most open-loop systems require two wells—one for supply, and a reinjection well for the return water. But the well for this home was so deep it could be used for supply and return. The casing is slightly wider and includes an outside baffle. The supply water flows from the inside; the return water flows down the outside of the baffle. A recirculation pump ensures water doesn't run while waiting for hot water, and a heat recovery ventilator (HRV) provides fresh air while re-capturing heat from the exhaust air.
The home's exterior is clad in rough-sawn fir, which is treated with ferrous sulfate powder to give it an instant patina. The fir planks, which are not stained or finished, are installed using furring strips made from pressure-treated plywood in a kind of "reverse board and batten." The resulting air gap between the fir and the sheathing means the system functions as a rainscreen. The unsealed wood dries evenly and needs no maintenance.
"This system holds up well in dry climates," says Wiseman. "As long as it can dry and dry evenly, it won't rot, cup or buckle." The durable siding holds up to punishing weather events such as hailstorms, and the organic finish complements the overall "homestead" aesthetic, he adds.
The green roof is planted with a mix of natives and is irrigated with a rotary head sprinkler system. It will be watered regularly until the plants are established, then in summer only to reduce the risk of fire, the builders note.
Many Happy Returns (On Investment)
The design and construction of this home was a welcome challenge for architect and builder. Evans founded Constructive Solutions Inc. in 1999. Wiseman had gone to school with Evans, and in 2008 hired him to build his own house. It turned out to be Montana's first LEED-certified home.
"My goal at that time was to see how economically we could build a LEED-certified home," Wiseman says. He hoped to limit the cost increase to 5 percent and the return on investment (ROI) on upgrades to 15 years. The actual increase was 6 to 7 percent, with an ROI of 13 years. Wiseman joined the firm in 2010.
Though it may look like a classic ranchstead, the home is thoroughly modern. Smart Home Systems of Montana installed an Interlogix Concord security system that includes carbon monoxide and smoke detectors, low temperature and water leak sensors, a gas alarm and a driveway sensor. Alarm.com provides monitoring, including cameras that can be remote operated.
The interior is warm and spacious, with high ceilings, exposed wood timbers and wood trim. Stained concrete serves as the finished floor for all areas except for the dining room, which is finished with wire-brushed white oak. To increase natural lighting in the interior hallway, Solatube tubular daylighting devices with integral LEDs are housed in "chimneys" on the roof. These also provide collectors for plumbing and mechanical roof penetrations.
"Inside the structure it's dead silent, even when the wind is howling," says Wiseman.
The owners report that they are enjoying the most comfortable home they've ever owned, despite being located in one of the most demanding climates.