This student-built tiny house is packed with sustainable technologies and space-saving amenities. People are literally taking it for a spin.
It's not easy for a disabled veteran and a new service dog to become fast friends. But 30 undergraduate students from Santa Clara University in Santa Clara, Calif., figured out how to make it happen, and did it by thinking small.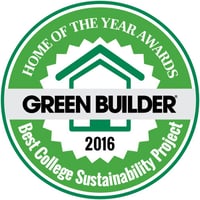 Project Stats
Name: rEvolve House, Santa Clara University, Santa Clara, Calif.
Developer: Santa Clara University Engineering School
Builder: Santa Clara University Undergraduate Students
Architect/Designer: Samantha Morehead
Interior Designer: Samantha Morehead
Photos: Joanne Lee, James LeClercq
The group of mostly engineers, architects and builders spent almost a year designing and building the rEvolve House, a 238-square-foot trailer-mounted unit made primarily of repurposed materials and donated green goods. The 28-foot-long by 8.5-foot-wide home was constructed as an entry in the Sacramento Municipal Utility District (SMUD)'s Tiny House competition in fall 2016.
At first, the emphasis was on building a compact showcase of engineering marvels, according to product construction manager George Giannos. "We eventually shifted our focus onto what we wanted the legacy of the home to be," he says. "We wanted the home to feature more than just top-of-the-line sustainable technology—we wanted the house to have purpose."
A mutual friend and Solar Decathlon volunteer introduced rEvolve's builders to the San Martin, Calif., chapter of Operation Freedom Paws (OFP), which pairs service dogs with veterans returning from active duty who have physical limitations or suffer from illnesses such as Post Traumatic Stress Disorder. An on-site visit to witness the relationships between veterans and their dogs was all it took for the team to decide it would build, then donate the tiny home to OFP.
"People come from a long way to get a service dog, and it can get quite expensive for everyone involved," Giannos says. "This home makes for a good, low-cost temporary living environment where veteran and dog can become acclimated with one another."
rEvolve was the overall winner of SMUD's competition and also placed first in two of four main categories: Energy and Communication—and first in six subcategories: Day Lighting, Integrated Lighting, Interior Design, Kitchen, Best Program and Best Tour.
"One of the requirements for the SMUD Tiny Home competition was that the project be totally off grid," Giannos says. "The key to that lay in our solar power system."
The home achieves net zero status largely due to eight 345-watt SolarWorld Sunmodule solar panels that fill four Aquion Energy saltwater batteries, which provide more than 2,700 watts of electricity. The batteries are the only ones on the market with the Innovation Institute's Cradle to Cradle Certified sustainability certification, according to Giannos. All biological and technical nutrients of the batteries can be 100 percent recycled or composted back into the environment.
rEvolve House gets its name from its attachment to Colossun's smart PV generator solar tracking system. The system literally follows the sun's position during the day, moving the entire house up to 210 degrees to maintain maximum solar exposure. The result is a 35 percent boost to the photovoltaic system's efficiency, Giannos says.
The home's frame was constructed using Structural Insulated Panels (SIPs). The SIPs provide an R-value of R-15 and allow rEvolve's Mitsubishi HVAC system to operate effectively with minimal power input. A passive air vent brings in fresh air from outside, and can easily be opened and closed to adjust the temperature to a comfortable level without energy usage.
Key Components
Building Envelope: Structural Insulated Panels (walls)
Caulks & Sealants: Dynaflex
Central Vac: Dirt Devil
Countertops: PaperStone
Decks: Trex
Electrical: Philips Hue (LED)
Exterior Finishes: Cedar siding
Flooring: Urban Surfaces (luxury vinyl)
Home Controls: Raspberry Pi
HVAC/Ducts: Mitsubishi (mini-split AC unit)
Insulation: Denim insulation/SIPs
Lighting: Philips Hue (LED)
Paints and Stains: Benjamin Moore (ARBORCOAT)
Bathroom sink faucet: Dawn (single-lever lavatory faucet)
Kitchen faucet: Dawn (single-lever spray kitchen faucet)
Shower head: Dawn (handshower with shower flexible hose and slide bar)
Water heater: AO Smith (residential electric water heater)
Renewable Energy Systems: Aquion (saltwater batteries); Schneider (electric inverter); SolarWorld (Sunmodule panels)
Roof: Owens Corning (Oakridge shingles)
Specialty Products: Colossun (solar tracking ring)
Structural Components: Structural Insulated Panels
Ventilation: Mitsubishi (exhaust fan)
Water Filtration: Tetra Pond (ClearChoice BioFilter PF1)
Window Coverings: Custom Size Now
by Levolor (white faux wood)
Windows, Skylights, Patio Doors: Jeld-Wenxt here
Even the insulation is green, consisting of denim from discarded jeans.
The interior is a lesson in recycling. Students salvaged maple hardwood that was destined for the dump, following the renovation of Santa Clara University's basketball court, and used it to create beautiful wood cabinetry.
Kitchen cabinetry is topped with a PaperStone countertop, a stone-like slab of hyper-compressed recycled paper products and non-petroleum resin. The countertop is sustainably manufactured and is certified recycled by the Rainforest Alliance to Forest Stewardship Council (FSC) standards and certified food safe by NSF International.
The home includes a 35-square-foot wet bathroom, but it uses a dry-flush toilet to eliminate use of a blackwater system. All graywater produced by the home drains through an organic bio filter and is pumped outside to irrigate a vertical flower garden.
Giannos estimates the entire project would have cost more than $60,000, if not for generous donations by local builders, manufacturers and SCU alumni. "Everyone put a lot into this project, and we're very thankful for that," he says.
Despite the long hours and several technical difficulties, Giannos says he would happily do everything again if the end goal were the same. "We hoped that the home would not only exhibit sustainable technology that could change our world, but would also exhibit the importance of community and support organizations that do life-altering social work," he says. "Our relationship with Operation Freedom Paws was the perfect marriage between technical innovation and social change in our journey to turn lives around."