Special Report: Coronavirus and Health & Wellness
In the face of the COVID-19 breakout, people are focused on health and wellness like never before.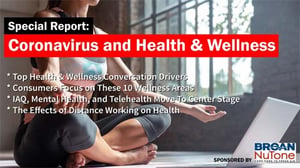 This COGNITION Smart Data Report delivers exclusive market trend data to uncover how the pandemic is impacting consumers, including information on:
Conversation Drivers. What topics are consumers focused on? Talking about? What products, services, and content are they looking for?
Home Redesign. How will a renewed nesting instinct, work from home demands, and social distancing impact the remodeling industry? What are the trending projects?
Mental Health. How is the pandemic shaping people psychologically? What are the best protocols for management of this?
Behavioral Modification. What are the key areas consumers are focusing on when it comes to health and wellness changes?
Indoor Air Quality. What are consumers saying about it? What solutions are they looking for?
Home Healthcare and Telehealth. How will these two sectors of the health industry be changed by COVID-19 demands?
And much, much more …
Fill out the form on this page to download your free copy.
Presented by: