The fledgling Water Efficiency Rating Score, or WERS, program has been recognized by the City of Santa Fe for its potential use as a tool for driving water conservation.
THE CITY OF SANTA FE'S Sustainable Santa Fe Commission recently announced that the Water Efficiency Rating Score's (WERS) development team earned a Sustainable Santa Fe Award. The Commission bestowed the honor in the "Water Adaptation" category for "developing an accurate and flexible tool to drive water conservation in measurable ways."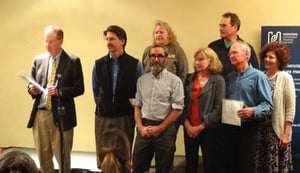 Members of the WERS development team accept the Sustainable Santa Fe Award for Water Adaptation from NM State Senator Peter Wirth. Pictured are (front row L-R) David Dunlap, Bill Roth, Amanda Hatherly, Doug Pushard and Nancy Avedisian. (Back row L-R) Teri Buhl and Kim Shanahan.
"We are truly humbled that the City of Santa Fe has recognized the WERS development team," said Mike Collignon, executive director of the Green Builder® Coalition. "It's a testament to the extensive work everyone has conducted to bring a practical water efficiency program to areas looking for assistance."
The WERS program is a performance-based, interactive water conservation tool for new and existing homes. It uses a scoring scale of zero to 100, with zero being the most desirable. The program analyzes indoor water usage, as well as rainwater and graywater usage. The City of Santa Fe has passed a resolution calling for its addition to their green building code. The New Mexico legislature and Governor recently added a water efficiency requirement to their sustainable building tax credit and will look to the WERS program for assistance. Numerous communities and green building programs are looking to utilize this innovative program.
"WERS is the much-needed miles per gallon water performance metric for our homes. It simplifies performance standards for the homeowner," stated Deirdre Irwin, water conservation initiative leader for St. Johns River Water Management District.
The Sustainable Santa Fe Awards gala took place on April 8 and was sponsored by the City of Santa Fe's Sustainable Santa Fe Commission, the Green Chamber of Commerce, Earth Care and the Green Fire Times, and was hosted by Green Drinks, La Fonda Hotel and Horizons Sustainable Financial Services. For more information, please visit www.wers.us.
Early Adopter
The City of Santa Fe passed a resolution on March 25, 2015 to incorporate the WERS program into their residential green building code. The resolution was reviewed by multiple City departments/divisions in advance of the City Council's vote, which was 4-0 in favor of passage. City staff will now work with the Santa Fe Area Home Builders Association, led by CEO Kim Shanahan, on incorporation into both the code and related administrative procedures.
The WERS Development Team
Kim Shanahan – CEO, Santa Fe Area Home Builders Association (SFAHBA); Nancy Avedisian – Green Realtor, Barker Realty and Member of Santa Fe Water Conservation Committee (SFWCC); Steve Hale – Executive Director, Build Green New Mexico; Laureen Blissard – LEED AP, HERS rater and Technical Director of the Green Builder® Coalition; David Dunlap – Builder, Tierra Concepts of Santa Fe; Amanda Hatherly – Director of the New Mexico Energy$mart Academy at the Santa Fe Community College (SFCC); Doug Pushard – Founder of HarvestH2o and Member of the SFWCC; Bill Roth – Past President of the SFAHBA and Member of the SFWCC; Bob Kreger – Owner, Kreger Design Build; Teri Buhl – Green Building Science Consultant, EverGreen Building Solutions; George Van Hoesen – Owner, Global Green Building, LLC; Darren S. Port – Building Energy Codes Manager, Northeast Energy Efficiency Partnership; Irwin and Collignon.
---
© 2016, Green Builder Media. All rights reserved. This article is the exclusive property of Green Builder Media. If you would like to reprint this content, you are free to extract a short excerpt (no more than 1/4th of the total article), as long as you 1. credit the author, and 2. include a live link back to the original post on our site. Please contact a member of our editorial staff if you need more information.